Chocolate Mousse - gluten-free, vegan, raw, awesomely healthy, and my kids love it!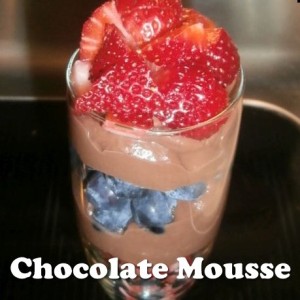 2/3 cup dates, with pits removed -- also check each date for any hard stem pieces and remove them
2/3 cup water
2/3 teaspoon vanilla extract
2 perfectly ripe avocadoes -- remove pits, skin, and any black spots
1/2 cup unsweetened cocoa powder -- or 1/4 cup cocoa powder and 1/4 cup carob powder
optional: fruit or berries, such as cherries, blueberries, or strawberries
optional: a pinch of ground cardamom for each serving
Put the dates and water into a sturdy food processor. Blend for several minutes, until they form a smooth syrup. You will still be able to see bits of the skins from the dates, but the syrup itself should be smooth. Depending on your food processor and your dates, you may need to add a little extra water to get this to blend. Tip: I start blending this at slow speed, then raise the speed to high, to cut down on splashing and noise inside the food processor. The most important step to getting the mousse to come out really smooth is to blend this mixture until it is really smooth, even if it takes several minutes.
Add all other ingredients to the food processor -- except for the optional ones.
Blend until smooth.
Serve plain, or with fruit, and/or with a pinch of ground cardamom on top.
Recipe by
Valerie's Recipes
at https://valeriesrecipes.com/2016/03/chocolate-mousse-gluten-free-vegan-raw-awesomely-healthy-kids-love/