Tavern Stew with Cornbread - easy, gluten-free, dairy-free, warm on a cold day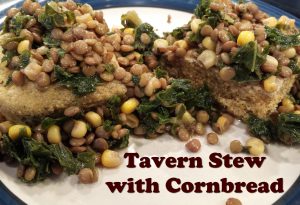 1 1/2 cups cornmeal
1 1/2 teaspoons baking soda
1 teaspoon salt
1-2 eggs
1 1/2 cups of water mixed well with a tablespoon of tahini or other nut-butter and 1 1/2 tablespoons of cider vinegar
1 cup uncooked lentils (brown or green ones)
3 cups water
1-2 cups frozen chopped greens such as kale or spinach, or 4-6 cups of chopped fresh greens
2 tablespoons soy sauce or tamari (or make it soy-free by using half a teaspoon of salt)
2-3 tablespoons olive oil or canola oil
1 teaspoon dried thyme
1 teaspoon dried basil
1 teaspoon dried marjoram
1 cup frozen corn (optional)
Preheat oven to 375 degrees.
In a mixing bowl, mix all cornbread ingredients.
Pour into a greased 8x8 inch or 9x9 inch square pan.
Bake for 25 minutes.
When the cornbread is ready, cut it into nine squares, like a tic-tac-toe board. If you are not going to serve it right away, stand them on end so that air can circulate around them -- otherwise if they sit in their pan they will get soggy from condensation.
While the cornbread bakes, put the lentils and water in a pot. Heat to boiling, then reduce heat to medium. Let cook for 15-20 minutes, until the lentils are tender. Add the rest of the stew ingredients and stir.
For each serving, put two squares of cornbread on a plate. Ladle a big scoop of stew on top. Yum!
Recipe by
Valerie's Recipes
at https://valeriesrecipes.com/2018/10/tavern-stew-with-cornbread-easy-gluten-free-dairy-free-warm-on-a-cold-day/