Sukiyaki - a yummy, quick, Asian-ish, gluten-free, vegan meal that my whole family likes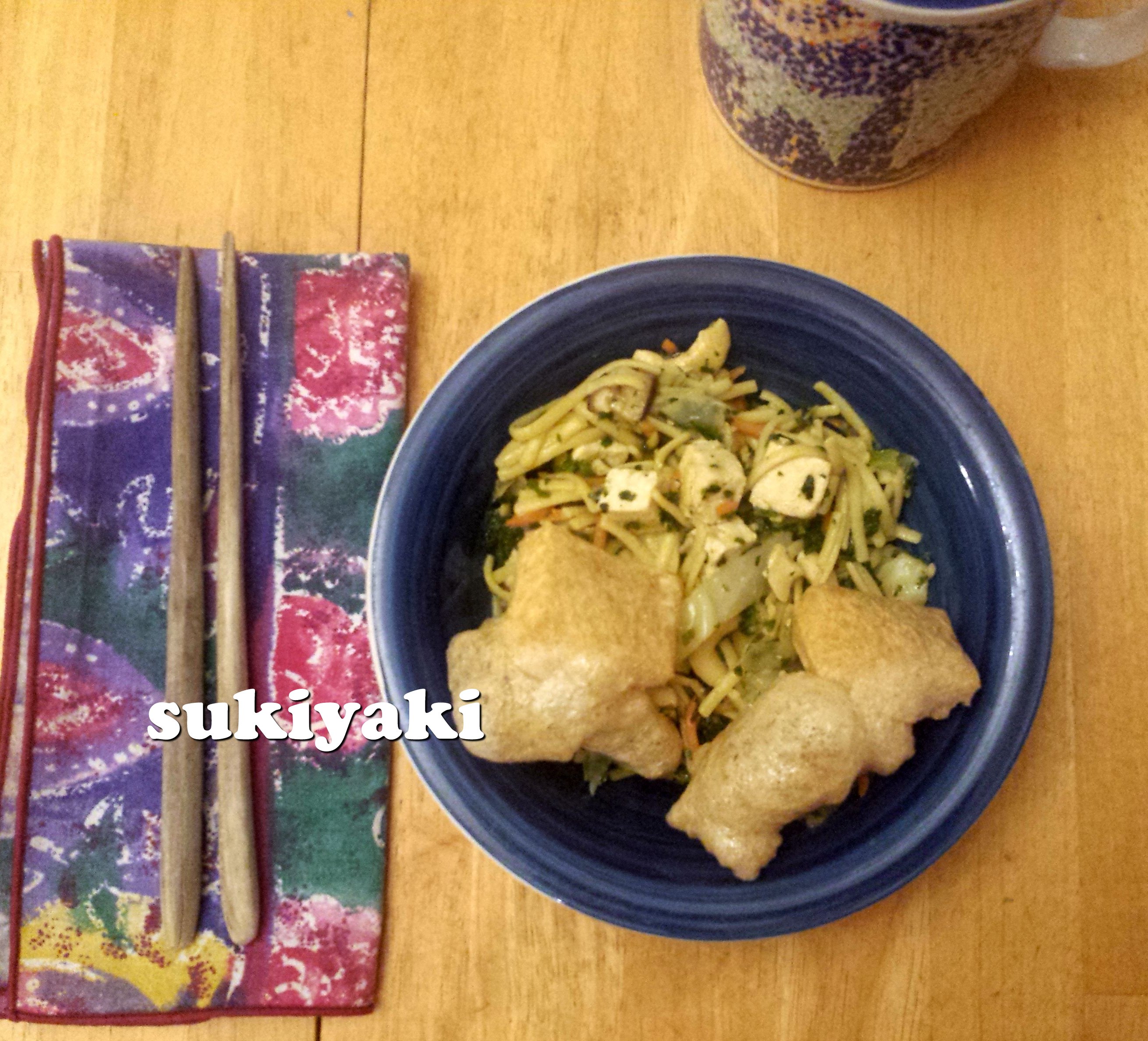 a 10-ounce package of mochi (optional)
5-8 ounces uncooked gluten-free pasta such as spaghetti, or Long Kow Organic Bean Vermicelli - getting creative with the pasta is fine here
1 pound extra-firm tofu, cut into cubes
3 tablespoons canola oil
1-2 carrots, shredded (you can buy pre-shredded carrots)
1 stalk celery, chopped (optional)
1 onion or several green onions, chopped (optional)
1/4 to 1/2 head cabbage, core removed and the rest chopped
fresh or frozen kale or spinach
10 fresh shiitake mushrooms, stems removed and caps cut into thin slices (kitchen scissors work well for this)
1 cup cashew pieces (optional)
1/4 cup water
1/4 cup rice vinegar
1/3 cup tamari soy sauce OR 1 teaspoon salt
1/4 to 1/2 teaspoon powdered ginger, or 1 teaspoon fresh, chopped
1 clove garlic, chopped, or 1/4 teaspoon garlic powder
If you are using mochi, start preheating the oven to 400 degrees.
Start heating water to boil for the pasta.
Use a big, sturdy knife to cut the mochi into 12 pieces. Place them on a cookie sheet, spaced as far from each other as possible. When the oven is preheated, bake for 10 minutes, until each piece of mochi has puffed up like a little balloon.
Meanwhile, when the water boils, cook the pasta for the amount of time the package recommends, then drain it.
Meanwhile, put the canola oil into a big pot. Add the tofu and turn it to medium-high heat. Add the other ingredients to the pot as each of them is prepped. Cook for maybe 10 minutes from when the tofu first went in, stirring from time to time.
When the pasta is ready, stir it into the pot.
Serve a scoop of the pasta mixture with 1-2 pieces of puffed up mochi on top.
Recipe by
Valerie's Recipes
at https://valeriesrecipes.com/2019/09/sukiyaki-a-yummy-quick-asian-ish-gluten-free-vegan-meal-that-my-whole-family-likes/