Potato and Smoky Chickpea Bowls with Tempeh Bacon - gluten-free, vegan, warm, and a little addictive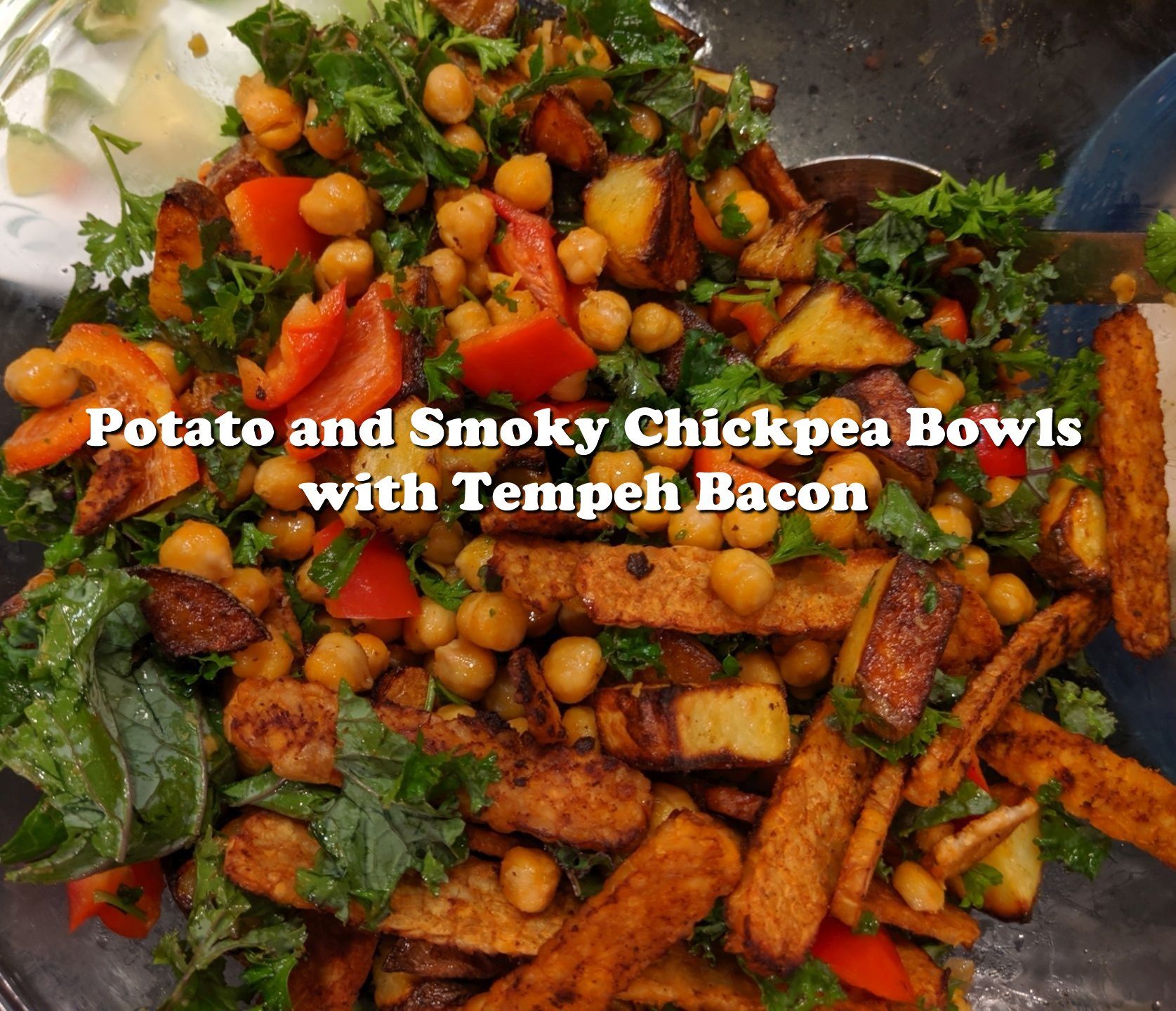 2 15-ounce cans of chickpeas (or 3 cups of cooked chickpeas)
4-6 tablespoons canola oil
2 teaspoons smoked paprika
salt
3-4 Yukon Gold potatoes, cut into half-inch cubes
1 red or orange or yellow bell pepper, cut into pieces
2 cups greens, fresh or defrosted
optional: 1 small jar artichoke hearts
optional: 1 avocado
1 8-ounce package tempeh (I like SoyBoy brand, because it seems more reliably gluten-free than some of the other brands)
3 tablespoons soy sauce or tamari (choose a gluten-free brand, if wanted)
1/3 cup apple cider vinegar
1 tablespoon of any tomato product (salsa, tomato paste, spaghetti sauce, etc.)
1-2 teaspoons smoked paprika
1/2 teaspoon garlic powder (don't use fresh garlic for this - it burns in the oven!)
2 tablespoons canola oil
Preheat oven to 400 to 425 degrees.
Chop the potatoes into half-inch cubes. Put them on a nonstick cookie sheet. Add 1-2 teaspoons of salt and 2-4 tablespoons canola oil. Toss everything together with a pair of spatulas. Put the cookie sheet into the oven. Bake for 20 minutes, taking it out occasionally to use the spatulas to gently turn and mix the potatoes.
Meanwhile, on another nonstick cookie sheet, place all of the tempeh bacon ingredients *except* for the tempeh. Stir everything together into a marinade, and spread it out across the entire cookie sheet.
Slice the block of tempeh into slices about 1/8 inch thick, which should make 40-50 slices from a single block of tempeh. Place each strip on the cookie sheet and then either tilt the cookie sheet or flip over the strips or spoon the marinade so that both sides of each piece have marinade on them.
Put the cookie sheet with the tempeh on the other shelf in the oven.
Meanwhile, rinse the garbanzo beans in a strainer under running water. In a bowl, mix them with 2-3 tablespoons of canola oil, some salt, and 2 teaspoons of smoked paprika.
When the potatoes are most-of-the-way cooked and starting to turn brown, add the garbanzo beans to their cookie sheet and toss everything together with the two spatulas, then return the cookie sheet to the oven for another 10-15 minutes.
When the potatoes are golden and beautiful, remove that cookie sheet from the oven.
When the tempeh is golden brown and beautiful, remove *that* cookie sheet from the oven.
Meanwhile, cut up the bell pepper and avocado into small pieces, and cut up the artichoke hearts into half-inch pieces, if you are using them.
When everything is ready, mix everything EXCEPT THE AVOCADO together in a big mixing bowl. (Keep the avocado on the side so that if you have leftovers you can reheat them without having to heat up the avocado.)
Serve the mixture topped with avocado, if you are using it.
Recipe by
Valerie's Recipes
at https://valeriesrecipes.com/2019/11/potato-and-smoky-chickpea-bowls-with-tempeh-bacon-gluten-free-vegan-warm-and-a-little-addictive/