Spinach Bean Soup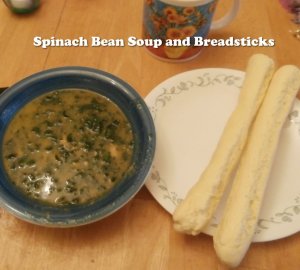 1 medium-sized potato, about 3 inches wide
6 baby carrots
1 stalk celery (optional)
3 tablespoons potato starch
1/4 cup canola or olive oil
6 cups water
1 teaspoon each dried: thyme, basil, oregano, rosemary, sage
2 bay leaves
1 package frozen chopped spinach (10 ounces)
2 cans cannellini beans
1 teaspoon salt
In a food processor, blend the potato, carrots, celery, and rosemary.
Add the potato starch and blend.
Add the oil and a little of the water and blend until smooth.
Pour the mixture into a soup pot.
Use the rest of the water to rinse out the food processor and pour that into the soup pot.
Add the herbs.
Heat and stir until the mixture is warm and thickened.
Add the spinach (still frozen is fine), cannellini beans, and salt.
Stir, and heat to desired temperature.
Remove the bay leaves and serve.
This soup is really good with warm bread, or breadsticks (see recipe above for gluten-free Chebe breadsticks), with your choice of buttery-spread on the bread. We like to dip the bread in the soup -- yum!