Chocolate Chip Fresh Cherry Bread - gluten-free, dairy-free, and addictively amazing!!!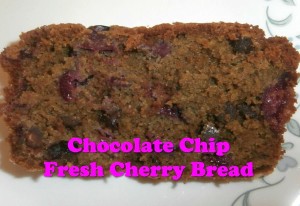 3/4 cup sugar
1/2 cup chocolate chips
1 3/4 cup gluten-free flour mix, or regular flour (for example, today I used 1/2 cup of teff flour, 1/2 cup of quinoa flour, 1/2 cup of tapioca starch, and 1/4 cup of garbanzo bean flour)
1 teaspoon xanthan gum or guar gum (omit if you are using regular flour)
1 teaspoon cardamom, ground
1 tablespoon gluten-free baking powder (or, instead, 1 teaspoon baking soda + 1 teaspoon cream of tartar)
2 eggs - or, for a vegan version, use 2 flax eggs
1 teaspoon vanilla extract
1 cup cherries (about 1/2 pound), pits removed and cherries cut into quarters or eighths
1/2 cup canola oil
Preheat oven to 350 degrees.
Oil a loaf pan, and flour it (for gluten-free, I like brown rice flour for the flouring).
Put all dry ingredients into a mixing bowl. Stir well.
Add all wet ingredients. Stir well, making sure you find all the pockets of dry flour and get them mixed in. The batter will be thick, like cookie dough.
Pour the batter into a loaf pan. Smooth it flat with a spatula.
Bake for 55 minutes.
Let cool, then refrigerate.
Best served at refrigerator temperature.
Recipe by
Valerie's Recipes
at https://valeriesrecipes.com/2015/06/chocolate-chip-fresh-cherry-bread-gluten-free-dairy-free-and-addictively-amazing/