Cucumber Sandwiches - gluten-free, dairy-free, sophisticated, and easy!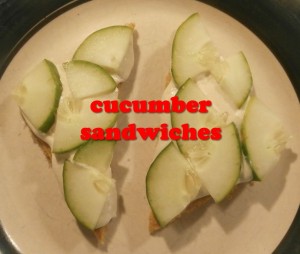 Recipe type:
lunch or dinner
1 1/2 cups cornmeal
1 1/2 teaspoons baking soda
1 teaspoon salt
1-2 eggs
1 1/2 cups buttermilk OR 1 1/2 cups nondairy milk mixed with 1 1/2 tablespoons cider vinegar (see my recipe for super-easy cashew milk)
1 cup tofu OR 1/3 cup cashews plus 1/3 cup sunflower seeds plus 1/3 cup water
1/4 cup cashews
1-2 tablespoons water
1/4 teaspoon salt
Preheat oven to 375 degrees.
In a mixing bowl, mix all cornbread ingredients.
Pour onto an awesomely nonstick 11x15 inch cookie sheet.
Bake for 12 minutes.
Mix all cream cheese ingredients in a blender. If it won't mix, add a tiny bit more water and continue blending. Blend until very smooth and creamy.
Cut cucumbers into 1/4 inch thick quarter-circles. A mandoline is helpful for slicing to a very even thickness, but you can also slice them with a regular knife and that works fine.
Use a hard plastic spatula to cut the cornbread into a grid of twelve squares (see picture), then cut the squares diagonally so that you have 24 triangles.
Spread some vegan cream cheese on each triangle, then decorate with plenty of cucumber slices.
Yum!
Instead of making triangles, you can use a cookie cutter to cut the cornbread into shapes. Heart-shaped cucumber sandwiches are adorable!
Recipe by
Valerie's Recipes
at https://valeriesrecipes.com/2015/09/cucumber-sandwiches-gluten-free-dairy-free-sophisticated-and-easy/