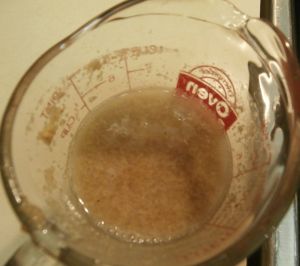 To replace an egg in a baked recipe, you can use ground flax seeds and water. Here's how:
For each egg, stir together 3 tablespoons of warm water and 1 tablespoon of ground flaxseeds. Let sit for several minutes, until the mixture is gel-like. Then use in baked goods the way you would use any other egg.
Temperature matters! Makes sure that your water is warm.
How to make Flax Eggs - a vegan replacement for eggs
How to replace eggs in baked goods with vegan flax eggs.
Instructions
Stir together the warm water and flaxmeal. Let sit for a few minutes, then add it to the recipe just like you would do with any other egg.
Notes
Using finely-ground flaxseed matters! Some brands say that they are finely ground but are actually too bumpy to work. Finely ground flaxseed looks like a powder. If there are bigger lumps in your flaxseed, run it through the blender until it really is a powder. It is tempting to skip this step, but bumpy flaxseeds make bumpy baked goods that don't hold together, while finely ground flaxseed is an excellent egg replacer. So, if your flaxmeal isn't already finely ground, please include this important step!