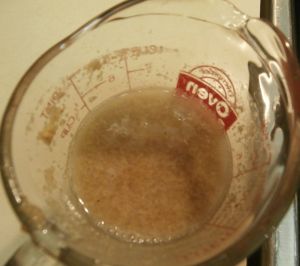 To replace an egg in a baked recipe, you can use ground flax seeds and water. Here's how:
For each egg, stir together 3 tablespoons of warm water and 1 tablespoon of ground flaxseeds. Let sit for several minutes, until the mixture is gel-like. Then use in baked goods the way you would use any other egg.
Temperature matters! Makes sure that your water is warm.
How to make Flax Eggs - a vegan replacement for eggs
How to replace eggs in baked goods with vegan flax eggs.
Instructions
Stir together the warm water and flaxmeal. Let sit for a few minutes, then add it to the recipe just like you would do with any other egg.