Stuffed Grape Leaves – Quick and Easy – gluten-free, vegan, yummy!
I love stuffed grape leaves! This is a much-easier version of what is usually a long and involved recipe. Traditionally, you roll up each grape leaf around a filling that includes rice that is half-cooked or raw, and then you boil layers of grape leaves in a pot for most of an hour, so that the rice will plump up and fill up each stuffed leaf. The times I've tried the traditional cooking process, the heat steams up the house — which is not great in the summertime — and a lot of the grape leaves fall apart, which is frustrating after you've done all the work of stuffing them. So I've found the traditional version of the recipe to be frustrating.
This version is super-quick, the grape leaves don't fall apart, and, unlike storebought grape leaves, and you can choose the ingredients, which I always appreciate! Also it costs less than storebought, which is nice too!
There are two options here: *stuffed* grape leaves, which are like traditional grape leaves, and "unstuffed" grape leaves, where instead of rolling up the filling in the grape leaves you just chop up the leaves and mix them with the filling, which makes a salad that tastes the same as stuffed grape leaves and is much quicker!
Either way: Yum!
For the leaves, you can buy leaves in a jar of brine, or if you have access to a grape vine, you can harvest your own and use those. Even if you are using fresh grape leaves this is still a quick recipe. Most people reading this are probably thinking that they do *not* have access to a grape vine — but actually you might! I've seen people in the local parks gathering grape leaves from the wild grape vines that grow there. Or, me personally, there is a wild grape vine that planted itself in my back yard, so I use the grape leaves from that. My garden is all-organic, so the grape leaves that I harvest there are organically grown, which I like a lot!
This is based on a recipe from a blog called Opera Singer in the Kitchen for Quick and Easy Stuffed Grape Leaves. (My browser is displaying warning messages when I visit that site, because it hasn't been updated to use a secure connection, but as far as I can tell the site is harmless.)
Anyway, this is a lovely recipe — highly recommended! You can do this!!!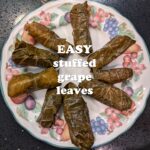 Print Recipe
Stuffed Grape Leaves - Quick and Easy
A quick and easy recipe to make vegetarian/vegan stuffed grape leaves. Or "unstuffed" grape leaves, which are even faster! Gluten-free, soy-free, dairy-free, and very yummy!
Servings:
34
stuffed grape leaves
Ingredients
1.5

cups

cooked brown rice (or another cooked grain, such as millet or quinoa)

- you can cook this from 1/2 cup of rice and 1 cup of water

1.5

cups

chickpeas

- this is the amount in one can

1/2

cup

tomato, diced

- optional!

1-4

tablespoons

fresh dill, chopped - plenty!

- if fresh dill is not in season, a couple of teaspoons of dried dill will work too

3-6

cloves

garlic, pressed in a garlic press, or chopped

1

teaspoon

sea salt

1

lemon, juiced

about 4 tablespoonfuls

4

tablespoons

olive oil

34

grape leaves - either fresh-cut or in a glass jar in brine
Instructions
If your rice (or millet or quinoa) is uncooked, start cooking it.

If you are using fresh grape leaves, heat about a quart of water to boiling. Rinse the individual leaves, then add them all to the pot. Boil for 2-3 minutes. Drain (a colander works well). Return them to the pot and add enough cold water to cover the leaves.

If you are using jarred grape leaves, rinse them under running water. You can optionally boil them as described above.

Put the chickpeas in a big bowl. Mash them with a potato masher or a fork, until they are chunky.

Depending on how you feel about eating raw garlic, you can optionally put the olive oil in a frying pan and cook the garlic for 3-5 minutes. Or just use it raw.

Now add all the ingredients for the filling to the chickpeas. Stir.

Put a grape leaf on a flat surface, with the veined side facing up and the stem facing toward you.

Put some filling on the grape leaf, about 1/3 of the way away from you. The amount of filling to use varies a lot, depending on the size of a grape leaf. Usually an average-sized grape leaf can take about 2 teaspoons of filling, while an enormous one can hold 2 tablespoons. If you are not sure, it's always better to use slightly less.

Fold the bottom of the grape leaf up, over the filling. (See pictures above!) Then fold the sides in, like an envelope. Then roll the filling upward, so that you end up with a tiny cigar shape.

Repeat for all of the grape leaves.

Or, the faster option for "unstuffed grape leaves" is that instead of rolling them, you can chop up the grape leaves and mix them in with the fillings. Either way: Yum!

You can serve these plain, or serve them with other Middle Eastern foods such as falafel and hummus.