Chocolate Decadence Mug Cake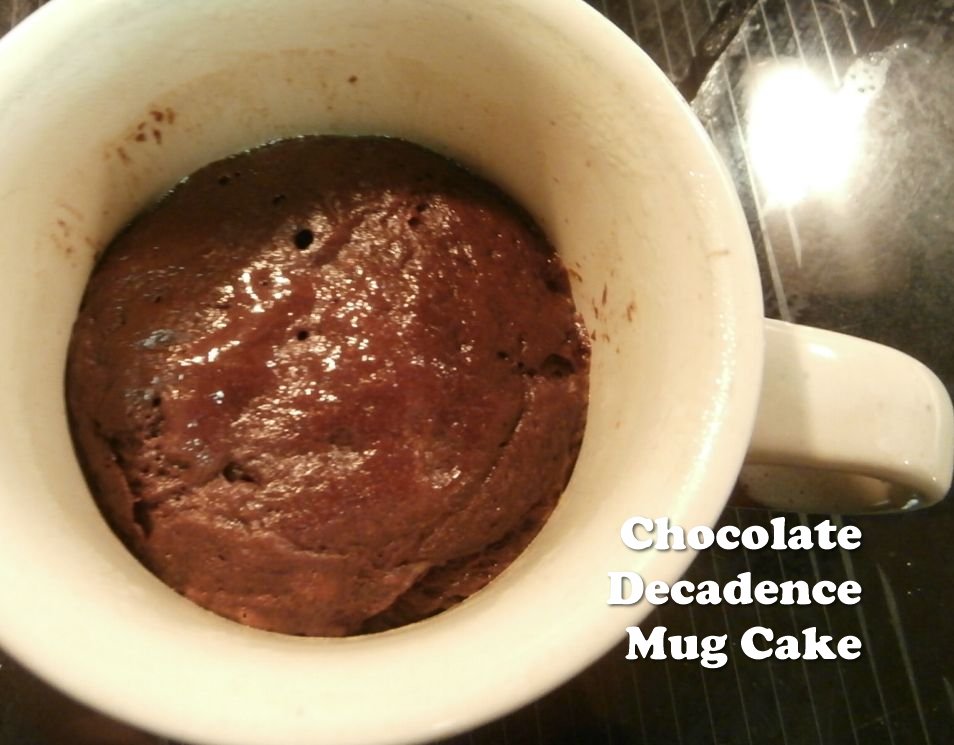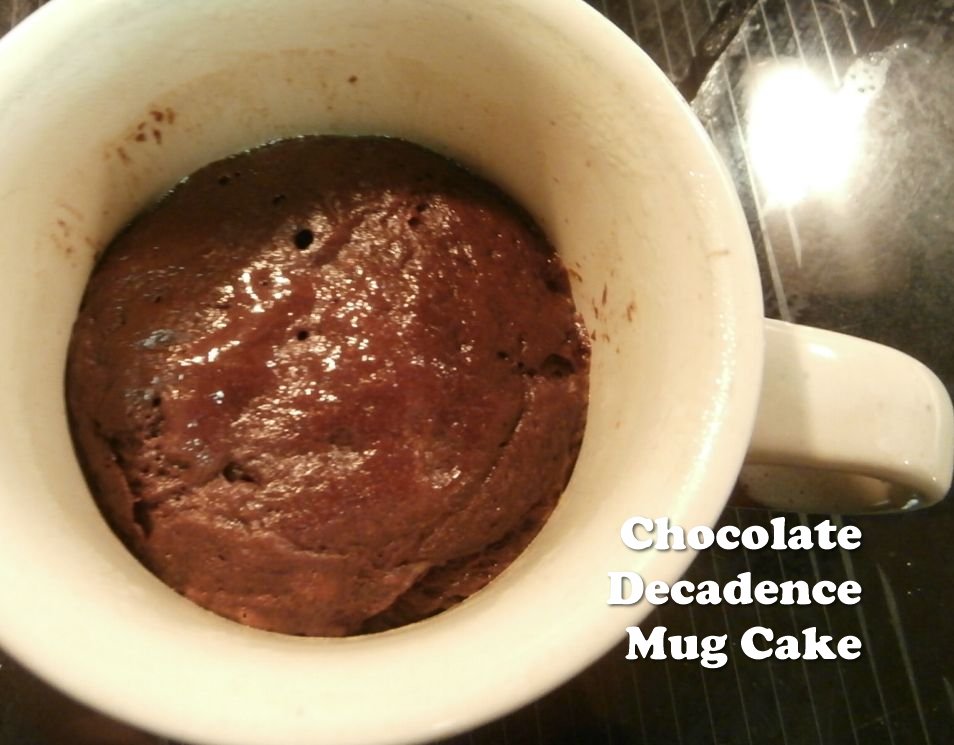 Many years ago, after eating dinner at Seva restaurant, I ordered a dessert that was the most dense and chocolatey confection that I had ever tasted. I loved it — but didn't remember its name! After that, I spent ten years ordering desserts at Seva, wondering what it was, hoping to some day solve the mystery of what the amazing dessert had been. Finally, it did come up again. I found out that the amazing dessert was called Chocolate Decadence.
Later, I found the recipe for Narsai's Chocolate Decadence on the Internet and tried making it myself.  (Tip: If you make the original recipe, "bake" it in a glass pie plate in the microwave for six minutes, rather than in the oven, to cook it fully without risking any burned bits.) It came out wonderfully and is a birthday favorite at my house.
Last year my partner gave me the very much fun cookbook Mug Cakes: 100 Speedy Microwave Treats to Satisfy Your Sweet Tooth. I enjoyed baking the creative, original, tiny cake ideas from that cookbook.  When you are making a cake the size of a coffee mug, it is easier to take risks and bake something that you might not want to try a full-sized version of, such as a Sesame Ginger mug cake — which, by the way, came out great!
Anyway, I came up with the idea to try making a Chocolate Decadence Mug Cake.  This recipe is the result.  It mixes up in about five minutes, then needs to sit in the refrigerator overnight, and voila!
The night before the first day of school after a long break, I make each of my older two kids a Chocolate Decadence Mug Cake. The next morning, if they get ready for school expeditiously, they can have it. It's a fun way to motivate them to get moving in the morning. They each stretch out their mug cake to last all week. My son Arlo says that high school is way too early in the morning, and that the only thing that keeps him awake through his classes is Chocolate Decadence Mug Cake!
Anyway, this is a really wonderful recipe, and very easy to make. I hope you will try it!
Some notes on the recipe:
If you mix up the batter in the mug, it is hard to get all of the ingredients stirred through evenly.  It works better to mix it up in something bigger, such as a two-cup Pyrex measuring cup, and then pour the batter into a coffee mug for baking.
I like Equal Exchange semi-sweet chocolate chips in this recipe, because they are organic, fair-trade, and vegan.  (The link goes to a 12-pack of chocolate chips on Amazon.)
Use at least a 12-ounce mug. The batter gets a lot taller during baking, then sinks back down again, so the recipe needs the full twelve ounces of space to expand into. American coffee mugs are usually twelve ounces.
You can also divide up the batter into ceramic ramekins and bake it in there.
Print Recipe
Chocolate Decadence Mug Cake
An incredible chocolate cake, adapted to coffee-mug size.
Ingredients
1/2

cup

chocolate chips

1

tablespoon

canola oil

2

teaspoons

sugar

2

teaspoons

potato starch or flour

1

egg
Instructions
Put the chocolate chips and canola oil into a two-cup microwaveable bowl or cup, such as a two-cup Pyrex measuring cup.

Microwave for 1 minute.

Stir.

Microwave another 30 seconds.

Stir until all the chocolate is melted.

Add the rest of the ingredients. Use the fork to stir thoroughly. Be detail-oriented with the stirring, so that the egg gets blended very thoroughly with everything else.

Pour into a 12-ounce coffee mug.

Microwave for 90 seconds.

Let sit until cool.

Refrigerate overnight.