Riz Bi Har – an addictive recipe with eggplant, vegan Tzatziki sauce, and rice
Once upon a time, there was a local Ann Arbor restaurant called Sharayar. Whenever I ate there, I always ordered a dish called Riz Bi Har. They had lots of other good food on the menu too, but I really especially adored the Riz Bi Har, so I started to order it every time I went there.
The restaurant Sharayar was a favorite for many years of happy eating. It was a sad day when they closed.
After years without Riz Bi Har, I decided to undertake making my own.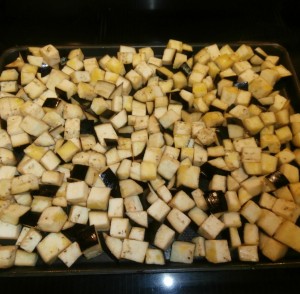 I started by asking people on the Ann Arbor Parenting e-mail list, Arborparents, if they remembered the Riz Bi Har from Sharayar, and what they thought was in it.
People remembered eggplant, rice, cauliflower, other veggies, vermicelli noodles, and a tantalizing white garlicky sauce, wrapped in a cylinder of flatbread.
So, I set out to make that.  My experiments led to something really good, even on the first try. But over time this dish has evolved into something less like Sharayar's version and more truly my own.
The magic in this is the combination of eggplant with a creamy, tangy, garlicky, vegan Tzatziki sauce. All of the other ingredients in this recipe can be swapped around and the results will still taste good. As a variation, you can serve it in a bowl
instead of wrapped in a tortilla. You can swap around which vegetables you choose. If you are not a fan of eggplant, you can swap it out and replace it with some additional grilled or roasted veggies instead.
I am so glad that I tried making my own Riz Bi Har. If it was gone forever I would have missed it — it is very yummy and one of my favorite recipes.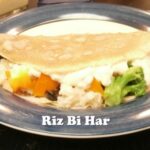 Print Recipe
Riz Bi Har - an addictive recipe with eggplant, vegan Tzatziki sauce, and rice
A mix of rice, grilled veggies, and an addictive, garlicky, vegan tzatziki sauce, rolled up in a tortilla, makes a really delicious meal!
Instructions
Start cooking the rice, according to package directions.

Cut the eggplant and other veggies (but not broccoli or cauliflower) into bite-sized pieces or half-inch cubes. Place on a nonstick cookie sheet. Drizzle with olive oil and some salt. Bake at 400 to 450 degrees, stirring occasionally, until the veggies are getting well-browned and the eggplant looks toasted.
To assemble:
If the tortillas are not warm, warm them up.

Inside each tortilla, place a few tablespoons of rice, a few tablespoons of veggies, a few tablespoons of tzatziki sauce, and optionally the beans, if you are including beans.

Roll up the tortilla and serve! Or, if it is too full to roll, then fold it in half -- that works nicely too. Mine are always too full to roll! :)