Chocolate Chip Pumpkin Blondies – gluten-free, vegan, healthy, and very yummy!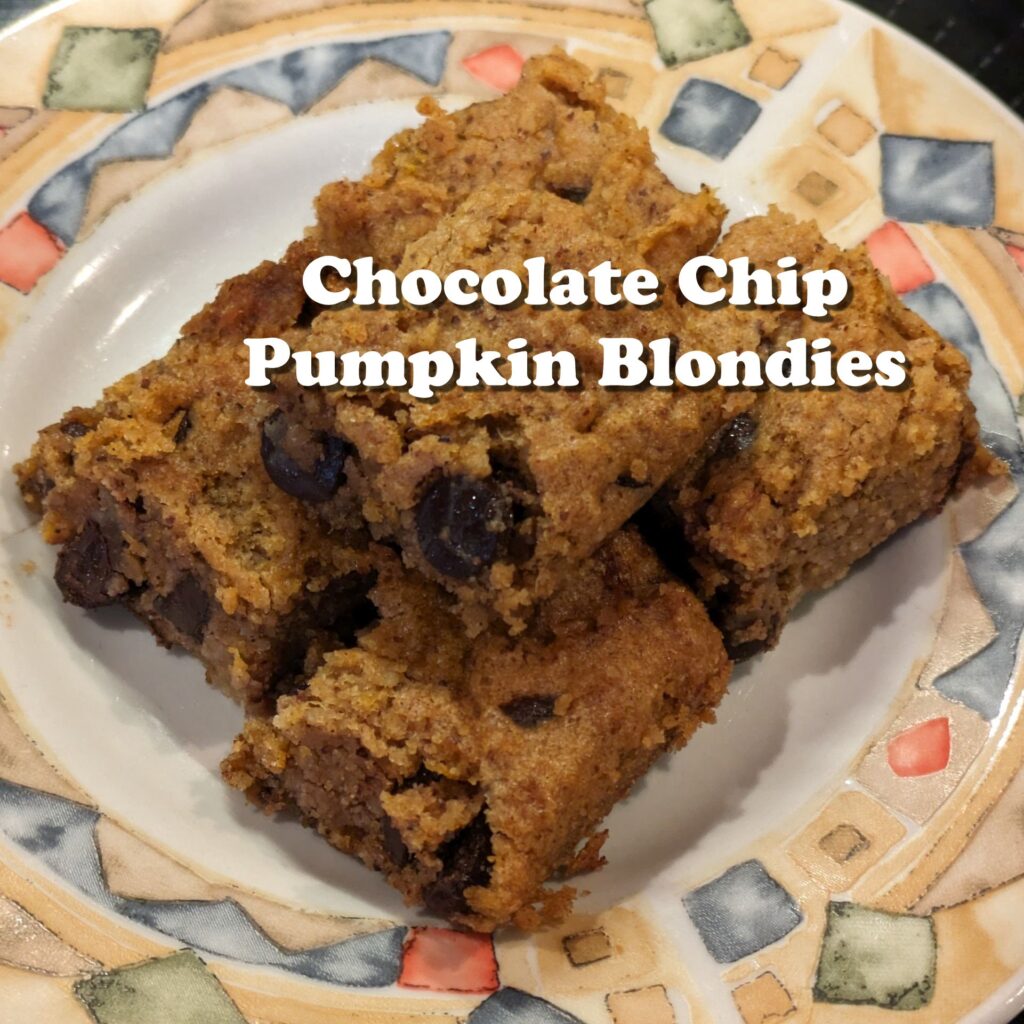 There are already several chocolate chip pumpkin recipes on this site, maybe because year after year I'm still in love with Chocolate Chip Pumpkin Bread. The recipe for Chocolate Chip Pumpkin Cookies is good too!
I made this recipe for Chocolate Chip Pumpkin Blondies by modifying Bakerita's recipe for Chocolate Chip Pumpkin Blondies. My chocolate chip pumpkin blondie recipe is super easy to make, grain-free, gluten-free, vegan, and it tastes delicious!!!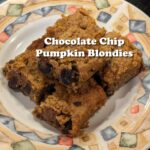 Print Recipe
Chocolate Chip Pumpkin Blondies
These easy-to-make chocolate chip pumpkin blondies are seasonal, vegan, nutritious, grain-free, and delicious!
Ingredients
1/4

cup

almond butter

- or any other creamy nut butter or seed butter or replacer -- though see note about sunflower seed butter!

1/4

cup

tahini

- ditto

1/4

cup

canola oil

- I recommend organic

1/3

cup

coconut sugar

- or regular sugar; see note about how much to use

1/2

cup

pumpkin puree

- either homemade or canned - look for plain pumpkin, not pumpkin pie filling

1

teaspoon

vanilla extract

3/4

cup

almond flour

- my current pick is from nuts.com

3

tablespoons

coconut flour

1

teaspoon

baking soda

2/3

teaspoon

cinnamon

1/8

teaspoon

nutmeg

1/3 to 1/2

cup

chocolate chips

- I like Equal Exchange bittersweet chocolate chips
Instructions
Preheat oven to 350 degrees F.

If you have an 8x8 inch silicone pan, you can mix the ingredients right in it - stir the ingredients gently with a sturdy fork or spoon, being careful not to pierce the silicone. Otherwise, add oil and maybe parchment paper to an 8x8 inch "brownie" type of pan.

Stir all ingredients together, either in a silicone pan, or in a mixing bowl. Check for patches of unmixed ingredients and stir again.

Spread the mixture evenly in your baking pan.

Bake for 20 minutes. I like to check for doneness with a thermometer: the temperature of the blondies should be at least 170 degrees Fahrenheit.

Let cool, then cut into 16 or 25 squares. Store in the refrigerator. They firm up more -- and are easier to cut -- once they are cool.
Notes
I love baking in sturdy silicone pans -- the kind that stand up on their own and don't flop around. You can mix the ingredients right in the pan to save on dishwashing.
Sunbutter reacts with baking soda and turns green, so if you use it in this recipe you are likely to make green blondies! There are times when this is fun, and times when it is not, so choose accordingly!
For the sweetener, 

you can go up to 1/2 cup for sweeter blondies, or reduce it down much lower. I've even entirely left it out for unsweetened blondies, which are a bit of an acquired taste but still good. You can replace the coconut sugar with regular sugar or other sugar.
The dough for this recipe should be safe to eat raw. It has no raw eggs, and no raw flours of the kind that need to be cooked before eating.