Falafel – gluten-free, healthy, and vegan!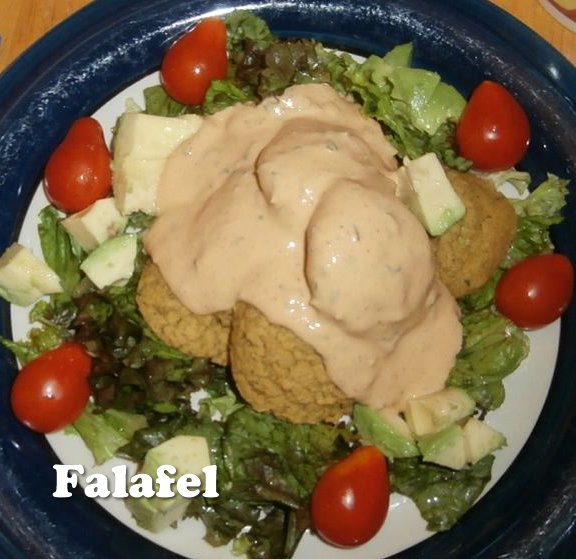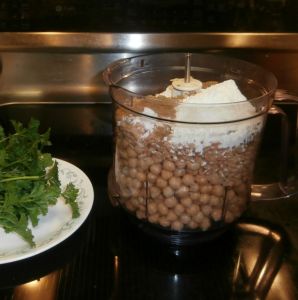 I discovered falafel when I was a young adult. Friends brought me to a restaurant called Jerusalem Garden that is known for its excellent falafel. The restaurant was located in a tiny house, where you sat across the counter from the kitchen and could watch the cook in action. The cook had a gadget that looked like my grandmother's coffee percolator, of all things! He used that to shape balls of a greenish paste, which he then deep fried. Brown falafel balls emerged, which he served tucked into pita bread with lettuce, tomatoes, and a creamy white sauce, all wrapped up in a piece of foil so that you could hold it in your hands to eat it. It was delicious!!
When my family couldn't eat gluten and dairy, I figured that falafel was lost to
us forever. But happily I was wrong! This gluten-free, vegan falafel recipe is one of our favorite recipes at our house. Even my pickiest eater happily scarfs them down.
This recipe easily mixes together in the food processor. Then you scoop blobs of dough onto a cookie sheet, and bake. A quick rinse of the food processor, and the sauce mixes together quickly in it. Add toppings, and you have a satisfying meal.
This recipe is my adaptation of Isa Chandra Moskowitz's falafel recipe in the cookbook Vegan with a Ve
ngeance.
I'm a big fan of Isa Chandra Moskowitz. Her cookbooks have some of the funniest text that I have ever seen in a cookbook (her description of falafel — and singing about it at summer camp — is hilarious!), and her recipes always turn out well. Back when I was a leader of a Girl Scout troop that had kids with food allergies, special diets, and picky eaters, I would often find recipes for baked goods in Moskowitz's blog, The Post-Punk Kitchen, and make them as snacks for the Girl Scout troop. Her recipes always turned out well. Someday I will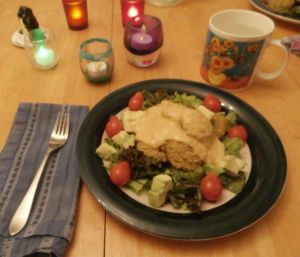 post my gluten-free version of her Marbled Banana Bread recipe. It is always a big hit — it looks beautiful and tastes great. And her Green Lasagna Rolls — the recipe is currently on the front page of her website — are truly excellent. They have quickly become a favorite recipe around here.
Anyway, onward to falafel!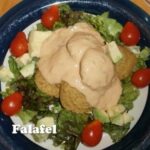 Print Recipe
Falafel - gluten-free, healthy, and vegan!
Baked orbs of chickpea dough, with a creamy vegan tahini sauce and lots of fixings. Yum!
Ingredients
Falafel ingredients
4

cans cooked chickpeas

rinsed, or 6 cups of cooked chickpeas

1 1/2

cups

of gluten-free breakfast cereal

such as Erewhon's Crispy Brown Rice cereal

6

tablespoons

gluten-free flour

such as brown rice flour and potato starch

1 1/2

tablespoons

baking powder

or 1 1/2 teaspoons baking soda plus 1 1/2 teaspoons cream of tartar

1

tablespoon

ground cumin

1

tablespoon

ground coriander

3/4

cup

parsley

1 1/2

teaspoons

salt

3

tablespoons

canola and/or olive oil

a little black pepper

ground
Toppings
lettuce

chopped tomatoes or grape tomatoes

chopped avocadoes

tahini dressing

see recipe below
Instructions
Preheat oven to 400 degrees.

Place all falafel ingredients (but not the toppings!) in a food processor. Blend until smooth.

Place blobs of dough on two nonstick cookie sheets or on parchment paper on cookie sheets. The blobs should be about 1 1/2 tablespoons. I use an

OXO Good Grips Medium Cookie Scoop

, but it will also work fine to use one dinnertable tablespoon to scoop up blobs of dough and another dinnertable spoon to push the dough off of it. The dough doesn't usually spread while it bakes, so it is okay to put the blobs close together.

Bake for 15-20 minutes, until the falafel is starting to turn brown.

While the falafel bakes, make the tahini sauce, chop the avocado, etc.

To serve: Place some lettuce on a plate. Mound eight pieces of falafel in the center. Top with tahini sauce, tomatoes, and avocado pieces. Yum!
Here is the recipe for tahini sauce. This is my version of the recipe from Vegan With A Vengeance. The sauce is really good on other things, too. For example, it is delicious mixed with spaghetti and veggies for dinner.
Print Recipe
Tahini Sauce
A creamy tahini sauce that is great on falafel or anything else!
Ingredients
3

tablespoons

olive oil

optional: 3 cloves of garlic

1/2

cup

tahini

Look for a brand that doesn't taste bitter, such as Once Again or Maranatha

2

teaspoons

balsamic vinegar

1/2

teaspoon

salt

juice of 1 lemon

pepper

1/2

teaspoon

paprika or smoked paprika

1/4

cup

fresh parsley

1/2

cup

hot water

not boiling, just hot
Instructions
Tip: If your tahini is chunky, the easiest way to measure it is to put the 1/2 cup water into a glass measuring cup, then add tahini until you reach 1 cup.

If you are using the garlic, chop it and cook it in the oil for 2 minutes -- don't let it burn. (I always leave out the garlic, because we have a person with a garlic allergy. I love garlic, but the sauce is still good even without it.)

Place all ingredients into a food processor or blender, and blend until smooth.

Serve warm on falafel or other food.
This recipe is a part of the Virtual Vegan Potluck.  Here are the links to the next and previous recipes in the loop: