Gluten Free Pasta With A Pasta Machine!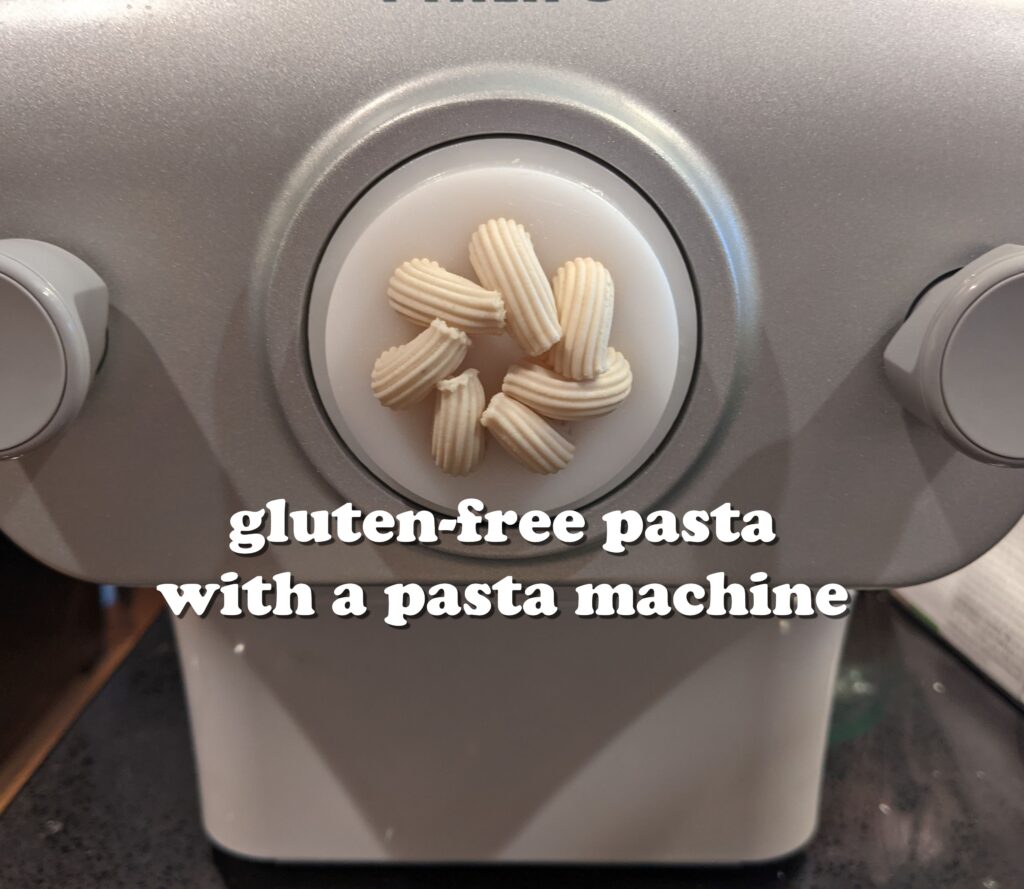 I had been experimenting with making ravioli by hand from scratch. I started thinking that a pasta machine might make it easier, which would inspire me to make ravioli more often.
I've looked at manual pasta machines many times. They aren't supposed to ever get wet, not even for cleaning, and that seems like terrible food hygiene, especially for equipment that will be touching raw eggs.
So, instead, I experimentally bought an automated pasta machine, with dishwasher-safe parts. You put flour — or gluten-free flour — and water into the machine, and maybe eggs or herbs, and you press a button. It mixes and extrudes the dough into fresh pasta in minutes. It is often faster than my stove can boil water. The machine that I chose is pretty cool — it has four different dies that you can swap out to make different shapes of pasta: penne, spaghetti, fettucine, and lasagna noodles.
The first pasta that I tried making with it was lasagna noodles, to make homemade ravioli. I used a mix of tapioca flour, garbanzo bean flour, water, egg, and some xanthan gum, to keep the pasta from falling apart. The noodles stuck together in some places, and fell apart into bits, so instead of ravioli, I got a mess of pasta pieces and filling, all shuffled together. I cooked them anyway, and my son and I both thought the pasta was delicious!
Next I tried making fettucine, with similar ingredients but replacing the garbanzo flour with quinoa flour. The pasta was mixed and extruded quite quickly, before the pasta-cooking-water had even boiled yet. And it was really excellent pasta!
That got me curious about what other dies are available to make other pasta shapes. The company that makes my machine only makes a few more shapes of die, but there is a company in Italy that sells adapters and lots and lots of pasta-making dies, including one where you can make adjustable-thickness lasagna noodles, which might be exactly what I need for my ravioli project. Also, there is a Facebook group for pasta machine enthusiasts, which I joined in order to get advice. There is also a gluten-free pasta machine group. It's in Italian, but Facebook will translate. That mostly works, though it is helpful to know that Facebook translates the word "pasta machine" as "car."
For weighing ingredients, I've been using this scale.
I had no idea that this rabbit hole existed, but it is huge and interesting.
I combined two recipes and got amazing gluten-free rice-free pasta with this recipe: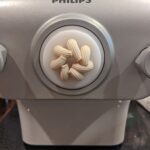 Print Recipe
Gluten Free Pasta With A Pasta Machine!
Homemade gluten-free pasta from scratch in ten minutes! Rice-free! Amazing!!!
Servings:
1
batch of pasta - about 12 ounces
Ingredients
125

g

quinoa flour or garbanzo flour

125

g

tapioca starch

2

or 3 grams xanthan gum

Water - see recipe for amount

Optional: 1 egg

Optional coloring: 1 tablespoon of cooked

cooled, pureed beet, or a mixture of water and pureed greens (for greens, either cooked or raw is fine)
Instructions
Put the flour, tapioca starch, and xanthan gum into the machine.

If you are coloring the pasta with pureed veggies, blend the cooled veggie very thoroughly in a blender, because you don't want any bits of it to clog up the pasta machine. If you think there might be bits that are too big, you can run the puree through a strainer. I like to make extra vegetable puree and store it in the freezer, pressed flat in a ziplock bag with the air pressed out, so that I can break off pieces and defrost them to use in other future recipes.

If you are using an egg and/or pureed vegetables, put that in a measuring cup, and then add enough water to reach the 125 ml mark if you are using quinoa flour, or the 110 ml mark if you are using garbanzo flour. Note that if your vegetable puree is foamy, your liquid measurement will be more accurate if you weigh out 125 grams of liquid (or 110 grams of liquid for garbanzo flour) instead of measuring in the cup.

If you are using an egg, use a fork to mix up the contents of the measuring cup so that it will be able to fit through the holes in the lid of the machine.

Set up the pasta machine according to the manufacturer's directions. Start the machine on the regular cycle, then right away slowly pour the liquid into the holes in the lid of the machine while it mixes the dough.

The mixture in the machine should look like slightly damp pieces of flour. If it looks like totally dry flour, add a tiny bit of extra water. If it looks like dough, it is too wet. It should look slightly worryingly dry, but not totally powdery.

The machine will mix the ingredients, then start extruding the pasta.

The first couple of inches of pasta usually comes out too dry. You can pause the machine, open the lid, and put those first pieces back in for re-mixing.

Meanwhile, boil some water. When the pasta is made and the water is boiling, put the pasta into the water and cook it until it starts floating, plus a minute or two beyond that.

Drain and serve. Yum!