Southwestern Twice Baked Potato Casserole – gluten-free, vegan, warm, soothing, and delicious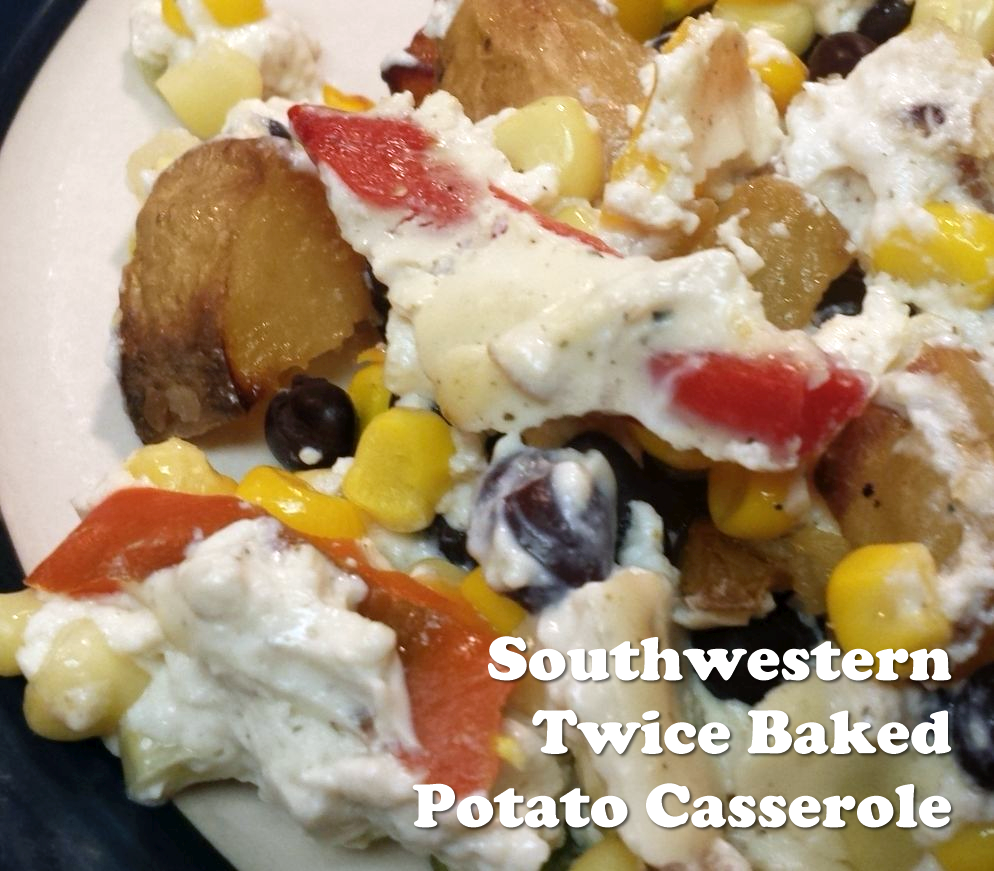 Oh my goodness it's been a long time since I last posted here!!! I always have good intentions of posting twice a week — and then life gets in the way.
My daughter Kendra and I adore this recipe. It is my adaptation of a recipe for Southwestern Twice Baked Potatoes from the very yummy cookbook Forks Over Knives by Del Sroufe.
I have changed the recipe enough that it barely resembles the original. Actually I feel a little weird about the changes that I made, because Forks Over Knives is an oil-free cookbook, and I have added some oil to this recipe. It feels disrespectful to fundamentally change a recipe like that. It's like taking a vegan recipe and posting that you think that you made it better by adding meat — that feels wrong to me. But I do think that it's important to have some fat in our diet. Fat is needed for absorbing fat-soluble vitamins. Plus, research shows that unsaturated and polyunsaturated fats such as canola and olive oils are associated with healthier outcomes. So I think it is important to include them in one's diet.
The original version of this recipe involved baking whole potatoes in the oven, then topping them with a variety of veggies and beans, and adding a creamy white sauce on top, made from blended tofu — a bit like sour cream but much healthier. I have speeded up this recipe by dicing the potatoes into little cubes before baking them. In addition to being much faster to cook, I think this dish is easier to eat that way, too.
Also, I have replaced the creamy topping with a salty version of my adaptation of the house dressing from the awesome vegetarian Moosewood Restaurant, located in Ithaca, New York. Like the main recipe here, my version of this dressing has diverged very far from the original version, but it is awesomely yummy. I have also given my salad dressing recipe its own page on this website, because it is so yummy that it is really worth talking about. But I am also including it as an ingredient here.
Print Recipe
Southwestern Twice Baked Potato Casserole
My daughter and I totally adore this casserole, made of toasted potatoes, red bell peppers, corn kernels, black beans, and a creamy vegan sauce on top that is made from blended silken tofu that tastes like sour cream but is much healthier.
Ingredients
Potatoes
6

cups

of potatoes -- about 2 pounds

olive or canola oil

salt
Toppings
1

red bell pepper

or about 1 cup of frozen, chopped bell peppers

10

ounces

of frozen corn kernels -- "supersweet" corn is good in this

though any kind should work

1 15-

ounce

can or bag of black beans

drained and rinsed
Sauce
1 12.3

ounce

package of silken tofu

I like Mori-Nu organic

1/2

teaspoon

dried marjoram

1/2

teaspoon

dried basil

2

teaspoons

apple cider vinegar

2-4

tablespoons

olive and/or canola oil

1

teaspoon

salt
Instructions
Preheat oven to 425 degrees.

Dice the potatoes into cubes that are 1/2 inch or smaller.

Place the diced potatoes onto a non-stick cookie sheet.

Sprinkle on some salt (maybe 1/2 teaspoon) and some oil (maybe 2 tablespoons).

Stir the potatoes, oil, and salt until they are evenly mixed.

Bake the potatoes in the oven, stirring occasionally, until they are golden brown on most sides. When I did not preheat my oven ahead of time, I clocked this step at 30 minutes. If your oven is fully pre-heated, figure maybe 20 minutes. When the potatoes are done, they should look like gorgeous cube-shaped nicely-browned french fries. If you are in a hurry, you can bake them less, just until they are soft when pierced with a fork. That will work fine too, though I think they are yummier when they are browned.

Meanwhile, while the potatoes cook, defrost the corn in a bowl in the microwave. Microwaves vary, but in my microwave this takes about 4 minutes.

If you are using fresh bell pepper, chop it. If you are using frozen, defrost it in the microwave.

Rinse the black beans -- I like to put them into a strainer and run cold water through it to do this.

Add all of the sauce ingredients to a blender. Blend until smooth.

When the potatoes are done, remove them from the oven and lower the temperature to 350 degrees.

Carefully pour the hot potatoes and any oil that is with them into a 9x13 inch pan. Distribute the potatoes evenly throughout the pan.

On top of the potatoes, add layers of beans, corn, and bell pepper, spreading out each one evenly.

Pour the sauce on top. Use a spatula to spread it out to almost reach the edges of the pan, but not quite touching. (By not quite touching the edges, this keeps the sauce from sticking to the sides of the pan, which makes cleanup easier.) Keeping the sauce at about 1/4 inch of distance from the edges works well.

Put the 9x13 inch pan in the oven, uncovered.

Bake for 15-20 minutes.

Serve!