This is the recipe that I've sent to a zillion potlucks and bake sales at my kids' schools.
I put a lot of work into testing and perfecting this recipe — a process that was a LOT of fun!!!
This recipe very reliably makes really wonderful brownies.
My theory of potlucks is that people see the words "gluten-free" and get scared off. So I counteract that by adding lots of good adjectives to the sign on my brownies, so that the good words outnumber the words "gluten-free." So the labels that I put on my brownies for potlucks call them, "Valerie's Amazing Awesome Gluten-Free Brownie."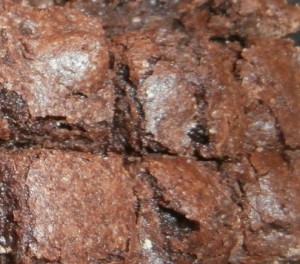 For potlucks, I keep a sheet of label images on my computer so that I can print them off on my printer. I keep snack-size ziplock bags on hand. To package up the brownies, I put each brownie into a snack-sized ziplock bag, zip it, then tape on a printed label. That way the brownies are protected from cross-contamination by other foods at the bake sale.
This recipe was long-ago based on a brownie recipe from an old edition of the Betty Crocker cookbook.
Yum!!!

Valerie Brownies - gluten-free, dairy-free, and awesomely yummy!!!
This recipe very reliably makes awesome gluten-free, dairy-free brownies.
Ingredients
1/2 cup brown rice flour (I like Arrowhead Mills brand) (if you are not gluten-free, replace this with regular flour)
1/3 cup potato starch (I like Bob's Red Mill brand but would fervently like to find an organic gluten-free potato starch) (if you are not gluten-free, replace this with regular flour)
1/2 cup baking cocoa (I like NOW Foods brand)
1 cup sugar (I like the big bags of organic sugar from Costco)
1/3 teaspoon xanthan gum or guar gum (if you are not gluten-free, leave out this ingredient)
1 cup chocolate chips (I like Equal Exchange semi-sweet chocolate chips)
2 eggs (preferably free-range)
1 teaspoon gluten-free vanilla extract (I like Nielsen-Massey brand)
1/3 cup canola oil (I like Spectrum organic)
Instructions
Preheat oven to 350 degrees.
Oil (with canola oil) and flour (with potato starch) an 8x8 inch square pan.
Put all dry ingredients into a mixing bowl. Mix.
Add all wet ingredients. Mix
Pour the mixture into the pan. Smooth out the top with a spatula.
Bake for 25 minutes.
Let cool.
Cut into 16 squares.
Best served at refrigerator temperature.