Potoccoli – a meal of potato, egg, and broccoli
Potoccoli is made of potatoes, broccoli, and eggs. It is not glamorous, but it is soothing and nourishing.  Potocolli is intended as a main dish, but I could eat (and have eaten!) it for breakfast… and lunch… and dinner.
Everybody has their own favorite comfort foods. Potatoes are mine. When my digestive system is unhappy, Potoccoli is my magic wand of happiness.
I invented this recipe years ago. It has been one of my favorites ever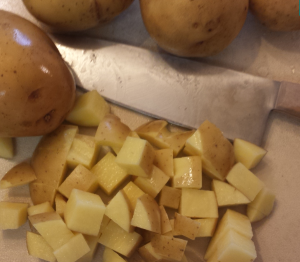 since then, because it is easy to cook and I usually have the ingredients on hand. I picked it to be the first dinner recipe in my new blog because the recipe is entirely my own invention, and because I have loved it and been nourished by it over many years. The name is a combination of the words potato and broccoli. Its alternate name is Potatoccoli — adding another syllable.
At the store, if you have a choice between "broccoli cuts" or "broccoli
florets," florets work better in this recipe.
This recipe relies on good potatoes. I like Yukon Gold or Yellow Finn potatoes in this recipe, but any type of potato should work. Potatoes are grown with a lot of pesticides, so use organic potatoes if you can.
I aim to post a vegan version of each recipe on this blog — but this recipe is an exception. I am not sure it's possible to make Potoccoli vegan and still be Potoccoli. Possibly the eggs could be replaced with scrambled tofu, or cashews blended with water and oil and salt — but I have not tried it.
This is a very flexible recipe. I never measure any of the ingredients in Potoccoli — estimating works fine. I like to use equal amounts of potatoes and broccoli, but you can vary this to suit your own preferences.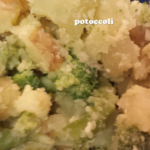 Print Recipe
Potoccoli
A quick and yummy dinner of potatoes, egg, and broccoli.
Ingredients
2

pounds

of nice potatoes -- Yukon Gold or Yellow Finn work great in this recipe

1

pound

frozen broccoli florets

2-3

tablespoons

olive oil

2-3

tablespoons

canola oil

1/2 to 1

teaspoon

salt

4-5

eggs
Instructions
Cut the potatoes into 1/2 inch cubes. Place them in a pot. Add just enough water to cover them. Heat over medium-high heat until the water boils. Pour on the broccoli florets, still frozen, and leave them sitting on top without stirring. When the water boils again, turn the heat down to medium and cover the pot so that the steam from the potatoes will cook the broccoli.

Boil for 10 to 12 minutes, until you can easily pierce a piece of potato with a fork and it seems soft.

While the potatoes cook, beat the eggs in a bowl.

Drain the potato-broccoli mixture in a colander in the sink.

Put the mixture back in the pot. Add the oil, then sprinkle on the salt, then pour on the beaten eggs.

Stir the mixture with a big flat-handled metal spoon. Cover the pot with the spoon still in it, so that the spoon gets heated along with the mixture (so that uncooked egg doesn't stay on the spoon and get back into the food). The spoon should be in the middle of the mixture, not touching the bottom of the pot where it might overheat. Be careful - its handle may get hot.

Heat the mixture on medium, checking and stirring every 1-2 minutes, leaving the spoon in the mixture.

When all of the egg looks dry like scrambled egg, not runny anymore, the Potoccoli is ready.

Serve!