Mulberry Forest – vegan ice cream – gluten-free – dairy-free – totally amazing!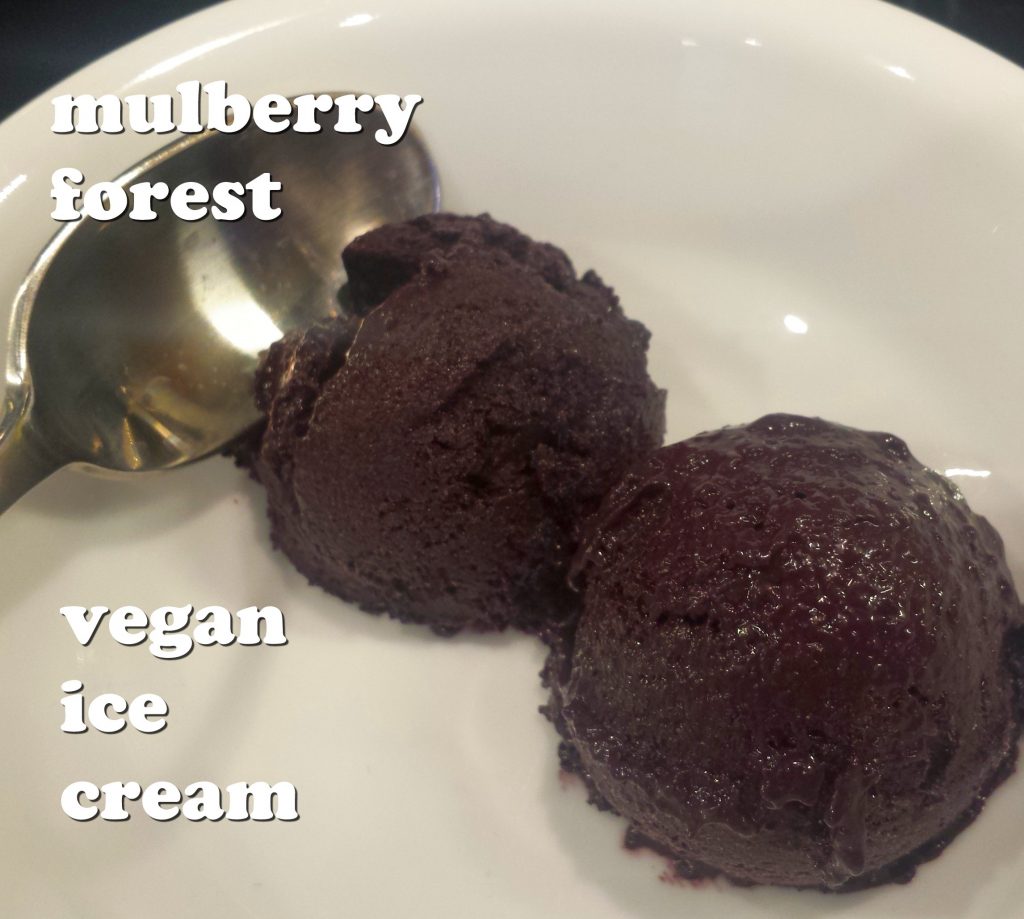 Mulberries are one of my favorite foods in the world.
Recently I was thinking about black forest ice cream, which is made from chocolate and cherries and not much else. I have a recipe for vegan black forest ice cream that I need to post someday — it is pretty amazing.
Mulberries are in season RIGHT NOW, as I type this, and there is an amazing mulberry tree on my front lawn that is making huge numbers of amazing berries.
I was thinking that it should be possible to use mulberries as a sweetener in baked goods. Then I realized that you could make a black forest ice cream with mulberries instead of the cherries and the sweetener. So I tried it. It worked on the very first try. And it is amazing!!!
My son James says, "This is the best thing ever!"
Here is the recipe!
I have not tried making a nut-free version, but I think you could replace the cashews with a frozen banana, or maybe sunflower seeds or tofu. If you try this, please post how it worked out?
Mulberry season is very short, so hurry!
———-
Edited June 19, 2022 to add more details about how to efficiently strain the ice cream! Yum!
Edited June 21, 2022 to add that James and I think this tastes best when it is freshly made.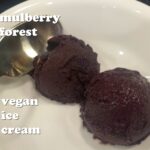 Print Recipe
Mulberry Forest - vegan ice cream - gluten-free - dairy-free
Mulberry Forest ice cream is made mostly from mulberries and cocoa powder! It is vegan, gluten-free, dairy-free, and amazingly delicious!
Servings:
4
small servings
Ingredients
3

cups

of frozen mulberries

1/2

cup

cashews or cashew pieces

1

teaspoon

vanilla extract

1/4

cup

cocoa powder
Instructions
Blend the frozen berries and the cashews in a food processor. It will get powdery and get stuck. Keep stopping the food processor and scraping down the sides and continuing to blend until you have a smooth creamy mixture that blends easily. Add the rest of the ingredients and blend again.

Unless you like crunchy ice cream, run the ice cream through a fine-mesh strainer (that is, it needs to have finer mesh than a regular strainer) to get the seeds out.

I find that this works best if I put the strainer on top of a pot or bowl that fits it well and then use a dinnertable tablespoon (that is, use a metal item, not a spatula) to scrape the ice cream back and forth over the mesh until the ice cream goes through and only the seeds are left. Then use a spoon to scrape the strained ice cream off the outside of the strainer and into a container. (I actually eat the seedy remains that stayed in the strainer, too. It is very seedy, but tastes good!)

Then, eat the mushy ice cream right away, as a soft-serve ice cream.

Yum!