Banana Claw – Decadent Vegan Ice Cream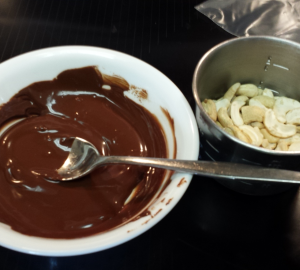 Back before we had kids, their dad and I used to like to go to the ice cream store and get a type of ice cream called Bear Claw. Bear Claw ice cream is a very rich chocolatey ice cream, with ribbons of caramel, and chocolate covered cashews.
I've been making vegan ice cream from bananas. I can't eat Bear Claw ice cream anymore, so this is my healthy vegan adaptation of it. My daughter Kendra says we should call it Banana Claw.
This whole recipe is easy and quick. Once your bananas are frozen, the entire recipe takes about 15 minutes to make.
To freeze bananas: Choose bananas that are ripe, with freckles, but not totally brown. Bananas that are overripe and would work great in banana bread will make this recipe taste too banana-y. So pick bananas that are freckled, so that they are sweet enough, but not overripe. To freeze, break the bananas into chunks and put them in a container in the freezer.
Making chocolate covered cashews is easy: Melt chocolate chips, stir together with cashews, and put them in the freezer for a few minutes. Ziplock bags are very non-stick, so they work great for freezing the cashews. The chocolate ends up on the cashews, not on the bag. Tip: To make it easier to spoon the mixture into the ziplock bag, you can put the bag into a glass or mug and fold its sides down over the rim. Then the glass will hold the bag open for you.
The caramel layer is my version of the caramel in Vegan Richa's Salted Date Caramel Chocolate Pie with Almond Coconut Crust — a very decadent and wonderful vegan recipe.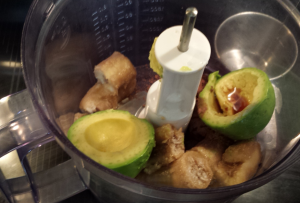 I don't normally use much salt, but it tastes really good in this caramel, and it's only a small amount. If you happen to have fancy salt available, such as Himalayan Sea Salt, this is a good recipe to use it in.
Banana ice cream is very easy to make: Blend three frozen bananas with whatever flavoring you like: fruit, or cocoa powder. An optional avocado adds extra richness.
And voila! Healthy fruit and nuts are magically turned into a rich and delicious ice cream.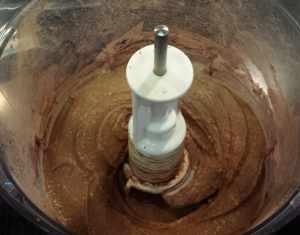 ---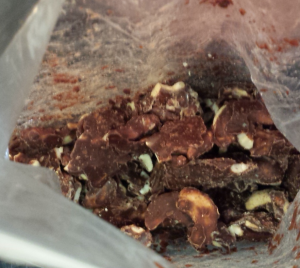 Edited to add: I've had a request for a nut-free version. For nut-free, omit the cashews or replace them with pumpkin seeds (without shells). And leave out the almond butter.
Print Recipe
Banana Claw - Vegan Ice Cream
A rich vegan ice cream, made from bananas, full of caramel, laced with chocolate covered cashews.
Ingredients
Chocolate Covered Cashews:
Caramel:
5-6

dates

with no pits

2 1/4

teaspoons

almond butter

2

teaspoons

canola oil

3

tablespoons

water

3/8

teaspoon

salt
Ice Cream:
3

frozen bananas

broken into chunks

3

tablespoons

cocoa powder

1

perfectly ripe avocado

optional

1

teaspoon

vanilla extract
Instructions
Chocolate Covered Cashews:
Melt the chocolate chips in a small bowl in the microwave, by heating for 30 seconds and then stirring. Repeat until the chips are melted.

Stir in the cashews.

Pour into a quart-sized Ziplock bag.

Squeeze out the air, then zip the bag.

Use your fingers to spread out and separate the cashews throughout the bag.

Place the bag in the freezer.
Caramel:
Blend all caramel ingredients in a blender or food processor, until completely smooth.
Ice Cream:
Blend all of the ice cream ingredients in a food processor.

Remove the bag of cashews from the freezer.

While the bag is still closed, use your fingers to break apart the cashews, so that they are separate and not stuck together.

Pour the cashews into the ice cream, and gently stir them in.

Put half of the ice cream into a freezer-safe container. Smooth it out. Spread the caramel evenly on top. Add the rest of the ice cream on top.

You can eat the ice cream now, though it will still be soft, or leave it in the freezer to firm up.