Muffin Bread – awesomely healthy sugar-free banana bread – gluten-free and dairy-free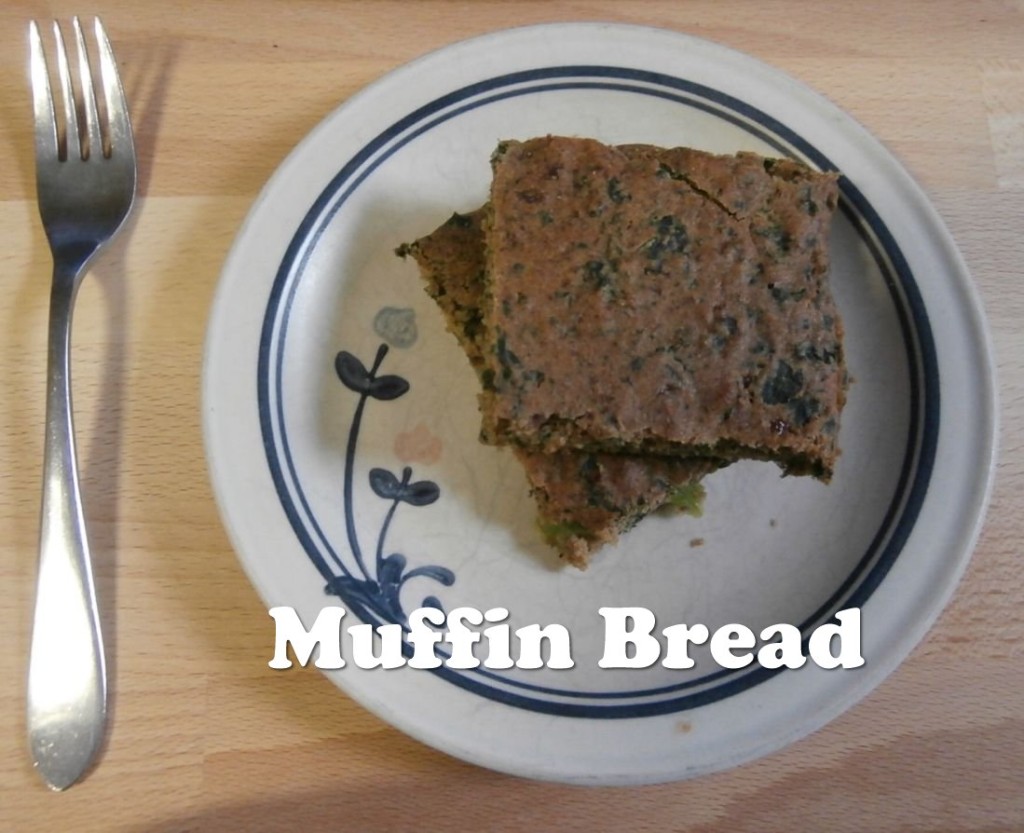 My son Corbin named this recipe, when he was little. You can bake it as muffins, a loaf, or cupcakes. Usually I bake it on a cookie sheet and then cut it into squares. I have some awesomely nonstick cookie sheets — which unfortunately are not sold anymore. Baking on the cookie sheet is the easiest and quickest way to make this recipe.
Corbin takes muffin bread with him to school every day. At home sometimes it is all he wants to eat.
Luckily, it is a 100% healthy food, and even fairly well balanced. So it is okay for Corbin to eat as much as he wants.  :)
Because this recipe contains no refined sugar, it is much less sweet than the typical sugar-bomb banana bread recipe. Its sweetness is more comparable to a loaf of slightly sweet whole wheat bread than to a typical banana bread.
Because this recipe is less sweet than most, the amount of cinnamon, nutmeg, and cloves looks low compared to other banana bread recipes. But the amounts listed here work really well for this recipe — more would be overwhelming.
Tip: This recipe works great as French toast! Bake it, cut the muffin bread into slices, dip the slices in beaten egg, and fry each side in a little bit of oil. Serve with maple syrup. Yum!!!
This recipe is originally adapted from a cookbook called Sweet and Sugar Free – An All-Natural Fruit-Sweetened Dessert Cookbook by Karen E. Barkie. I really like that cookbook, because it replaces refined sugar with natural sweeteners or just leaves it out entirely.
I normally make this recipe nut-free, so that I can send it to school or feed it to Corbin in the mornings before school. But if you don't have those restrictions, it would be great with 1 cup of chopped nuts (eg. walnuts) added to it.
This may be the single recipe that I have made the most in my life. I make it for Corbin so often that have it memorized.  :)
Muffin Bread – awesomely healthy banana bread – gluten-free and dairy-free
A super-healthy gluten-free vegan banana bread. No refined sugar! Sweetened entirely with ground-up raisins (it doesn't taste raisin-y) and bananas.
Servings:
16
squares or one loaf
Ingredients
3/4

cup

raisins

2

eggs

3

overripe bananas

broken into chunks (frozen and defrosted is okay)

1/4

teaspoon

cinnamon

1/4

teaspoon

nutmeg

1/8

teaspoon

cloves

1

teaspoon

baking soda

2

teaspoons

baking powder

or 2/3 teaspoon cream of tartar + an additional 2/3 teaspoon baking soda

either 2-3 tablespoons ground flax seeds

or 1 1/2 teaspoons of xanthan gum or guar gum

2

cups

gluten-free flour mix

I usually use 1/2 cup each of: quinoa flour, teff flour, garbanzo flour and either potato starch or tapioca starch

1/2

cup

water

1/3

cup

canola oil

optional: 2-3 cups frozen chopped kale or spinach

defrosted
Instructions
Preheat the oven to 375 degrees.

Put the raisins, eggs, and bananas in the bowl of a food processor. Run it for a few minutes, until the raisins are broken down into tiny pieces and everything looks mixed.

Add all of the other ingredients, except for the kale or spinach.

Run the food processor until everything looks mixed.

Add the kale, if you are using it.

Run the food processor until the greens are in small pieces and everything looks mixed.

Pour the batter either onto an awesomely non-stick cookie sheet and spread until it covers the sheet, or into muffin cups or a loaf pan. You can decorate the top with artfully arranged pumpkin seeds (without shells on!) or sunflower seeds — I like to make muffins with pumpkin seed flowers on top.

Bake for 19 minutes for the cookie sheet or muffins, or 45 minutes for a loaf.