Egg Pinwheels – no gluten or dairy, and super cute!
This adorable recipe is fairly easy to make. You do need a food processor or mixer that can whip eggs, and a very non-stick cookie sheet. Then you are good to go!
I originally found this recipe on a site that does not exist anymore. I've adapted it to be gluten-free and healthier, and made it much simpler.
My kids really like this recipe.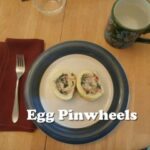 Print Recipe
Egg Pinwheels - no gluten or dairy, and super cute!
This super-cute recipe is fairly easy to make if you have a way to whip egg whites and a very nonstick cookie sheet. Yum!
Ingredients
12

eggs

1/4

cup

of gluten-free flour mix

I use 2 tablespoons potato starch + 2 tablespoons of garbanzo flour or quinoa flour or brown rice flour -- or if you are not gluten-free, then use regular flour

1/4

teaspoon

salt

3

cups

of filling - see three options below
Filling Option One:
1

cup

"lasagna cheese"

or real cheese

1

package defrosted frozen spinach

1

red bell pepper

cut into small cubes
Filling Option Three:
I haven't tried it

but I think a mixture of greens, pesto, and tiny cubes of potatoes would be amazing in these.
Instructions
Preheat oven to 350 degrees. Spread a thin coating of oil all over the inside of a very non-stick cookie sheet that is about 11 by 15 inches.

Separate the eggs. Put all twelve egg whites into a food processor or the bowl of a mixer, and use the whipping attachment to whip them until they are stiff.

Discard eight egg yolks (I know, that's hard to do, but a dozen of the really nice eggs costs about $4, so it won't break the bank). Add the remaining four egg yolks to the egg whites, along with the flour mixture and salt. Gently mix everything together with a spatula.

Pour the egg mixture onto a cookie sheet, and use a spatula to spread it all the way to each edge and smooth it out so that it is about the same depth everywhere.

Bake in the preheated oven for 10 minutes, until the eggs start to brown.

While it bakes, mix up your choice of filling ingredients.

Remove from the oven, but leave the oven on.

Gently use a spatula to loosen the egg rectangle from the cookie sheet. Be careful -- it is hot!

Once the egg rectangle is detached, carefully flip it upside down.

Spread the filling mixture evenly over the egg rectangle, leaving about an inch bare along one of the long edges.

Carefully roll up the rectangle, rolling toward the bare edge. Keep rolling until the edge is underneath the roll. I find it convenient to put the roll on a diagonal on the cookie sheet, so that if filling comes out the ends it lands on the cookie sheet.

Bake for another 10 minutes.

Cut through the roll to make it into eight spiral pinwheels, and serve. You can do the cutting with a knife or a sharp spatula -- or by looping dental floss around it and pulling the loop shut, to cut through the log. Fun!