Zucchini Brownies "Zeebies" – gluten-free, dairy-free, and healthy!
I have been making this recipe for years: Brownies that are full of zucchini!!! My kids clamor for more! All four of us love them, zucchini and all!
I love zucchini. All three of my kids hate zucchini, but all three kids love these brownies!
If you use the version of the recipe that is sweetened with dates instead of refined sugar, then this is one healthy recipe. I even ate it for breakfast this morning. Yum!
The initials for Zucchini Brownies are ZB, so my family calls these "Zeebies."
The original recipe that this is based on is Cassie's Zucchini Brownies from allrecipes.com, though my version is fairly different. I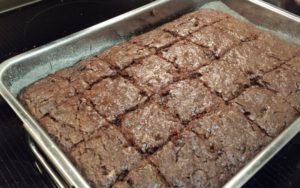 made it gluten-free, added lots more zucchini, replaced the walnuts with chocolate chips, removed the salt, and added an option to sweeten it with dates instead of refined sugar.
Tip: These brownies look much better if you use a classic green-colored zucchini in them. Yellow summer squash tastes fine too, but looks a little alarming.
Here is the recipe!
Print Recipe
Zucchini Brownies "Zeebies" - gluten-free, dairy-free, healthy, and can be vegan!
My zucchini-hating kids adore these brownies. They are healthy and delicious, gluten-free, and can be vegan. YUM!!!
Ingredients
EITHER 2 cups of all-purpose flour

or 2 cups of gluten-free flour mix (I use 1/2 cup each of: teff flour, quinoa flour, potato starch, and garbanzo bean flour -- but any flour mix should work)

1 1/2

teaspoons

baking soda

1/3

cup

unsweetened cocoa powder

1

cup

chocolate chips

EITHER 1 cup of white sugar OR 1 cup of dates

pits removed

EITHER 2 eggs OR 2 flax eggs

2 to 6

cups

grated zucchini -- don't salt it or drain it or anything

just grate it. A food processor is perfect for speedy grating.

1/2

cup

vegetable oil

such as canola

1

teaspoon

vanilla extract
Instructions
Preheat oven to 350 degrees.

If you are using

flax eggs

, mix those up first, and let them sit for a couple of minutes.

Oil the bottom and the bottom inch of the sides of a 9x13 inch baking pan -- a "lasagna pan".

If you are using dates as the sweetener, put them into a food processor together with the eggs or flax eggs. Blend for several minutes, until it looks like a creamy and smooth mixture with some bits of date-skin in it. Then add the oil and blend just until mixed.

Now put all of the ingredients, including the dates (if you are using them) and eggs or flax eggs, into a large mixing bowl. Stir until everything is mixed thoroughly. Check for pockets of unmixed flour, and stir those in too.

The wetness of the mixture should be someplace between a dough and a batter. If it seems too stiff, stir in some water, a couple of tablespoons at a time, until it has the wetness of a dough.

Put the mixture in the greased pan. Smooth it out with a spatula, so that the surface is flat and the mixture evenly covers the whole bottom of the pan.

Bake for 35 minutes.

Let cool, or serve hot -- just beware that when it comes out of the oven it is really molten hot, so I suggest letting it cool for at least a few minutes to stay safe.

Cut into squares or bars.

Tastes great either warm or at refrigerator temperature.