Stroganoff – creamy, soothing, vegan, and gluten-free
I love this creamy vegan meal of pasta. It is warm, salty and soothing.
This is based on a Seitan Stroganoff recipe from the cookbook Friendly Foods by Ron Pickarski. But I have converted the recipe to be gluten-free and much quicker and easier than the original.
I love Ron Pickarski's cookbooks –Friendly Foods and Eco-Cuisine. From what I read in his cookbooks, Ron Pickarski was a monk who worked in the kitchen at his monastery, and he had a medical concern that limited him to a vegan diet. I am amazed by the creative solutions he has come up with for making vegan food that is interesting and delicious. For example, he makes a sauce out of yellow peppers. His recipes are sometimes time-consuming, but they are very consistently very yummy food. Some of the recipes in his cookbooks have been entered into the International Cooking Olympics — and sometimes they won! I am intrigued by his creativity and thoughtfulness with food.
ps. Check out the "music" table napkin in the picture — I made it myself! My friend Carol Simmons taught me how to use a sewing machine, and my son Corbin picked out the fabric. :)
Anyway, onward to the recipe!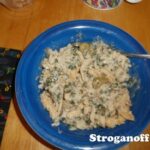 Print Recipe
Stroganoff - creamy, soothing, vegan, and gluten-free
This creamy, salty, pasta dish tastes too rich and yummy to be vegan, but it is!
Ingredients
12

ounces

uncooked spiral pasta

or another shape

2

cups

of your favorite "meaty" item

cut into bite-sized pieces (I like Butler Soy Curls - rehydrate 1 cup of them in warm water for this recipe; or if you can eat gluten, seitan works well in this recipe; or you can cut up six Tofu Pups; or use 1 cup of olives cut in half and with the pits removed)

1

onion

diced - optional

2

tablespoons

canola or olive oil

1 1/2

teaspoons

minced garlic - optional

1 1/2

cups

sliced fresh mushrooms

1 1/2

cups

water

1/2

cup

cashews

1 1/2

teaspoons

dried parsley

1

teaspoon

stone-ground prepared mustard

I like Annie's brand Dijon Mustard

3

tablespoons

cornstarch or 2 tablespoons potato starch

2

tablespoons

of umeboshi paste -- or 1 teaspoon honey and 1 teaspoon salt

2

tablespoons

gluten-free soy sauce/tamari

I like San-J organic reduced-sodium gluten-free tamari

1

tablespoon

sesame oil

the brown toasted kind (I like Eden brand)

optional: 1/3 cup green olives

pits removed and sliced into o-shapes (I adore Organic Divina brand olives, or sometimes I'll use Jeff's Natural's olives - black olives that are pre-sliced and a real time-saver)

optional: about 2 cups of frozen kale

defrosted (or fresh kale, chopped)
Instructions
Cook the pasta.

Meanwhile, if you are using soy curls, break the dry soy curls into pieces that are about 1 inch long or less. Put one cup of dry soy curls into a few cups of hot water, to start rehydrating. If you are using another "meaty item" instead, cut it up into bite-sized pieces.

Heat the canola or olive oil in a big pot. If you are using onions, cook them in this oil until translucent. Add the garlic, if you are using it, and the mushrooms. Cook for 6-10 minutes, until soft.

In a food processor, put only 1/2 cup of the water. Add the cashews. Blend until smooth. Add the dried parsley, mustard, cornstarch or potato starch, umeboshi paste (or honey and salt), and tamari. Blend for several minutes, until the mixture is creamy and super-smooth.

Add the sauce mixture and the sliced olives (if using) to the pot with the mushrooms in it. Use the other 1 cup of water to rinse out the last sauce from the food processor, then add it to the mushroom mixture. Heat, stirring frequently, until the sauce boils, then turn off the heat.

When the pasta is cooked, drain it, the mix it with all of the other ingredients, including the toasted sesame oil. Stir everything together well. Add more water to the mixture if needed.

Serve!

Yum!!