Golden Crispy Tofu – gluten-free, vegan, and yummy!
I love this recipe! It's a delicious way to serve tofu.
My favorite way to serve this is with some broccoli on the side. It makes a complete meal that way. Alternatively, it is also good with a salad on the side and a creamy white dressing on top of the tofu. I've posted my favorite recipe for a creamy white dressing — it goes great on this recipe!
This is based on a recipe posted by Vegan Dad. I have adapted it to be gluten-free, and a little simpler than the way he does it.
Yum!
Edited to add: For another alternative, there is a much quicker mashed-together version of this recipe called Frankentofu!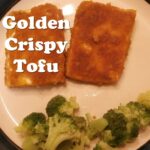 Print Recipe
Golden Crispy Tofu - gluten-free, vegan, and yummy!
This gluten-free, vegan breaded tofu dish is delicious!
Ingredients
Tofu
1

package extra-firm tofu

canola or olive oil for frying
Bread Crumbs
2 1/2

cups

of gluten-free cereal

such as Erewhon's Crispy Brown Rice cereal -- check that the package says it is gluten-free

1/2

teaspoon

salt

2/3

teaspoon

sage

1/3

teaspoon

thyme

1 to 1 1/3

teaspoons

smoked paprika
Dry Mix
1/4

cup

brown rice flour or quinoa flour

or use regular flour if you are not gluten-free

1/4

cup

garbanzo bean flour

ditto

1/4

cup

potato starch

ditto

1/2

teaspoon

salt
Wet Mix
EITHER 1 1/4 cups dairy-free milk OR 1/8 cup cashews blenderized with 3/4 cup water

2

tablespoons

prepared mustard

I use Annie's Organic Dijon mustard

1/2

teaspoon

salt
Instructions
Cut the tofu crosswise into 12 slices, each one about 1/4 inch thick.

Put a frying pan -- or two frying pans, so you can cook all the tofu at one time -- on the stove with some oil on low heat to preheat. There should be enough oil to cover the bottom of the pan, but it does not need to be deep.

Put the gluten-free cereal and other ingredients listed under bread crumbs into the blender and blend until you have a powder.

Put the ground cereal mix into a soup bowl.

Next, put the ingredients for the Dry Mix into another soup bowl, and stir until mixed.

Next, put all ingredients for the Wet Mix into the blender (no need to clean it after the cereal), and blend until smooth.

Put the Wet Mix ingredients into a third soup bowl.

Add an ordinary dinnertable fork to each soup bowl.

Using the fork in each bowl to touch the tofu (this keeps your fingers clean and dry), one at a time dip each piece of tofu into (1) the Wet Mix, (2) the Dry Mix, (3) the Wet Mix again, (4) the ground-up cereal. Use the fork to pat each coating all over all sides of each piece of tofu. After each time you dip it into the Wet Mix, use the fork to hold it above the cereal bowl for a few moments, to let the extra liquid drip back into the bowl.

Each time you finish dipping a piece of tofu, put it into a frying pan. If the frying pan has a puddle of oil on one side, I like to put each piece of tofu into the oil and then slide it to the side.

When all of the tofu is coated and in the frying pans, turn up the heat to medium-high.

Fry for a few minutes on each side, adding more oil if needed, until the coating is turning golden brown and crispy.

The tofu tastes great served with my super-quick

creamy white dressing

on top, so this is a good time to make a batch.

While the tofu cooks, consider cooking

broccoli

as a side dish. I have linked to the instructions for my favorite way of cooking broccoli.

Serve!
---
This recipe has been shared at Gluten-Free Fridays.