Quick Ethiopian Dinner – gluten-free, vegetarian or vegan, and really yummy!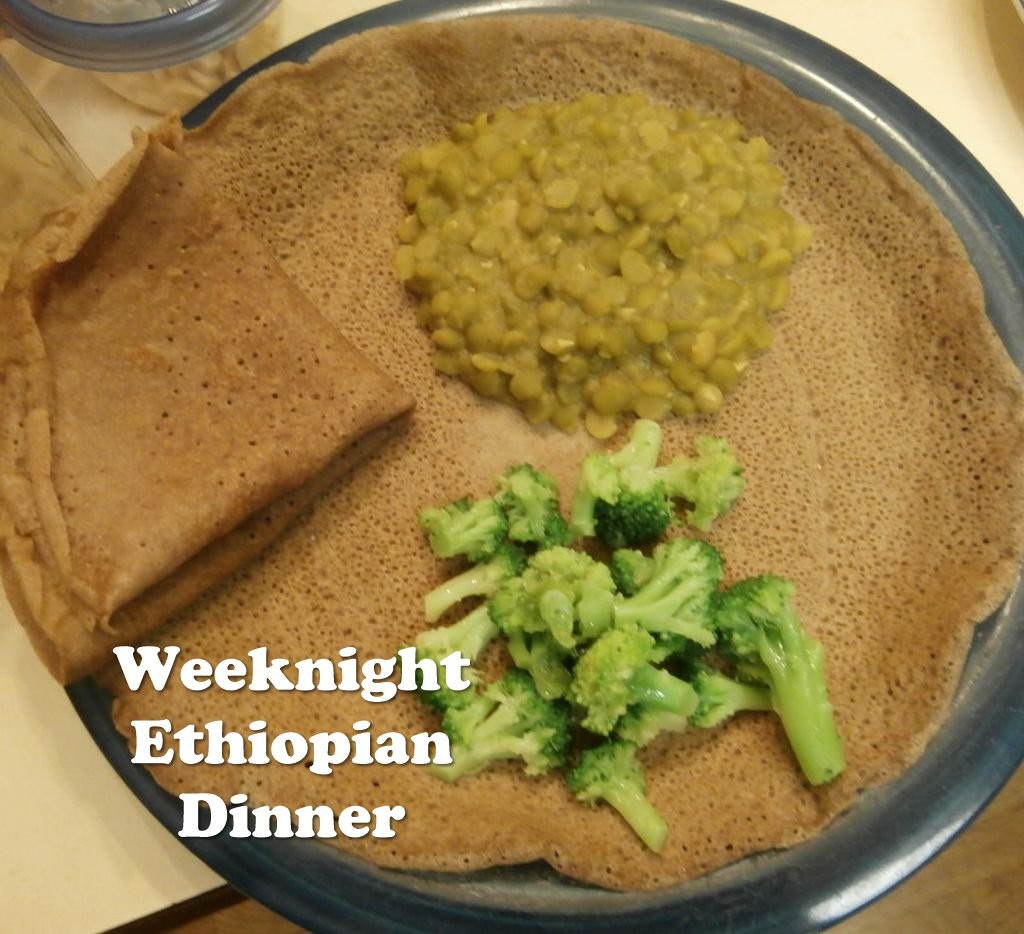 I love
Ethiopian food! The salty complex flavors, the variety of different dishes, the unusual way of eating it family-style with flatbread instead of silverware. Fun and yummy!
When my family first went gluten-free, I thought we would still be able to eat at our local Ethiopian restaurants, because all of the Ethiopian stews are gluten-free, and the Ethiopian flatbread, called injera, is made with teff flour — and teff is gluten-free. Alas, when I asked the local Ethiopian restaurants about it, I found out that they all use regular American flour, made from wheat, in their injera. So I could not eat there. How sad!
So, of course I had to learn to make my own!
Ethiopian food is usually served family style, with a single platter shared by everybody at the table. You are served a huge metal platter, covered in injera, with about six piles of different types of Ethiopian stew on top of the injera. Sharing food with your tablemates is hygienic because instead of silverware, you use pieces of injera to pick up your food — and then you eat the injera and the food together. I think of it as eating my silverware after every bite, so that there is always brand new, fresh, clean silverware for the next bite.  :)
I wanted to be able to make Ethiopian food as a weeknight dinner, so I have greatly simplified this recipe, in order to be able to make it quickly enough to serve it as a regular dinner for my family. It isn't nearly as fancy as a real Ethiopian feast at a restaurant. But it has that same yummy Ethiopian flavor. Plus, because it is quicker to cook, I make it a lot more often, so we end up eating it much more often than we would if it was a more elaborate recipe.
Relatedly: I recently bought a cookbook called Teff Love: Adventures in Vegan Ethiopian Cooking, which is an entire cookbook of vegan Ethiopian recipes, made with Americanized ingredients. I haven't cooked anything from it yet, but I bought a copy and am eagerly looking forward to experimenting with it. I've linked its title to the book on Amazon in case you are interested in finding a copy too.
My Ethiopian recipes in this posting are heavily adapted from the wonderful cookbook Vegan Lunch Box: 130 Amazing, Animal-Free Lunches Kids and Grown-Ups Will Love! — another really wonderful cookbook.
There are three parts to this meal: Injera (the flatbread), a split pea stew called Split Pea Alecha, and some broccoli.
I make Injera from my crepe recipe, but replacing most of the gluten-free flour mix with teff flour. Teff is the smallest grain, and the highest in iron. It is from Africa. It gives a "wheaty" taste to gluten-free baked goods.
The timing for this recipe works like this:
Start cooking the Split Pea Alecha.
While it cooks, make the injera. IMPORTANT: Make a triple batch of injera, so that you'll have enough.
Toward the end of making the injera, cook a pound of frozen broccoli as a side dish. See my quick and easy broccoli recipe here.
To serve, put a piece of injera on each plate. Add a scoop of Split Pea Alecha, a scoop of cooked broccoli, and a folded piece of injera.
Serve!
Eaters tear off a piece of injera and use that to scoop up a bite of stew or broccoli, then eat it. They may need some extra injera to eat their meal. When you finish your folded piece of injera, you can also eat the injera that is under the food on the plate. Yummy!
To make injera, make a triple batch of my crepe recipe. You can optionally replace up to three quarters of the flour mix with teff flour, to make it more Ethiopian.
My broccoli recipe is here. It is quick and yummy.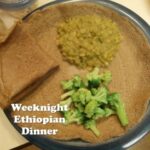 Print Recipe
Split Pea Alecha - gluten-free, vegetarian or vegan, Ethiopian food and really yummy!
This is the main component of a quick weeknight Ethiopian dinner. It has the lovely allure of Ethiopian spices, but it is simple enough to cook for dinner on a weeknight.
Ingredients
3

cups

dried split peas - either green

cooks faster or yellow (more authentic) is okay

1/2

teaspoon

turmeric

1 1/2

teaspoons

salt

1/2

cup

canola oil

2

slices

1/4 inch fresh ginger, chopped finely

1/2

teaspoon

ground cardamom

or 2 pods, crushed

1/4

teaspoon

ground cloves

or 1 clove, crushed

1/4

teaspoon

ground cinnamon

a pinch of nutmeg
Instructions
Put the split peas into a big pot, with water. Sprinkle with the turmeric. Check the package from the split peas for how much water to use, or use 6 cups if you are using green split peas, or 10 cups if you have yellow split peas. (Yellow seems to be more absorbent.)

Bring to a boil, then lower the heat.

Simmer until the liquid has been mostly absorbed and the stew is starting to look thickened. The amount of time that this takes varies widely depending on the variety of split peas and how long ago they were harvested. In my experience it can take anything from 30 to 90 minutes. Green split peas cook faster; yellow ones take longer.

Stir in all of the other ingredients.

Serve on injera (see recipe notes), with broccoli and more injera for scooping.
This recipe has been entered into the Virtual Vegan Linky Potluck. Yum!!!
This recipe has been shared on Gluten-Free Fridays.  Yum!!!