Cornbread Stuffing – gluten-free, dairy-free, and super yummy!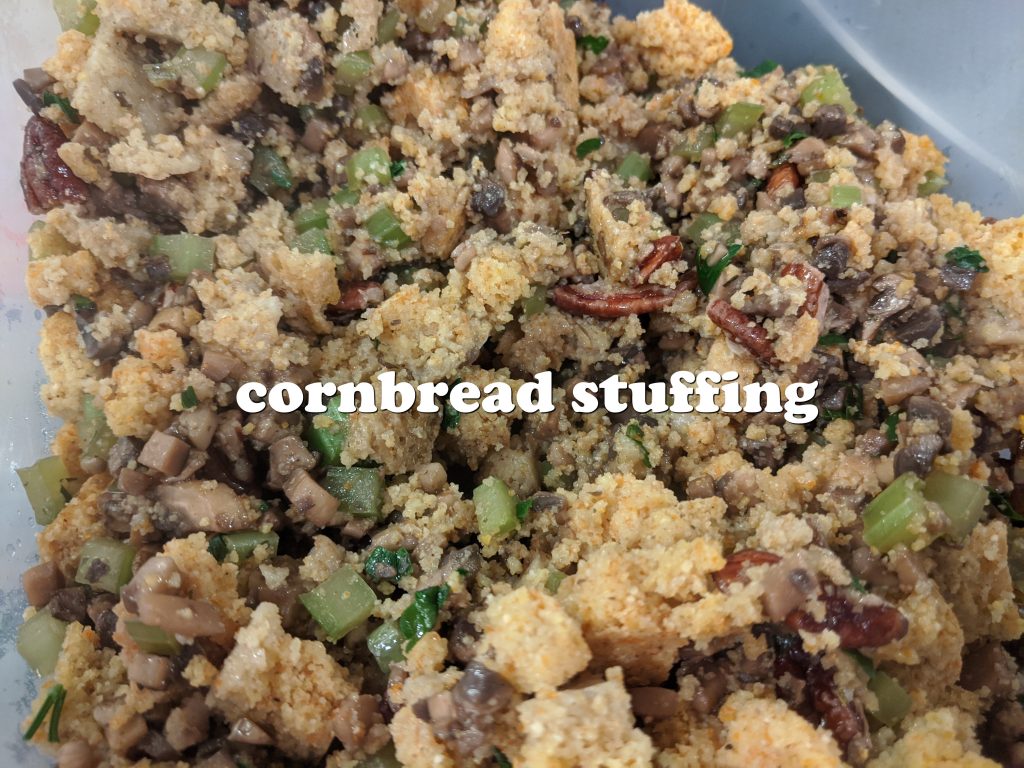 This is the stuffing that I make every year at Thanksgiving. I love this recipe!
This is my take on the stuffing recipe from Nava Atlas' book Vegetarian Celebrations. I have made it less sweet and swapped around a number of ingredients.
In addition to making excellent stuffing for Thanksgiving, this recipe can also be used to make a fantastic vegetarian main dish for Thanksgiving (or any other time!) if you cut some sweet little winter squashes in half (good varieties for this are sweet dumpling squash and delicata), remove the seeds, and bake them cut-side-down in an oven until the flesh is soft all the way through, then serve them cut-side-up with the middle filled with this stuffing. This is delicious!
Happy Thanksgiving!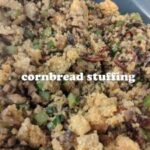 Print Recipe
Cornbread Stuffing - gluten-free, dairy-free, and super yummy!
This gluten-free dairy-free stuffing recipe is delicious! I make it at Thanksgiving every year.
Ingredients
Cornbread
1

cup

cornmeal

1

teaspoon

baking soda

3/4

teaspoon

salt

1

egg

1

cup

of your choice of buttermilk

or nondairy milk, or 1 cup water blenderized with 1/8 cup cashews, or 1 cup of water plus 2-3 teaspoons of any nut butter (such as almond butter)

1

tablespoon

apple cider vinegar

only if you are not using buttermilk
Stuffing
2

tablespoons

olive oil

2

stalks celery

chopped

2

cups

mushrooms

chopped

1/2

teaspoon

dried sage

1/2

teaspoon

dried thyme

3

tablespoons

fresh parsley

chopped, or 1 tablespoon dried

1/4 to 1/2

cup

water

1/2

cup

pecan pieces

or other nuts or seeds
Instructions
Preheat oven to 375 degrees.

If you are using non-dairy milk and not buttermilk, stir the vinegar into the nondairy milk and let it sit for a few minutes, to make vegan buttermilk.

Stir all of the cornbread ingredients together in a bowl, including the vegan buttermilk.

Oil an 8x8 inch or 9x9 inch square pan and pour in the batter.

Bake for 15-20 minutes.

Let the cornbread cool.

Meanwhile, in a large nonstick pan, mix the oil, celery, mushrooms, sage, thyme, and parsley. Heat through for about five minutes, stirring occasionally.

When the cornbread has cooled, use a spatula to break it into pieces about the size of chickpeas.

Stir the cornbread and the pecans into the mixture in the pan.

Add enough water to moisten the mixture.

Add salt and pepper to taste, if desired.

Heat through and serve!