Matzo Ball Soup – gluten-free and dairy-free for Passover or anytime!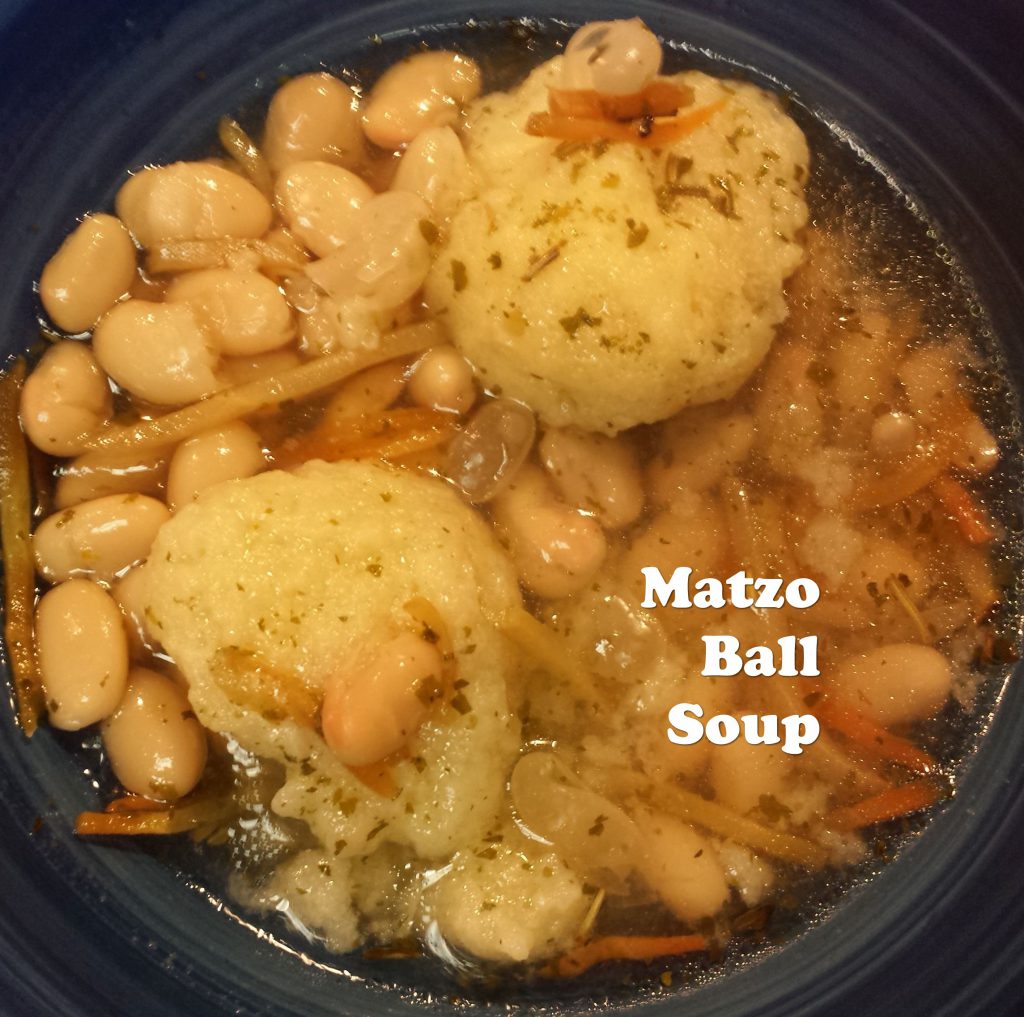 When my family went gluten-free, I thought that for sure we would never have matzo ball soup again. But I found a dumpling soup recipe that reminded me of matzo ball soup and from there I invented this recipe. Yum!!!
If you are cooking for Passover, you may want to also see my recipe for a gluten-free, vegan Matzo Mina — my favorite main dish for Passover. It is a bit like a spinach artichoke lasagna, but with the noodles replaced with gluten-free matzo. Yum!!!
Happy Passover!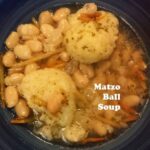 Print Recipe
Matzo Ball Soup - gluten-free and dairy-free for Passover or anytime!
Gluten-free dairy-free matzo ball soup! Yum! Lightning-quick and made from scratch! Happy Passover!!!
Ingredients
Soup:
6

cups

water

2

tablespoons

olive oil

optional but good: 2 cans white beans

navy beans, cannellini beans, or great northern beans, etc., rinsed (15-ounce cans)

1

cup

sliced carrot circles

2-3

stalks celery

sliced thinly

2

tablespoons

dried parsley

1/4

teaspoon

dried rosemary

rubbed between your fingers and broken into bits

1/4

teaspoon

dried thyme

1

teaspoon

salt

pepper to taste
Dumplings:
7

tablespoons

flour or gluten-free flour

I use 2 tablespoons of brown rice flour, 2 tablespoons of potato starch, and 3 tablespoons of garbanzo bean flour

1

egg

1/4

teaspoon

salt

1/2

teaspoon

baking powder

or 1/6 teaspoon baking soda plus 1/6 teaspoon cream of tartar; I don't have a measuring spoon for 1/6 teaspoon, but this recipe works fine if you estimate the amount
Instructions
Put all ingredients listed under "Soup" into a big pot that is at least ten inches wide, so that there is enough space for the matzo balls to cook. You don't need to measure any of the soup ingredients -- just estimating is fine. Heat to boiling, then lower to a simmer.

Mix all of the dumpling ingredients in a small bowl, such as a cereal bowl. The consistency of the dumpling dough matters a lot to the success of the recipe; the mixture should be the consistency of toothpaste, or wet-ish cookie dough. If it is too wet, add more flour -- I usually add garbanzo flour. If it is too dry, add some water. Keep adjusting the consistency until it is perfectly like toothpaste.

When you are satisfied with the dough, drop marble-sized blobs of it into the soup. They will expand as they cook. The matzo balls will cook on one side, then stir to flip them to the other side so that both sides get a chance to cook.

Serve hot.