Chocolate Marble Banana Bread – gluten-free, vegan, no dairy, no eggs, gorgeous and delicious!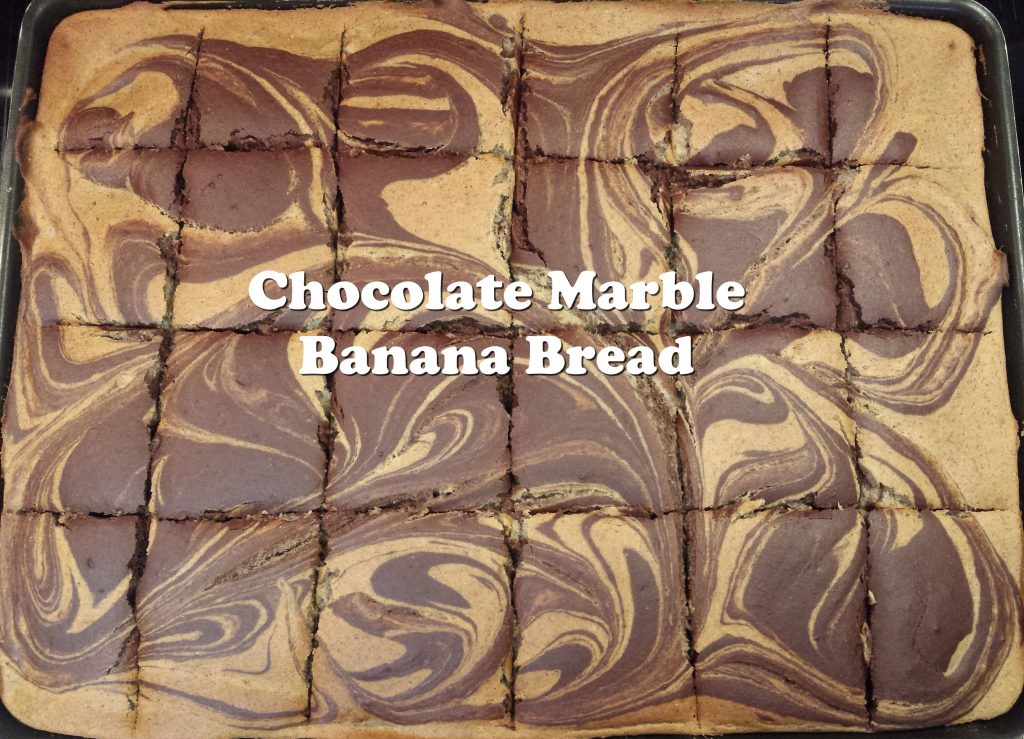 Marble cake is very easy to make and looks impressively gorgeous!
Years ago I was in charge of bringing snacks to a troop of hungry Girl Scouts with a long list of food restrictions. For each meeting, I usually brought two types of fruit and something baked. This gorgeous chocolate marbled banana bread was always a big hit.
This is based on a recipe by Isa Chandra Moskowitz — an author whose recipes are extremely likely to turn out fantastically yummy! I have converted her Chocolate Marbled Banana Bread recipe to be gluten-free and simpler, increased the amount that it makes, and I've added an option where you can sweeten the banana bread with either dates (no refined sugar!) or you can use refined sugar — your choice.
I have also used this recipe to make a gorgeous multicolored marbled banana bread. Someday I will post that version of this recipe too!
My nephew Keane is visiting, and we've had an oversupply of overripe bananas, so he has been making this recipe to help use them up. He posted pictures on Facebook and people seem pleased by how nice it looks.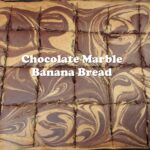 Print Recipe
Chocolate Marble Banana Bread - gluten-free, vegan, no dairy, no eggs, gorgeous and delicious!
This gorgeous banana bread recipe has beautiful swirls of chocolate. And it is gluten-free, vegan, dairy-free, nut-free, and spectacularly yummy! It can be sweetened with either sugar or dates (no refined sugar!).
Ingredients
4

overripe bananas

EITHER 1 cup sugar OR 1 cup dates + 2 dates

1 1/3

teaspoons

vanilla extract

2

tablespoons

+ 2 teaspoons canola oil

3/4

cup

water

divided

2 1/2

cups

of EITHER all-purpose flour OR gluten-free flour mix

such as 1/2 cup plus 2 tablespoons of each of potato starch, quinoa flour, garbanzo flour, and teff flour

If you use gluten-free flour and your flour mix doesn't contain it

add: 1 teaspoon xanthan gum or guar gum

2

tablespoons

of coconut flour

this absorbs liquid and prevents it from coming out gooey

1

teaspoon

baking soda

1/4

cup

baking cocoa powder
Instructions
Preheat oven to 350 degrees.

Grease a nonstick cookie sheet OR loaf pan OR 8" circular baking pan.

If you are using dates, put them and 1/2 cup water in a food processor and blend until creamy.

Add almost all of the other ingredients to the food processor BUT DON'T ADD THE CHOCOLATE OR THE LAST 1/4 CUP OF WATER YET. (Sorry about the capital letters. I sometimes mindlessly add the cocoa powder and mess up the recipe, so I figured shouting it in capital letters would help save people from doing that.) Blend.

Pour 2/3 of the vanilla batter into the greased baking pan, and use a spatula to spread it out evenly. In the food processor, add the cocoa powder and 2 tablespoons of water to the remaining batter and mix. Drop big glops of the chocolate batter onto the vanilla batter. Swirl gently with a spatula to make it marbelized. (Stop swirling long before it gets fully mixed!)

Bake! Times are: 22 minutes if the batter is on a cookie sheet, 55 minutes for a loaf pan, or 45 minutes for an 8" circular pan.