Pot Stickers – gluten-free, vegetarian, vegan, Asian dumplings – yum!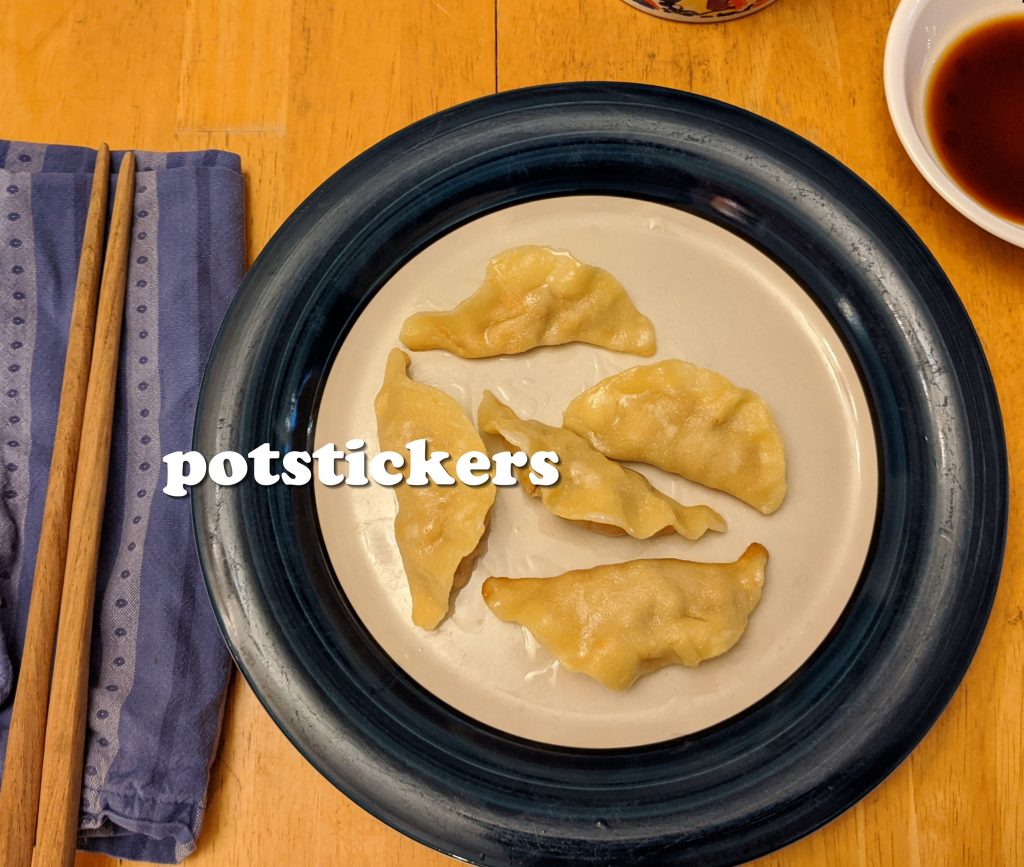 Years ago, my family loved to get vegetarian pot stickers — little dumplings — from a Chinese vegetarian restaurant called Chia Shiang. We loved that restaurant, and their potstickers were a real favorite of ours.
When we went gluten-free, we stopped eating there. I sadly thought I would never have a potsticker again, because they didn't seem like a food that a regular person could make at home, and certainly not potstickers as good as the ones from that restaurant. I love to replicate foods that I miss, but potstickers seemed like too big a leap. I am happy to report that I was wrong!
Eventually I found a recipe for gluten-free potsticker dough in the cookbook The GF Asian Kitchen by Laura B. Russell, and recipes for a vegetarian filling and the dipping sauce. I have made lots of changes to this recipe over the years, and I am really happy with it. It makes amazing pot stickers that are every bit as good as the ones from Chia Shiang.
This is a good recipe to make while isolating at home to avoid the pandemic. I can make it entirely from ingredients in my pantry. A lot of the recipes on this site are very quick, but this one is not; it takes about an hour to make. But because of the pandemic I have time.
Yum!
This is the first time I have ever put a video on this site. I thought it would be useful to see how to shape a potsticker, so I asked my nephew to make a video of it. I didn't expect its player to be so big!
Print Recipe
Pot Stickers - gluten-free, vegetarian, vegan, Asian dumplings - yum!
These Asian potsticker dumplings are vegetarian, vegan, and gluten-free! And you really can make these at home! Yum!
Ingredients
Filling
1 1/2

cups

finely chopped vegetables

such as cabbage, carrots, cashews, shiitakes, etc.

1/2

tablespoon

minced ginger

or dried powdered ginger

2

cloves

garlic

minced (optional)

1/2

teaspoon

white pepper

optional

1

teaspoon

toasted sesame oil

salt to taste
Dough
1/2

cup

tapioca starch

or, it should be okay to use potato starch or cornstarch instead

1/2

cup

garbanzo flour

1/2

cup

sweet rice flour + more for rolling

do not substitute any other type of flour!

1 1/2

teaspoons

xanthan gum or guar gum

1/2

teaspoon

salt

1/2

cup

+ 1 tablespoon water
For cooking
two frying pans that each have a lid

a few tablespoons of canola oil
Dipping Sauce
3

tablespoons

soy sauce

I use gluten-free tamari - or use Liquid Aminos for soy-free

3

tablespoons

rice wine vinegar

1/2

teaspoon

sesame oil

optional: finely sliced scallions
Instructions
First make the filling. The veggies need to be chopped finely, to the size of peas or smaller, so that the pieces won't poke holes in the dough. Mix all ingredients in a big bowl.

Next, in another big bowl, mix all of the dough ingredients. The texture of the dough should be like playdough. The texture needs to be perfect for this recipe to come out well. You may need to mix in another tablespoon of water to get it there.

Dust a nonstick surface with sweet rice flour, and pile 3-4 tablespoons of it at one end of the surface.

Divide the dough in half, roll each half into a rope, cut each rope in half, and then cut each of the four ropes into seven equal-sized pieces (cutting into sevenths is challenging!) so that you end up with 28 equal-sized pieces of dough.

To make a blob of dough into a potsticker: In case the blob's surface has dried out, flatten the blob between your hands and then use your hands to roll it back into a ball. Put the ball into the pile of sweet rice flour, flatten it, then flip it over, so that both sides get sweet rice flour on them.

Now move the blob to an open area of your nonstick surface, where there is a light dusting of sweet rice flour. Use a small rolling pin to roll out the blob until it turns into a 2 1/2 inch circle, pausing after every few rolls to slide the circle around on top of some rice flour, so that its bottom stays thinly dusted with rice flour and doesn't stick to the surface.

Place a teaspoon of filling into the middle of the circle. If you are not sure about the quantity, choose less, to reduce the chance of the dumpling breaking open.

Now carefully fold the circle in half, with the filling inside, and pinch the edges shut, sealing the filling in. The edges will get wider as you pinch them, so you can make the edge into a decorative wavy fluted shape.

Move each finished dumpling out of the way and go on to the next one. Some of them will break, but I recommend that you go ahead and cook them anyway -- broken ones still taste good!

If a lot of them are breaking, try mixing a dab of water into the dough, or rolling smaller circles, or using less filling.

When all 28 dumplings are shaped, put two frying pans onto the stove. I use a 12-inch and a 10-inch nonstick frying pan.

Add enough canola oil to cover the bottom of each pan.

Put the pans on medium heat and carefully add the dumplings. Try to keep the dumplings from touching each other, but tilt each pan around so that the oil reaches each dumpling. You may need to add a little more oil.

Raise the heat to medium-high and cook the dumplings for 3 minutes, until the bottoms are browned.

Now carefully add 1/3 cup of water to the 12-inch frying pan and 1/4 cup of water to the 10-inch frying pan, and immediately put a lid on each pan, being careful not to get burned by the cloud of steam that comes roaring up, and immediately turn the heat down to medium-low.

Cook the dumplings for 10 minutes.

While they are cooking, make the dipping sauce by mixing all ingredients.

When the 10 minutes is finished, remove the lids and increase the heat to medium until the water has evaporated, which takes about two minutes, so that the bottoms get crispy again.

Serve each person some potstickers with a small bowl of dipping sauce. Yum! Note that potstickers can retain a lot of heat inside, so eat carefully!