Pudding Cookies – healthy, yummy, vegan, and gluten-free!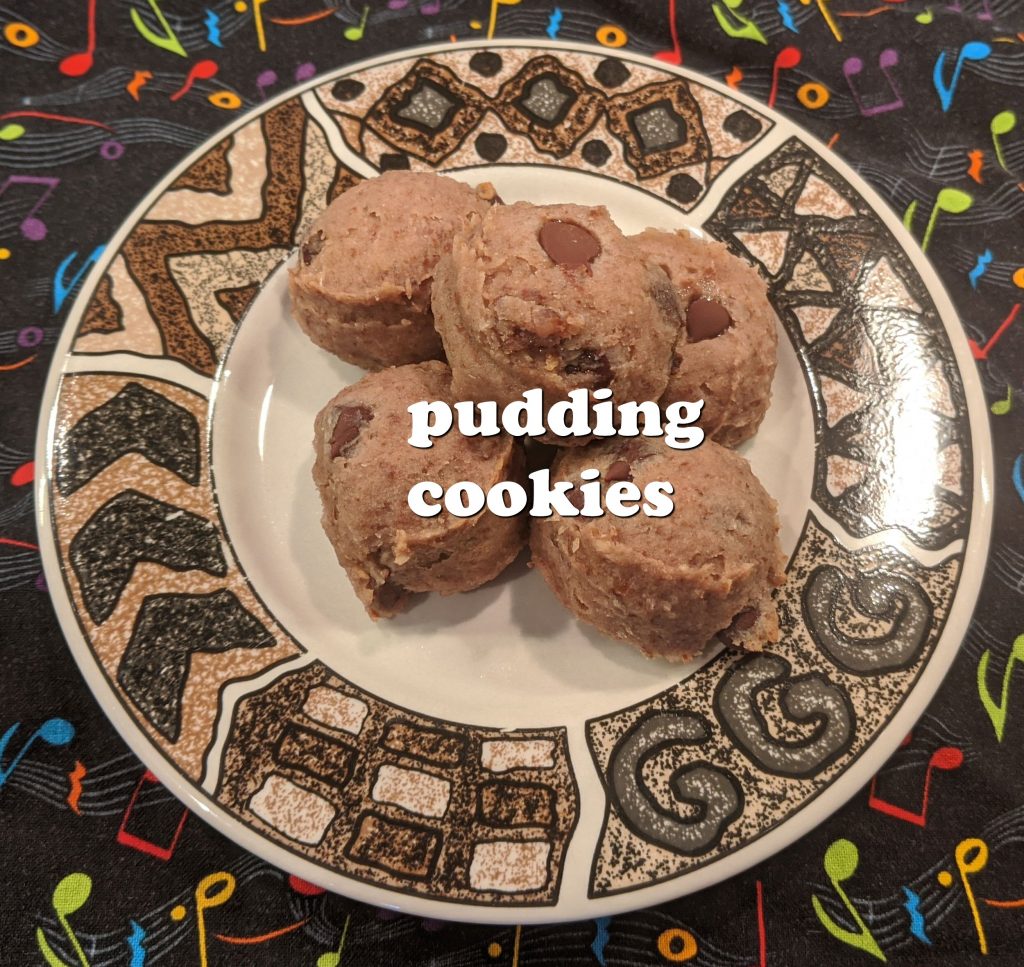 The very first recipe that I posted on this site is a recipe for healthy chocolate chip cookies. It is delicious – but it has a lot of nuts in it, which makes it pretty high in fat and very calorie-dense. So I have been thinking about how to make it healthier.
For a while I made a version that replaces many of the nuts with cooked red lentils – an idea that I found on Vegan Richa's recipe site. The red lentil version is delicious, and healthier than the original, so I really like the recipe made that way. But cooking the lentils adds some time to the recipe, and also you need to give them time to cool down to room temperature or they will melt the chocolate chips. Melted chocolate chips make "chocolate swirl cookies" instead of chocolate chip cookies. Swirl cookies are pretty, but I think chocolate chips taste better. So this version does not use lentils.
Instead, this version of the recipe uses a can of white beans. That is the best of both worlds: the beans are healthy and less calorie-dense than nuts, but also cooling them down isn't an issue.
A word of warning: If you are a fan of healthy desserts, these are delicious! But if you prefer more traditional desserts, or if you are baking cookies for a potluck, these might be a little out on the "weird" end, so you might want to choose a more traditional dessert recipe, such as my Chocolate Chocolate Chip Cookies recipe or my recipe for Valerie's Amazing Awesome Brownies. Those two recipes are less fanatically healthy, but they are still fairly healthy compared to traditional cookies, and they are also more likely to appeal to traditional eaters.
But — if super-healthy cookies appeal to you, these are delicious! They stay soft and pudding-ey, and are sweet and all around excellent!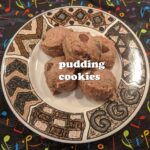 Print Recipe
Pudding Cookies - healthy, yummy, vegan, and gluten-free!
These delicious chocolate chip cookies are gluten-free, vegan, and also very healthy! They stay soft and pudding-ey in the refrigerator. Yum!
Ingredients
1

can cannellini beans

15 ounces, rinsed and drained

1/2

cup

nuts or seeds

pecans are fabulous here!

1

cup

of dates

with pits removed (my current favorite is Sun Date organic dates, from Costco)

1/4

cup

canola oil

optional: 2 tablespoons ground flaxseed

if your ground flaxseed is bumpy instead of powdery, run it through the blender before using

1

teaspoon

vanilla extract

3/4

cup

chocolate chips

I like Equal Exchange semi-sweet chocolate chips- the link goes to a pack of 12 bags
Instructions
Preheat oven to 350 degrees.

Place all ingredients -- except for the chocolate chips -- into a food processor.

Blend for several minutes, occasionally stopping to scrape down the inside of the food processor with a spatula, until the mixture looks like cookie dough.

Stir in the chocolate chips.

Place blobs of 1 1/2 tablespoons of dough on a nonstick cookie sheet -- I like to use a

medium cookie scoop

to shape them, or alternatively you can use two spoons. If you want, you can flatten the blobs into cookie shapes -- though they taste delicious as blobs, too. Whatever shape you make them, they will stay that way without changing during baking. It is fine to put them close together on the cookie sheet -- they don't expand during baking.

Bake for 10 minutes.

Cool for a few minutes, and serve. Yum!