Tiramisu in 14 minutes – healthy, gluten-free, dairy-free, and can be vegan
Last August my kids and I visited Toronto.
Usually when we travel, I am fanatical about planning ahead so that we will always have gluten-free food available. But this one time my teens talked me into winging it. We had the impression that every street corner in Toronto had one of those restaurants where you order a bowl of plain rice and then pick three toppings from one column and four toppings from the next column, and many of this type of restaurant can make safe gluten-free food. So in the morning we went to the Royal Ontario Museum. In the afternoon we planned to go see Castle Loma. Our map made it look like these places were about three blocks apart, so we decided to walk from the museum to the castle, eating lunch at a bowl-type restaurant along the way. Alas, our map was not to scale. It was far more than three blocks from one place to the other. We walked for a really long time through an endless residential neighborhood that had no stores or restaurants of any kind.
Finally we found a tiny grocery store. Hungry and tired, we bought mainstream GMO-filled potato chips and ate those for lunch sitting on the sidewalk outside the store, occasionally interrupted by people who needed us to move out of the way so that they could get in or out of the building. Definitely not our best meal ever!
When we started walking again, we almost immediately found an organic gluten-free mostly-raw restaurant called Live Organic Food Bar. It looked intriguing, so my kids and I went in. Having just gorged on potato chips, we weren't very hungry, but I really wanted to try the food there, so we ordered desserts. I ordered an expensive little tiramisu that was AMAZING!!!! It had been maybe fifteen years since I last ate tiramisu, and getting to have it again was a real treat.
Weeks later, at home again, I kept thinking about that amazing tiramisu. It wouldn't be easy to go back to Toronto for more, so I decided to create my own. I had a tiramisu recipe that I had loved many years ago, so I used that as a starting point.
To my surprise, the tiramisu that I invented is very fast to make, over-the-top healthy, and over-the-top delicious!!!
Traditional tiramisu is made with ladyfingers — long, thin cakelike cookies that are shaped like very large fingers. In this recipe you can use a wide variety of baked desserts cut into finger shapes, as the ladyfingers. I think cookies would work well too. I suggest using something that is not all-chocolate — though actually that too might be interesting. I have done this with Corbin's muffin bread, and with chocolate chip pumpkin bread, but you could also use storebought cookies or cake or banana bread. Also I have seen gluten-free ladyfingers available at the store, though they don't look at all healthy. The finished tiramisu will taste like whatever baked good you choose, so you should choose a baked item that you think would taste good inside tiramisu.
In the pictures, I used the super-healthy version of chocolate chip pumpkin bread — the second recipe on that page. That version has no refined sugar, and I add a lot of veggies, so in the pictures you may notice that the cake part looks a little green. That's kale. It made an awesomely healthy tiramisu that tasted fantastic to me, but if you or your eaters are at all skeptical about kale in tiramisu, you can totally make this with some other baked item. Not everybody is as crazy about kale as me, and I completely respect that. You can make a very excellent tiramisu with this recipe without any kale, if that's what you prefer.
Anyway, I hope you will try this recipe.  It makes an amazing tiramisu!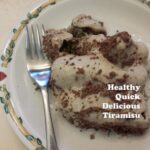 Print Recipe
Tiramisu in 14 minutes - healthy, gluten-free, dairy-free, and can be vegan
This tiramisu takes only 14 minutes to make. It is delicious, and can be healthy, vegan, and gluten-free. Yum!!! Warning: Addictive!
Ingredients
4

slices

of baked goods

such as cookies, banana bread, Corbin's muffin bread, or chocolate chip pumpkin bread, or about 3 cups of cookies

3/4

cup

cashews

3/4

cup

water

5

dates

pits and any bits of stem removed

1

teaspoon

vanilla extract

1

mug of coffee or espresso

optional

1

tablespoon

brandy or cognac

optional - I leave it out

1

tablespoon

baking cocoa powder
Instructions
Brew a mug of coffee. (I have an ancient one-cup-at-a-time coffeemaker that makes it easy to brew just the right amount.)

In a good blender, mix the cashews, water, dates, vanilla extract, and optional brandy or cognac. Blend until creamy-smooth. When the coffee is ready, add 1/2 tablespoon of coffee and blend until mixed.

If you are using baked goods from a loaf, cut each of the four slices crosswise into three sticks, so that you end up with twelve finger-shaped sticks of baked goods. If you are using cookies you can skip this step.

Pour the coffee into a small bowl, such as a cereal bowl. Have a fork and a loaf pan handy.

A few at a time, put half of the baked goods into the coffee (that would be six "ladyfingers" or half of the cookies), then immediately use the fork to scoop them out again and put them crosswise into the loaf pan.

Evenly pour half of the cashew mixture on top.

Sprinkle 1/2 tablespoon of baking cocoa evenly everywhere on top.

Make a second layer: Dip the other half of the baked goods in the coffee, put them into the loaf pan, spread on the rest of the cashew cream and sprinkle on the rest of the baking cocoa powder.

In theory you should refrigerate this for a few hours at this point, but it is really hard not to just dive in and start eating. It firms up a bit in the refrigerator, but even when it is liquidy from being freshly made it is still good.