15-Minute Chili – quick, gluten-free, vegan, and really good!
Once upon a time, 
I was talking with a mom from my kids' school, Sue Barker, who has an awesome talent for organizing big, fun school events, often where chili is served as a fundraiser. While we talked, someone asked Sue for her chili recipe. Sue said that it was "just a recipe from allrecipes.com" and that the important ingredient was salsa.
The idea of putting salsa in chili rang all sorts of happy bells in my mind. Salsa transforms chili into something really amazing. Salsa is like yummy "pourable nutrients" — it adds magic to this awesomely easy and quick chili recipe.
Since this is a vegetarian chili, it (optionally) uses Butler Soy Curls. Soy curls are dried pieces of soy that you can reconstitute by soaking for ten minutes in warm water.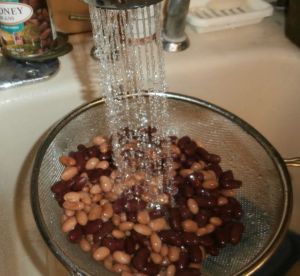 Then they look a bit like cooked chicken. As they soak, they absorb the flavor of whatever liquid you use to reconstitute them, so by soaking them in chili while it cooks, they become chili-flavored. I haven't seen soy curls available in the local stores, but you can order them from Amazon or from Butler's website.
Note that this recipe makes about three bowls of chili, so you will need to multiply it if you are feeding a crowd. (Most recipes on this website make enough food to serve dinner to four to six people.)
There is no need to measure the quantities for this recipe — it's fine to estimate.
The photos for this recipe show: 1) A bowl of chili ready for eating, with beannaise on top. 2) Dry soy curls, broken into shorter pieces and ready for cooking. 3) Rinsing beans in a strainer at the sink. I love how my camera caught individual droplets of water coming from the faucet. 4) A pot of chili being cooked.
Print Recipe
15-Minute Chili - gluten-free, vegan, quick, and really good!
This quick, yummy, super-healthy chili makes a great homecooked weekday lunch in minutes.
Ingredients
optional: 1 cup

dry Butler Soy Curls or other protein (such as seitan, if you are not gluten-free)

1 1/4

cups

spaghetti sauce

from a jar (preferably a variety with veggies such as Muir Glen Garden Vegetable)

1/4

cup

salsa

or more (Amy's mild salsa is perfect here)

1

tablespoon

chili powder

check that it's gluten-free - most varieties are not! (optional)

1

teaspoon

ground cumin

optional

2 15-

ounce

cans of beans in contrasting colors

such as cannellinis and pintos, or kidney beans

10

ounces

of frozen chopped kale

optional

vegan sour cream or vegan, healthy replacement for mayonnaise — or sour cream">Beannaise to serve it with
Instructions
Put the dry soy curls into a pot, if you are using them. If there are any pieces that are more than one inch long, break them into pieces that are less than an inch long. Add enough cold water to just barely cover the soy curls. Turn the heat to medium-high.

Add all of the other ingredients except for the sour cream or Beannaise and the kale.

Heat to boiling. Turn down the heat and simmer for ten minutes.

Add the kale, still frozen, and stir. Check the temperature -- it may be perfect. Or warm it up as needed.

Serve with a dollop of sour cream or Beannaise on top.