The White Dinner — a quick, gluten-free, vegan meal that my kids love
This recipe is adapted from a recipe called "Farfalle with White Beans and Cabbage" or "Halushki" from the cookbook Vegan on the Cheap. My kids renamed it to "The White Dinner."  :)
I really love the cookbook Vegan on the Cheap, by Robin Robertson. We often eat vegan food at our house. I like this cookbook not because we are trying to eat cheaply, but because it has a huge number of very accessible recipes that are easy to cook and come out tasting great!
By the way, Robin Robertson has a nice blog.
This recipe is a mixture of cabbage, white beans, and pasta. I usually add either greens or broccoli to get additional healthy vegetables into the meal.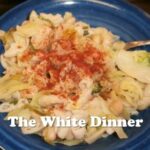 Print Recipe
The White Dinner -- a quick, gluten-free, vegan meal that my kids love
A buttery vegan mixture of pasta, cabbage, white beans, and optionally some greens. My picky kids love this dinner!
Ingredients
1

pound

of pasta

such as Field Day Organic Brown Rice Pasta -- noodles or spirals or elbows work well in this recipe

1/4

cup

of olive oil

1

small head of cabbage

finely shredded (4 to 12 cups) - don't include the solid core

salt and pepper

2

cans of cannellini beans

drained and rinsed, or 3 cups of cooked cannellini beans

2

tablespoons

fresh minced parsley

optional: 2-3 cups of cooked broccoli or 1-2 cups raw greens

such as kale or chard

optional: smoked paprika
Instructions
Chop the cabbage. Put it in a big pot with the oil and salt. If you are using the optional greens, add them. Heat over medium-high heat, stirring occasionally, until the cabbage is starting to brown in places. Then turn down the heat to a lower temperature and let it continue cooking, still stirring from time to time. The longer the cabbage is on the heat, the better this recipe tastes.

Meanwhile, heat water to cook pasta. Cook the pasta according to the package directions. Drain.

Meanwhile, drain and rinse the cannellini beans. Add those and the pepper to the cabbage mixture and stir.

Meanwhile, if you are cooking broccoli, cook it and drain. In case it's useful, here is my

quick, easy broccoli

recipe.

When the pasta mixture is cooked, stir it into the cabbage mixture, adding more salt and pepper if needed.

Serve hot, optionally sprinkled with smoked paprika.