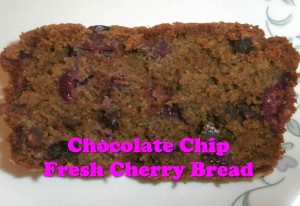 I wait all year for fresh cherries to appear in stores, so that I can make this recipe. I long for this recipe all winter long. It is that good.
This may be the most amazing and wonderful recipe in this entire collection!
Years ago now, I was thinking that a loaf with chocolate chips, fresh cherries, and some cardamom wo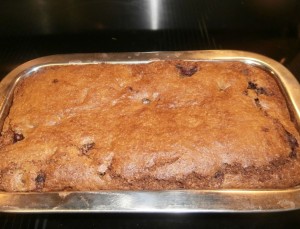 uld be really amazing. So I searched the web to see what I could come up with. I found this recipe for Fresh Cherry Bread, from www.recipesource.com. The recipe credits the newsletter of King Arthur Flour – The Baking Sheet for the original version of the recipe. I modified it by adding chocolate chips, adjusting the amounts of cardamom and vanilla extract, and making it gluten-free.
The one thing I don't love about this recipe is that it uses refined sugar. I have experimented with making a version of it that is sweetened with fruit, and I will post that someday. But for now, this is the reliable original version of the recipe — and it does use refined sugar.
I hope you will try this recipe — it is soooo good!

Chocolate Chip Fresh Cherry Bread - gluten-free, dairy-free, and addictively amazing!!!
A dessert loaf made with chocolate chips, fresh cherries, and cardamom. I long for fresh cherry season all year so that I can make this awesome recipe!
Ingredients
3/4 cup sugar
1/2 cup chocolate chips
1 3/4 cup gluten-free flour mix, or regular flour (for example, today I used 1/2 cup of teff flour, 1/2 cup of quinoa flour, 1/2 cup of tapioca starch, and 1/4 cup of garbanzo bean flour)
1 teaspoon xanthan gum or guar gum (omit if you are using regular flour)
1 teaspoon cardamom, ground
1 tablespoon gluten-free baking powder (or, instead, 1 teaspoon baking soda + 1 teaspoon cream of tartar)
2 eggs - or, for a vegan version, use 2 flax eggs
1 teaspoon vanilla extract
1 cup cherries (about 1/2 pound), pits removed and cherries cut into quarters or eighths
1/2 cup canola oil
Instructions
Preheat oven to 350 degrees.
Oil a loaf pan, and flour it (for gluten-free, I like brown rice flour for the flouring).
Put all dry ingredients into a mixing bowl. Stir well.
Add all wet ingredients. Stir well, making sure you find all the pockets of dry flour and get them mixed in. The batter will be thick, like cookie dough.
Pour the batter into a loaf pan. Smooth it flat with a spatula.
Bake for 55 minutes.
Let cool, then refrigerate.
Best served at refrigerator temperature.
Variations:
Mini-muffins: Use one
medium cookie scoop
(1 1/2 tablespoonfuls) for each muffin, and bake for 13 minutes. Makes about 24 mini-muffins.
Muffins: use 1 1/2 to 2 scoops (2-3 tablespoons) of dough for each muffin, and bake 15 minutes. Makes about 16 muffins.
Muffin-bread: Multiply recipe by 1 1/2. Use a spatula to smooth out the whole batch of dough onto a very nonstick cookie sheet, and bake for 18 minutes.