Fresh Fruit Pie with Chocolate Brownie Crust – gluten-free, raw, vegan, beautiful and yummy!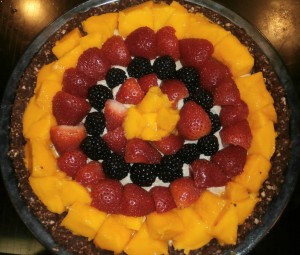 This summer when the market was full of beautiful fruit and berries, I bought lots and made them into a series of beautiful pies. These pies take about 20 minutes to make, need no baking, look gorgeous, and taste delicious. Yum!!!
I fell in love with this recipe this summer, so I made it again and again, all summer long.
The chocolate brownie crust is adapted from a recipe in Chocolate Covered Katie's cookbook.  And the cardamom cashew cream filling is adapted from a recipe in an older edition of the cookbook Raw Food Made Easy for 1 or 2 People by Jennifer Cornbleet. I love cardamom and think that the hint of it in the cashew cream really makes this pie recipe over-the-top amazing.
Two more pictures and then the recipe!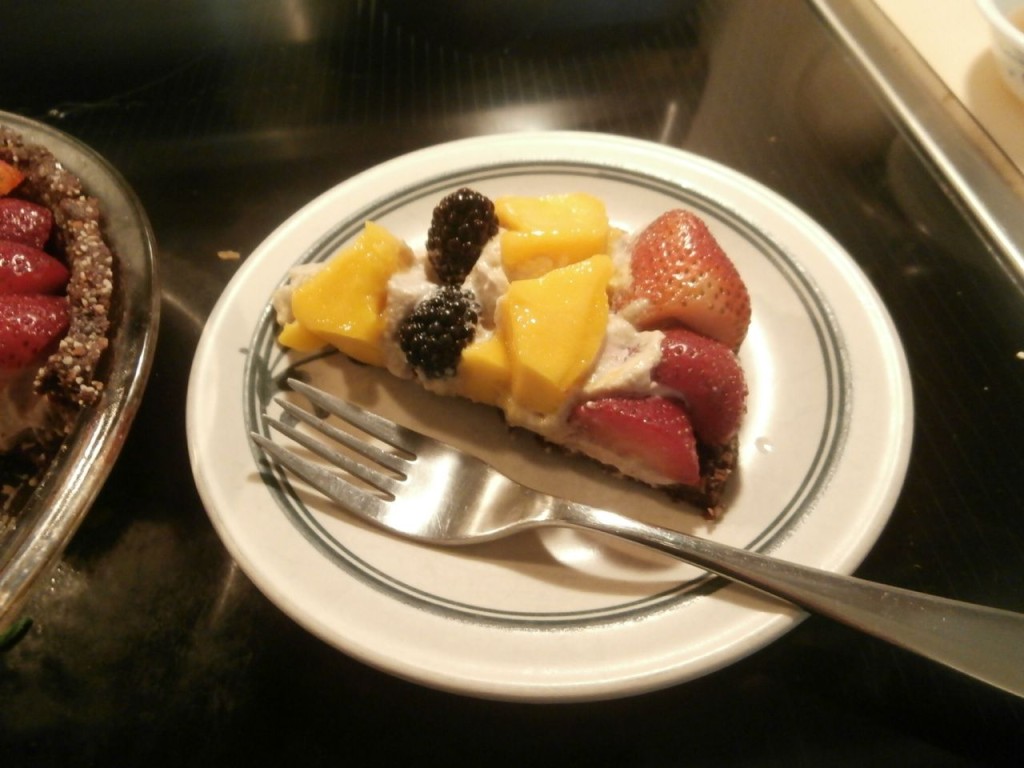 Print Recipe
Fresh Fruit Pie with Chocolate Brownie Crust - gluten-free, raw, vegan, beautiful and yummy!
This beautiful pie is raw, gluten-free, vegan, dairy-free, free of refined sugar, quick to make, totally delicious, and full of fruit!
Ingredients
Crust ingredients:
1

cup

dates

with pits and any bits of stem removed

1 1/3

cups

nuts

for example 1/2 cup walnuts, 1/2 cup pecans, and 1/3 cup of almonds

1/3

cup

cocoa powder

1

tablespoon

water
Cardamom Cashew Cream Filling Ingredients:
1

cup

cashews

1/2

cup

water

1/8 to 1/4

teaspoon

cardamom

2

teaspoons

vanilla extract

4

dates

with pits and any bits of stem removed
Fruit Ingredients:
strawberries

perfectly ripe mangoes, blackberries -- or whatever fruit you have handy, cut into chunks
Instructions
Place all of the crust ingredients in a food processor. Blend until you have tiny bits, much smaller than the head of a pin. The mixture should have tiny bits of nuts visible in it but be soft and mashable. Don't blend it for so long that you turn it into nut butter!

Empty the food processor into a pie plate. Use your hands to press down on the mixture, to flatten it. Push some of it against the sides, too, so that there is an even coating of crust pushed down all over the bottom and sides of the pie plate. I usually don't put the crust on top of the edges of the pie plate, because on a raw foods crust that tends to fall off during serving. Take the time to make sure that the crust is pushed down into the corners of the pie plate and that the edges are finished off neatly. I usually make the edges a tiny bit taller than the pie plate, so that the pie can be deep. If you press down on the pie crust on the insides of the pie plate, the crust will get taller and do exactly this.

Place all the ingredients for the cardamom cashew cream in the food processor. (You don't need to wash it out after making the crust.) Blend until you have a very smooth cream. It should look and taste smooth. I usually let cashew cream sit in the food processor while I work on other parts of a recipe and then come back to it to re-blend it once the blended bits of cashews have had a chance to soften.

Wash the fruit and cut it into chunks. If you are using strawberries, cut out the stem from each strawberry and then cut it in half. You can leave blackberries whole. For a mango, imagine a mango pit with a piece of paper on top and another piece on the bottom, lying down flat. Now imagine that pit inside a whole mango, and use a knife to cut where each piece of paper is, so that you end up with two mango hemispheres, and an oval of mango left behind that includes the pit. Now on each hemisphere, cut 2-3 lines through the flesh in one direction, cutting down to the skin but don't cut through the skin. Now cut 2-3 lines across in the other direction, across the first cuts, making a grid. So you should have a mango hemisphere with its skin still intact and the mango flesh scored into about 12 squares. Then use a dinnertable tablespoon to separate the mango flesh from the skin, so that you end up with about 12 cubes of mango. Repeat on the other mango hemisphere.

Re-blend the cashew cream (which is still in the food processor) until it is super smooth, then put it into the pie crust and spread it evenly over the bottom.

Arrange the fruit prettily on top of the cashew cream, to fill up the pie crust. Tip: A ring of cut strawberries interlocks really nicely, like Lego. :)

Voila! One quick and yummy fruit pie!
---
This recipe is entered in Gluten-Free Fridays, Allergy-Free Wednesdays, and Meat-Free Mondays!