Chocolate Nanaimo Pumpkin Pie – no bake, healthy, and vegan!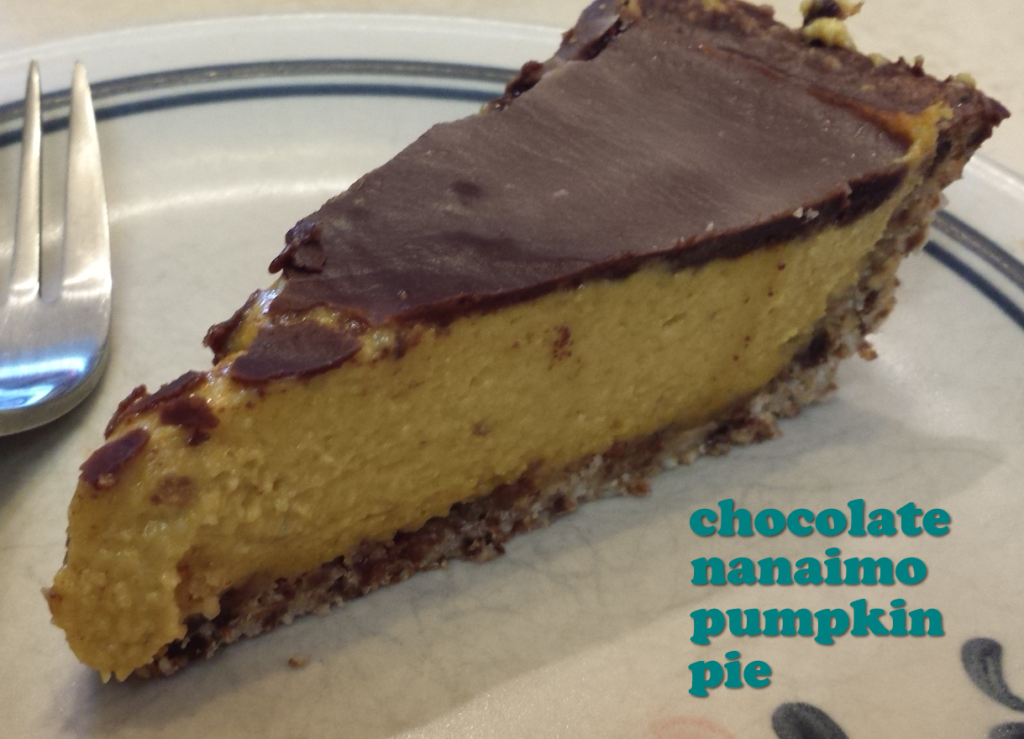 I'm a big fan of Chocolate Covered Katie's healthy dessert blog. Last August, she published her version of a Canadian dessert called Nanaimo Bars. I tried making the recipe. My family and I liked it!  I liked it so much that I made it again and again, adapting it to my own way of cooking, and experimenting with variations.  In the summertime, I made Strawberry Nanaimo Bars and Blueberry Nanaimo Bars. I love chocolate, but it doesn't always love me back, so I also invented an alternate chocolate-free topping, made with strawberries and cardamom.
Finally, autumn arrived, and gorgeous pumpkins. First I made Chocolate Chip Pumpkin Bread. Then I made Chocolate Covered Katie's truly wonderful no-bake chocolate pumpkin pie — another of Katie's recipes that I completely adore.  But still I had more pumpkin to use. So I invented this recipe — a yummy collision between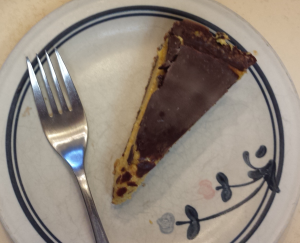 Katie's Nanaimo Bars and a pumpkin pie.
Everybody who tried it said this pie was seriously delicious! Jan Wolter called it, "Brain-meltingly yummy!"
I used fresh pumpkin in this recipe, but it should work fine with canned, too. Here is how to cook fresh pumpkin.
If you would like, you can replace half of the cocoa powder with carob powder.
In case you were wondering, Nanaimo is a city in Canada.  :-)
---
Edited to add: I've had a request for a nut-free version.  You can make this pie nut-free by replacing the nuts in the crust with an equal amount of sunflower seeds or pumpkin seeds (without shells).  In the filling, replace the cashews with cannellini beans or other cooked white beans, and add another 1-2 dates.
---
For another type of Nanaimo Bar, check out this Gluten Free Nanaimo Bars recipe from MI Gluten Free Gal.
Nanaimo Pumpkin Pie — gluten-free, vegan, no refined sugar, healthy, quick, no baking — and awesomely yummy!
Quick, delicious, vegan, no-bake pumpkin pie.
Ingredients
Crust:
3/4

cup

of nuts

such as a mix of almonds and walnuts

3/4

cup

shredded coconut

3/4

cup

raisins
Filling:
1

cup

cashews

1/2

cup

cooked white beans

eg. cannellini beans — or more cashews

2

teaspoons

vanilla extract

7

dates with no pits

2

cups

cooked or canned pumpkin
Topping:
1/2

cup

cocoa powder

or 1/4 cup cocoa powder plus 1/4 cup carob powder

1/4

cup

canola oil

1/4

cup

coconut oil

2

tablespoons

maple syrup
Instructions
Place all crust ingredients in a food processor. Blend until everything is in small pieces, about the size of pin-heads, and maybe starting to stick together a tiny bit — but don't blend it all the way to nut butter.

Put the crust into a pie plate. Use your hands to press it down into the shape of a pie crust. Just put the crust on the bottom and sides of the pie plate — don't put crust on top of the edges of the pie plate.

Next, place all of the ingredients for the filling in the food processor. Blend it for several minutes, until the mixture is very creamy and smooth.

Pour the mixture into the pie crust. Use a spatula to smooth it out as flat as you can. There should still be about 1/4 inch depth between the top of the filling and the walls of the pie plate to make room for the topping. If the filling is too tall, scoop some out, then smooth again.

In a heatproof glass measuring cup or other microwaveable container, put the ingredients for the topping. Microwave for 30 seconds. Stir. If the coconut oil is not melted at this point, microwave again and stir again.

Pour the topping over the pie. If the pie isn't covered evenly, tilt it gently or use the back of a spoon to gently spread it around to get the topping to cover everywhere.

Refrigerate for several hours.

This pie is very rich. I recommend serving it in wedges that are about an inch wide at the widest part.