N Bean Pasta Salad – gluten-free, dairy-free, vegan, healthy, and yummy!
This recipe started out as a three-bean pasta salad from the excellent cookbook Moosewood Restaurant Daily Special. My partner, Jan, was a big fan of quick recipes, and he used to cook this recipe often. Now that Jan is gone, we still cook this recipe frequently — it's a good recipe, and a quick and nutritious and delicious dinner.
I replaced the original recipe's green beans with assorted veggies, and removed scallions and radishes. We tend to double this recipe and use a variety of types of beans.
The original recipe called for three types of beans, but the way we make it can be anything from two to even six types of beans. So my niece Victoria renamed the recipe from "Three Bean Pasta Salad" to "N Bean Pasta Salad," where "N" means "any number of types of beans." We are geeks here, after all!
The original recipe called for orange marmalade. We used to replace that with frozen concentrated orange juice (the concentrate, straight from the can, not mixed with anything). But then frozen concentrated orange juice disappeared from the universe, so now I leave it out of this recipe and the recipe comes out fine without it. But I wonder what is the younger generation going to think of the "FCOJ stock" if they see the movie Trading Places??
Anyway, this recipe is really yummy, really healthy, and really quick — highly recommended!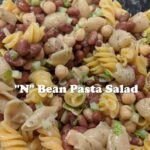 Print Recipe
N Bean Pasta Salad - gluten-free, dairy-free, vegan, healthy, and yummy!
This lightning-fast pasta dish is healthy, gluten-free, dairy-free, vegan -- and very yummy!
Ingredients
Salad:
8

ounces

of uncooked pasta

any shape - gluten-free if needed

2

cans of beans

such as a can of garbanzo beans and a can of kidney beans, drained and rinsed (pouring them into a strainer makes rinsing very easy)

1/2

cup

minced celery

1/2

cup

chopped pickles

optional but good!

several cups of shredded carrots

or other veggies - this recipe is very flexible

optional: chopped tomatoes

optional: chopped greens

such as chard, kale, or lettuce
Dressing:
1/4

cup

canola oil or other oil

2

tablespoons

cider vinegar

1 1/2

tablespoons

Dijon mustard

I like Annie's organic

optional: 2 tablespoons frozen concentrated orange juice

that is 2 tablespoons of concentrate, not diluted

1/4

teaspoon

dried oregano

2

teaspoons

dried dill

1

teaspoon

salt

optional: ground black pepper to taste
Instructions
Cook the pasta, then drain it.

Add the pasta and all of the other ingredients to a big mixing bowl and stir well.
Notes:
I usually double this recipe - it makes great leftovers!

You can use a food processor's grater to grate the carrots and pickles in seconds!