White Bean Pancakes – gluten-free, vegetarian, very soothing and yummy!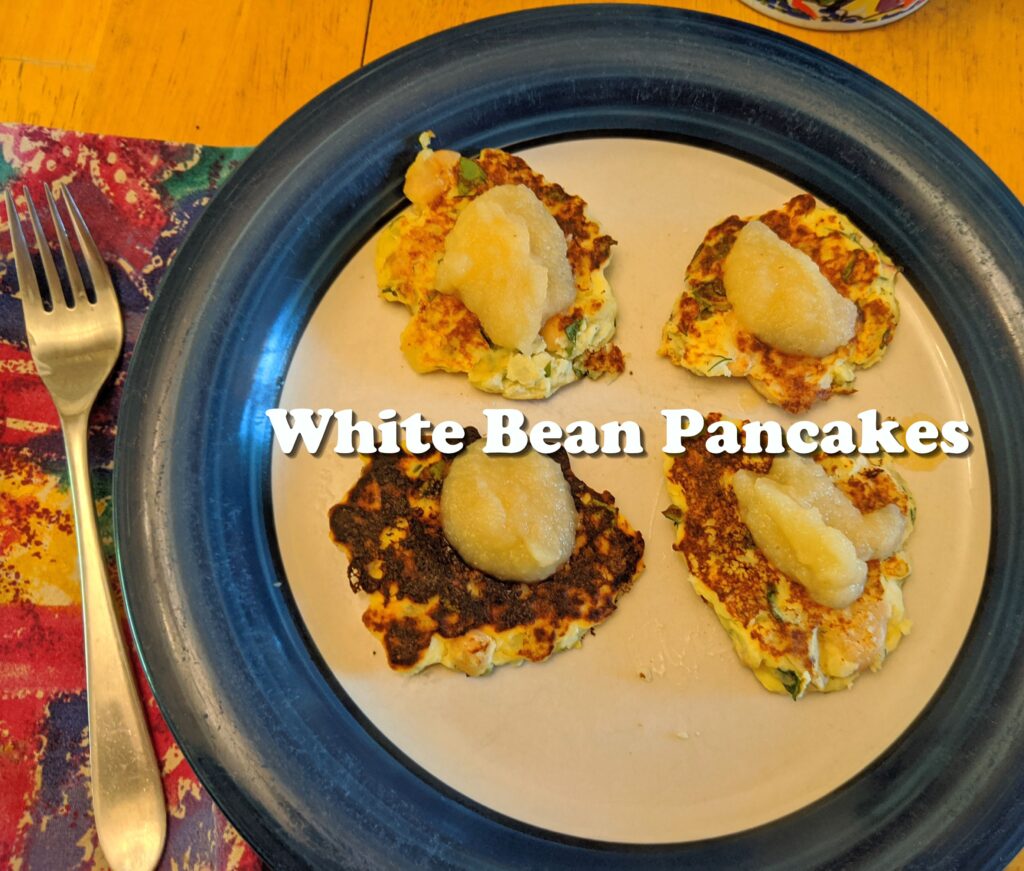 I invented this easy recipe in 2011. It's basically a mix of eggs and mashed potatoes, with some beans and greens mixed in. You shape it into pancakes, cook in a frying pan and voila! It is warm and soothing, and I think it tastes great!!
Print Recipe
White Bean Pancakes - gluten-free, vegetarian, very soothing and yummy!
These dinner pancakes are warm, soothing, and taste great!
Servings:
24
pancakes - serves 4-5 people
Ingredients
1

can white beans

or 1 1/2 cups of cooked beans, rinsed (I like to rinse beans in a strainer under running water)

4-6

cups

of potatoes

I like gold potatoes in this recipe, but any kind should work

3

eggs

chopped greens - either a defrosted 10-ounce package of chopped spinach or kale

or a few big leaves of fresh greens, chopped

optional but really good: chopped fresh dill

any amount up to about 1/4 cup

1

teaspoon

salt

1/4

cup

oil

I recommend organic canola or olive oil

2

tablespoons

prepared mustard

I like Annie's Organic Dijon Mustard in this recipe
Instructions
Rinse the potatoes and cut them into cubes that are about one inch wide, with the potato peels still on. Put the pieces in a pot with just enough water to barely cover them. Heat to boiling, then lower the heat and boil for 12 minutes. Drain the potatoes and return them to the pot.

Add the oil and salt, then mash well with a potato masher. (My pickiest eater likes it if the white beans are also mashed. I like them better whole. It's up to you whether you want to mash them!)

Add the rest of the ingredients, including the raw eggs. Stir well.

Put very non-stick frying pans on the stove, start them heating, and use a dinnertable tablespoon to shape little pancake-shapes with about 2 tablespoons of the potato mixture in each pancake. Sometimes whole beans pop out as you shape the pancakes; if they do that, you can use a spoon to just scoop them up and press them back into the middle of a pancake. Cook until the bottom is browned, about five minutes. Flip, and cook until the other side is browned too -- again, about five minutes. Serve!

My kids like these plain or with applesauce, and sour cream or yogurt would be great on them too. I like them topped with my favorite

Creamy White Salad Dressing

that I like to put on everything. Yum!

Variation: You can shape the pancakes on cookie sheets and then bake them at 375 degrees for 18 minutes, then put them under the broiler for 2-3 minutes (start timing after the broiler is heated up) until they are browned -- watch closely so that they don't burn!

Variation: You can also spread the pancake batter into a solid sheet about 11 inches square and bake it at 400 degrees for 20 minutes. Then cut it into squares to serve.

Tip: If your pancakes are falling apart as you cook them, stir another raw egg into the batter and they will stick together much better.