Aunt Olivia's Awesome Cookies – gluten-free, simple ingredients, dairy-free, can be vegan, delicious!
This is a classic recipe that gluten-free folks pass around again and again. It is beloved because it uses simple ingredients that you can find in any grocery store. I originally got it from my sister, Olivia Mathews, so my family calls these Aunt Olivia's Cookies. Here at my house, the recipe is much loved, and Aunt Olivia gets lots of appreciation!
You can make the classic version of this recipe with peanut butter. Or use another nut butter instead. Or a nut butter substitute, like sunflower butter / sunbutter or soybutter. Or you can blend whole nuts to make the dough. Also, you can make it with egg, or replace the egg to make it vegan — though then you start to get into less common ingredients. Me personally, I like ALL of the variations!!! This is a very yummy recipe!!!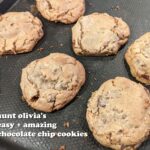 Print Recipe
Aunt Olivia's Awesome Cookies - gluten-free, simple ingredients, dairy-free, can be vegan, delicious!
These easy gluten-free cookies use simple ingredients to make soft, delicious chocolate chip cookies. The recipe is very flexible and can be vegan, nut-free, and/or dairy-free. Yum!
Ingredients
1

cup

peanut butter

almond butter, sunbutter, soybutter, whole nuts, or any other nut-butter or substitute that you like, or whole nuts (lately I've been using 1/2 cup pecans + 1/2 cup cashews)

1

cup

sugar or coconut sugar

I prefer coconut sugar

1

teaspoon

vanilla extract

1

egg -- or a flax egg

1/2

teaspoon

baking soda - optional - see recipe

1

cup

chocolate chips - I like Equal Exchange

either semisweet or bittersweet
Instructions
Preheat oven to 350 degrees.

If you are using whole nuts or leaving out the baking soda, put everything except the chocolate chips into a food processor, and blend for several minutes, until everything is whipped very well. If you are not using whole nuts and you are using baking soda, then you can either use a food processor or simply stir everything together in a bowl. If you are using a flax egg instead of a real egg, you may need to add a couple of teaspoons of extra water to get it to blend. Whichever way you blend it, you should end up with a smooth dough.

Stir in the chocolate chips.

You can use a

medium cookie scoop

or two spoons to form the dough into blobs on a nonstick cookie sheet or on a silicone mat on a cookie sheet. Or, for bars, form it into a sheet of dough about 1/3 to 1/2 inch thick.

Bake for 11-12 minutes for individual cookies, more like 20 minutes for bars. If the cookies are white and raw-looking, they need more baking; they should be browned around the edges and not jiggly anymore. For bars, I like to check with a

thermometer

, to make sure the egg is cooked to a safe temperature -- cookies are usually done at about 185 or 190 degrees.

Cool for a few minutes. If you baked a sheet of dough, cut it into bars. And eat!