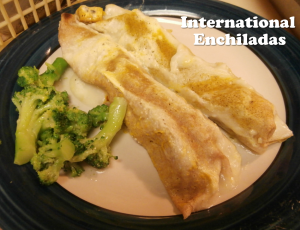 This is a special occasion recipe. It takes time to prepare, but the results are very much worth it – it is a truly wonderful food, quite possibly the yummiest dinner recipe I've ever made.
I invented this recipe when I found a yummy-looking recipe for Sour Cream Chicken Enchiladas on the Internet, back in the 1980s when nobody had heard of the Internet.  I converted the recipe to be vegetarian by replacing the chicken with an addictively delicious recipe for Fried Spiced Tofu, from the cookbook "Diet for a Small Planet".  And I replaced the chili powder with curry powder, which blends harmoniously with the creamy white sauce for a fabulous taste combination.  This recipe was originally called Tofuladas.
I've been making this recipe for so long that it has a lot of variations included.  I usually make it corn-free, dairy-free, tomato-free, and it can be vegan.  Every one of these variations is delicious!
Serve this with a salad, or cooked broccoli.
Cooking time: 70 minutes + a few minutes of broiling — but worth the time it takes!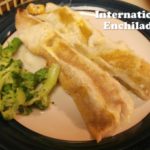 Print Recipe
International Enchiladas
My favorite special-occasion dinner! Salty, curried tofu, rolled up in tortillas, with a cheesey sauce that can be vegan, and a creamy curried white sauce on top. Yum!!!
Ingredients
Red Sauce:
1

can Campbell's tomato soup OR 1/2 of a little box of Imagine Organic Creamy Tomato Soup OR

1-2 tablespoons of pesto + 1 cup baby carrots, rinsed, 3 tablespoons oil, 1 tablespoon cider vinegar, 1/4 cup water -- blended until smooth

1-2

tablespoons

curry powder
White Sauce:
2

tablespoons

oil

2

tablespoons

potato starch or flour

1/2

cup

nondairy milk

or cow's milk, or homemade cashew milk, or water

1/2

cup

water

1

cup

plain unsweetened yogurt

or more nondairy milk

salt

pepper
Cheese:
6

ounces

of Monterey Jack cheese

about 2 cups, shredded OR 1 cup of "lasagna cheese"
Tortillas:
20

corn tortillas OR two batches of crepes
Instructions
Tortillas:
If you are making tortillas, start on that first.
Tofu:
Cook 1 1/3 blocks of tofu according to the

Golden Curried Tofu

recipe. Do not wash out the pot; you'll be using it for the white sauce.
Cheese:
While the other parts cook, grate the cheese, if you are using cheese, or use the remaining 2/3 of a pound of tofu in my vegan

lasagna cheese

recipe.
Red Sauce:
If you are using tomato soup, mix the soup, curry powder, and about 1/4 soup can of water. If you are using the blended mixture with the pesto and carrots, also blend in the curry powder.
White Sauce:
Put the oil in the pot you used for the fried spiced tofu. Add the potato starch or flour and stir to mix thoroughly.

If you are using flour, stir and heat it until it is bubbly. (Potato starch does not need heating.)

Stir in the milk and water.

Simmer slowly until thickened.

Add salt and pepper to taste.

Stir in either unsweetened yogurt or more milk.

Simmer until heated through.

Remove from heat.
To assemble:
Set out a 9x13 inch baking pan and an 8x8 inch baking pan. Take a tortilla and spread a dinnertable tablespoon of red sauce on one side. Turn the tortilla over and repeat. Place 2-3 tablespoons of the tofu down the center of the tortilla. Sprinkle about a tablespoon of the cheese over the tofu. Roll up the tortilla and place seam side down in the pan. Repeat for each tortilla.

Pour the white sauce over the enchiladas, and sprinkle with any remaining cheese.

Place under the broiler until hot and bubbly and the cheese is starting to brown. Serve immediately. This dish reheats nicely.

Serves 4 to 6.