Lentil Apple Walnut Veggie Burgers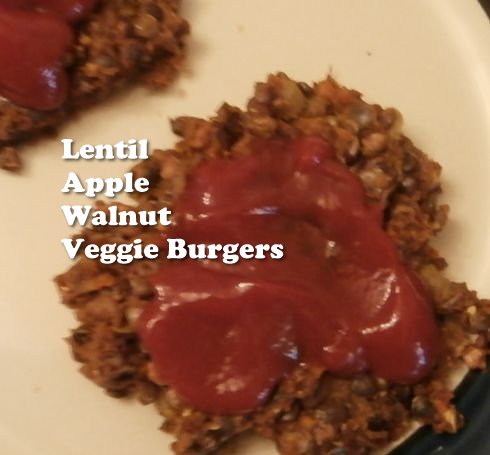 These lentil apple walnut burgers are vegan, satisfying, and have the zen goodness of lentils and the yumminess of little chunks of apples sprinkled throughout.
The recipe is based on Glazed Lentil Walnut Apple Loaf, Revisited from the Oh She Glows blog. I converted the recipe into burgers, because they are more approachable than a loaf — and cook much faster.
The photos show:
a finished veggie burger with ketchup
chopped carrots
an apple ready to be chopped
the dough mixture
a batch of burgers that are ready to cook
and, finally, a cooked burger waiting for toppings.
If you need a nut-free version, try replacing the walnuts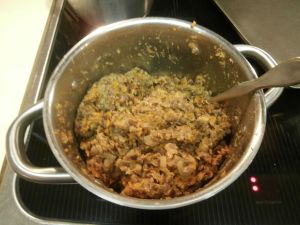 with sunflower seeds or pumpkin seeds (without shells).
I usually serve these without a bun, but if you want to use a bun these burgers should be delicious that way too.
Serves 4, at three bun-free burgers per person. With buns you could probably feed six.
Print Recipe
Lentil Apple Walnut Veggie Burgers
These vegan lentil apple walnut veggie burgers are satisfying to eat. They are full of the soothing Zen goodness of lentils, mixed with crunchy good bits of apple.
Servings:
12
veggie burgers
Ingredients
1

cup

uncooked green or brown lentils

1

cup

carrot

or baby carrots

1

cup

celery

1 1/2

cups

mushrooms - optional!

1

cup

walnuts

chopped

3

tablespoons

ground flaxmeal

1/2

cup

warm water

1

apple

2

cups

of a crispy rice cereal such as Erewhon Crispy Brown Rice Cereal

blended in a blender, or 1 cup of breadcrumbs

2

teaspoons

fresh thyme or 3/4 teaspoon dried thyme

3/4

teaspoon

sea salt

pepper

3

tablespoons

canola or olive oil
Instructions
Preheat oven to 350 degrees.

Put lentils in a pot with 2 cups water. Simmer, uncovered, for 45 minutes or until water is absorbed and lentils are soft.

While lentils are cooking, chop or grate the carrots, celery, and optional mushrooms and add them in to the lentil pot. The pieces should be smaller than 1/4 inch.

Mix the ground flaxmeal with the 1/2 cup of warm water (temperature matters!) and let sit.

Chop or grate the apple.

When the lentils are cooked, add all of the other ingredients, including the

flax gel

. Stir gently but thoroughly, until all is well-mixed.

Shape the mixture into 12 patties on two cookie sheets. Each patty will use between 1/2 and 2/3 cup of the mixture. My cookie sheets are super-nonstick, but if yours are not you may want to line them with parchment paper before shaping the patties.

Bake for 20 minutes at 350 degrees.

Serves 4, at three burgers per person. If you add buns you could probably serve six people.