Green Lasagna Rolls – gluten-free, vegan, gorgeous, and yummy!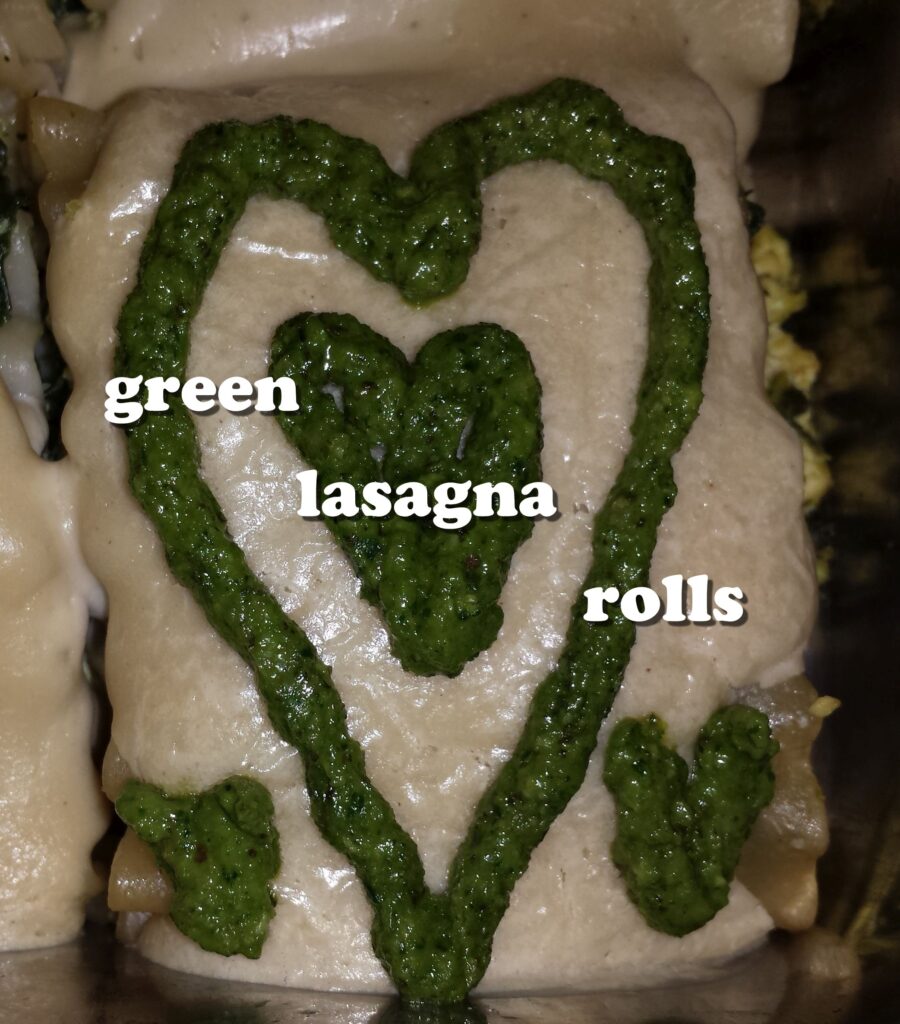 This is my version of a gorgeous recipe by Isa Chandra Moskowitz. I've changed it to be gluten-free, yeast-free, slightly simpler, and added some options.
Most of the recipes on this website are quick. This one is not! But it is very much worth making — it is delicious and gorgeous!!
To make this, you cook lasagna noodles, mash tofu into a homemade vegan cheese, mix with greens, roll it up in the lasagna noodles, blenderize a creamy cashew sauce to go on top, and decorate with pesto! Whew! But oh oh oh so good!!!
Print Recipe
Green Lasagna Rolls - gluten-free, vegan, gorgeous, and yummy!
These vegan rolled-up lasagna noodles with greens, homemade cheesy sauces, and pesto are oh oh oh so good! Takes some time to cook, but absolutely worth it! They are gorgeous and delicious! Can be gluten-free.
Ingredients
Pesto
EITHER use storebought pesto

vegan if you like OR the following ingredients (or any pesto recipe!)

2

cloves

garlic

3

cups

fresh basil leaves

loosely packed

1/2

cup

pumpkin seeds

the kind with no shells (I like Anthony's Organic)

1/3

cup

olive oil

1

tablespoon

fresh lemon juice

1/2

teaspoon

salt
Vegan cheese filling
1

package of extra-firm tofu

14 to 16 ounces

1/4

cup

of pesto

see above

1

tablespoon

olive oil

1

tablespoon

fresh lemon juice

1/2

teaspoon

salt
Greens
10

ounces

or one bunch of kale or spinach or chard

either the frozen kind, defrosted, or fresh and finely chopped
White sauce
1

cup

cashews

3/4

cup

water

2

teaspoons

cornstarch or 1 1/3 teaspoons potato starch

1/2

teaspoon

salt
Instructions
Pasta
If you are using dry lasagna noodles: Boil the lasagna noodles for 10-12 minutes. Drain, add cold water to the pot to make the noodles cool enough to handle, then take out each noodle and lay it flat on a nonstick surface such as a silicone mat or a non-stick cookie sheet. (If the noodles touch, they are likely to stick to each other, so this flattening step actually saves a lot of time.)

OR: If you are using fresh lasagna noodles from a pasta machine: Run the pasta machine and extrude 1 noodle, then pause the machine. Fill the raw noodle with fillings (see below), roll it up, and then extrude the next noodle and repeat.
Pesto
If you are making your own pesto, put all of the ingredients into a food processor (not a blender) and blend until you have a smooth-ish paste.

If you are using storebought pesto, open the container and go on to the next step!
Cheese filling
Place all ingredients in a bowl and mash them together.
Greens
Stir the greens into the cheese filling.
White sauce
If your blender has a smoothie jar, this is the perfect size. Place all ingredients in the blender container and blend for several minutes, until very smooth and creamy.
To assemble
Preheat oven to 350 degrees. Get out either a 9x13 pan or a nonstick cookie sheet. If your pan is not nonstick, lightly oil it.

Place a noodle on a nonstick surface. Spread about 1/4 cup of the cheese-and-greens mixture on top of the noodle, leaving a little filling-free space at each end. Roll it up and place it seam-side-down in the pan. Repeat with all of the noodles.

Pour the white cashew sauce over the lasagna rolls. Use a spatula to carefully make sure that all of the pasta is covered. (Uncovered pasta tends to burn, so some care with this step is helpful.)

Bake for 20 minutes.
Decorate
Place 2-4 tablespoons of the remaining pesto into a plastic bag and cut off a corner, about 1/4 inch from the edge. (I love pesto very much, but too much pesto really can get to be too much here. If you have more than 2-4 tablespoons of extra pesto, don't use it all here! Instead, I suggest putting the extra into a silicone ice cube tray, freezing spoonfuls of it, and then popping out the pesto cubes into a plastic bag in the freezer, so that you can defrost some when you want it.) Use the plastic bag to draw decorations on the lasagna rolls - hearts or zigzags or stars are nice here, or whatever you would like.
Serve!
Serve 2-3 lasagna rolls to each person. They are good with a side of broccoli, or a salad.