Rainbows — edible, adorable, easy, can be gluten-free and vegan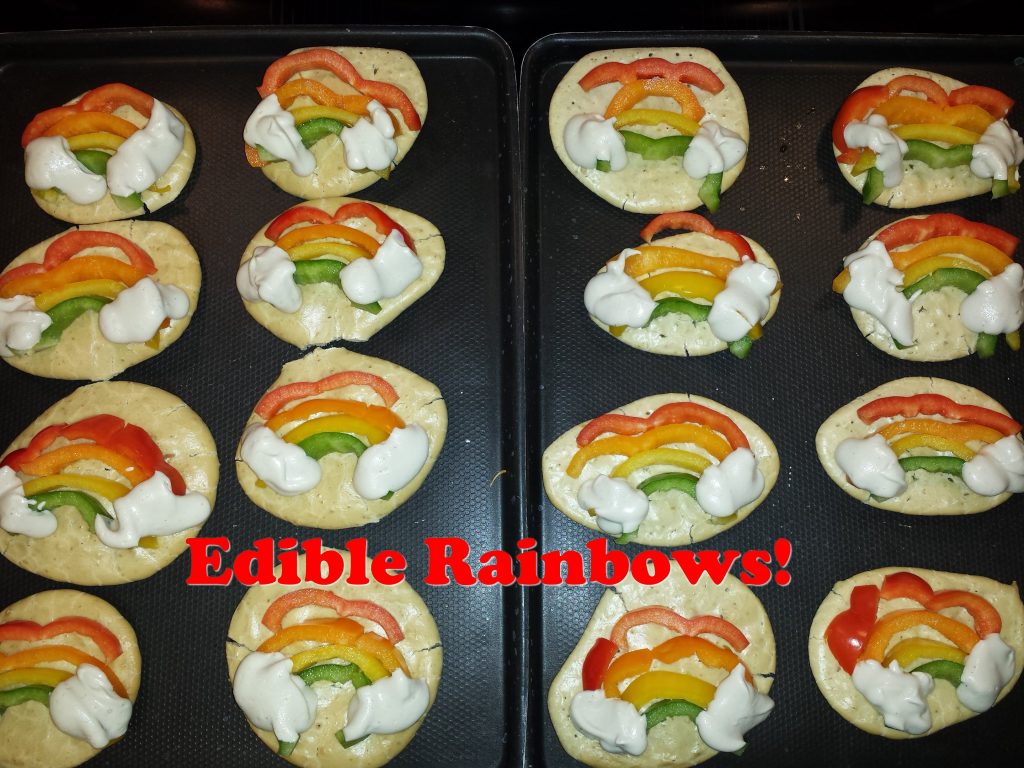 In the spring, someone posted a picture on Facebook showing edible little rainbows of different-colored bell peppers on top of maybe bread, with cute little white clouds at each end of the rainbow — and it captured my imagination. The picture was simply a photo, without a recipe or any information about who had cooked it. Intrigued, I kept thinking about them until I tried out a way to make them. After some experimentation, I came up with a version that tastes great, is healthy, and looks adorable.
Warning: Edible rainbows are very susceptible to puns. They are also fun to talk about. We laughed the first time we said, "Kendra ate two rainbows for breakfast."
For the base, you can make this with any type of pizza dough that works for you, or you can use the recipe that I've posted here, which is gluten-free.
I've been happily using all-purpose Chebe Mix to make really good pizza dough for years, but it isn't organic and we try to eat all-organic. So I am happy to report that I finally figured out a from-scratch recipe that comes out similar to Chebe dough, so you can make it with organic ingredients if you choose to do that. (I do.) Bonus: I also made the dough pourable, so you mix up a batter and pour it into pizza shape, rather than needing to take the time to knead it and individually roll out circles, so it is much quicker and easier — a big improvement all around.
A friend said this is Unicorn Food. I like that. :)
Anyway! Here is the recipe: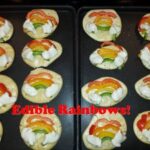 Print Recipe
Rainbows -- edible, adorable, easy, can be gluten-free and vegan
Extreme cute edible vegetarian rainbows! Fairly easy to make, wildly adorable, healthy, and yummy! This is one excellent recipe!
Ingredients
Base
EITHER: your favorite pizza dough

enough for two pizzas

OR: The following ingredients

2

cups

tapioca flour

note that if you buy "Letz Do Organic" brand, a box holds 1 1/2 cups, so you will need to start a second box

2

teaspoons

baking powder

or 2/3 teaspoon baking soda + 2/3 teaspoon cream of tartar

1/2

teaspoon

salt

1/4

cup

canola or olive oil

6-7

tablespoons

of water

start with six, add the other one if needed

1

teaspoon

dried oregano

2

eggs

or, if you prefer vegan, you should be able to replace them with flax eggs, but I have not tried this recipe that way
Peppers
4

bell peppers -- one each of red

orange, yellow, and green (if you have a choice, red should be a wide pepper, then orange, then yellow, and green should the skinniest -- but if your peppers aren't in those sizes, it's fine)
Clouds
For an alternate nut-free version: Use a batch of my creamy white dressing

1

cup

cashews

1/2

cup

water

1/2

teaspoon

salt
Instructions
Base
Preheat the oven to the temperature recommended for your pizza dough recipe.

If you are using my dough recipe, preheat the oven to 400 degrees. Then, except for the water, put all of the ingredients in a medium-sized bowl. Add six tablespoons of water and stir. This should make a batter that is thick but pourable. If it is not pourable, add the other tablespoon of water and stir again.

If you are using my dough recipe, use two awesomely nonstick cookie sheets, or regular cookie sheets with

silicone mats

on top. Make 16 tiny pizzas, using one dinnertable tablespoon of batter for each pizza, and spreading out each one into an oval about 2-3 inches by 3-4 inches. Bake for 10 minutes.

If you are using other dough, roll out blobs of dough to be about 2-3 inches by 3-4 inches and the thickness of a pizza crust. You may have extra dough left over. Bake according to the directions for your dough.
Peppers
While the bases bake, cut up the peppers. Cut a circle around the stem and remove the stem. Now, with the hole where the stem was at the top, look at the ribs of the pepper. Cut from top to bottom along three of the ribs that are spaced on different sides of the pepper, ideally dividing the pepper into thirds -- but it is okay if the ribs aren't spaced evenly and your three pieces aren't very exactly equal. Trim off any seeds and ribs on the inside of each section, and rinse it out.

Next, cut off the uneven part on the top of each section, then cut crosswise across each section about 1/4 inch apart, so that you get six arcs. There will be a bit of extra left over at the bottom. (If your pepper is especially large or small, make your cuts a little bigger or smaller than 1/4 inch apart.) The idea is to end up with 18 arcs of pepper in each of the four colors.
Clouds
Use a good blender to blend all Clouds ingredients until they form a very smooth cream. My food processor doesn't make this smooth enough, but my

blender

does.
Assembly
When the bases are baked, put four arcs of bell pepper on top in the shape of a rainbow, with red, orange, yellow, and green going from top to bottom. It's helpful to press the arcs together to get them closer together. For arcs that aren't arc-shaped, feel free to break the piece as needed to make it more arc-shaped. You should have a couple of pieces of each color of pepper left over at the end; you can break those into pieces and use them to extend short arcs to be longer.

Next, use a dinnertable teaspoon to plop about a teaspoon of the cashew mixture at each end of the rainbow arcs (that is, use two teaspoons of cashew cream, one teaspoon on each end of the rainbow).

Makes 16 rainbows. Serve 2-4 rainbows per person.