Chocolate Chip Waffles – gluten-free, dairy-free, yummy!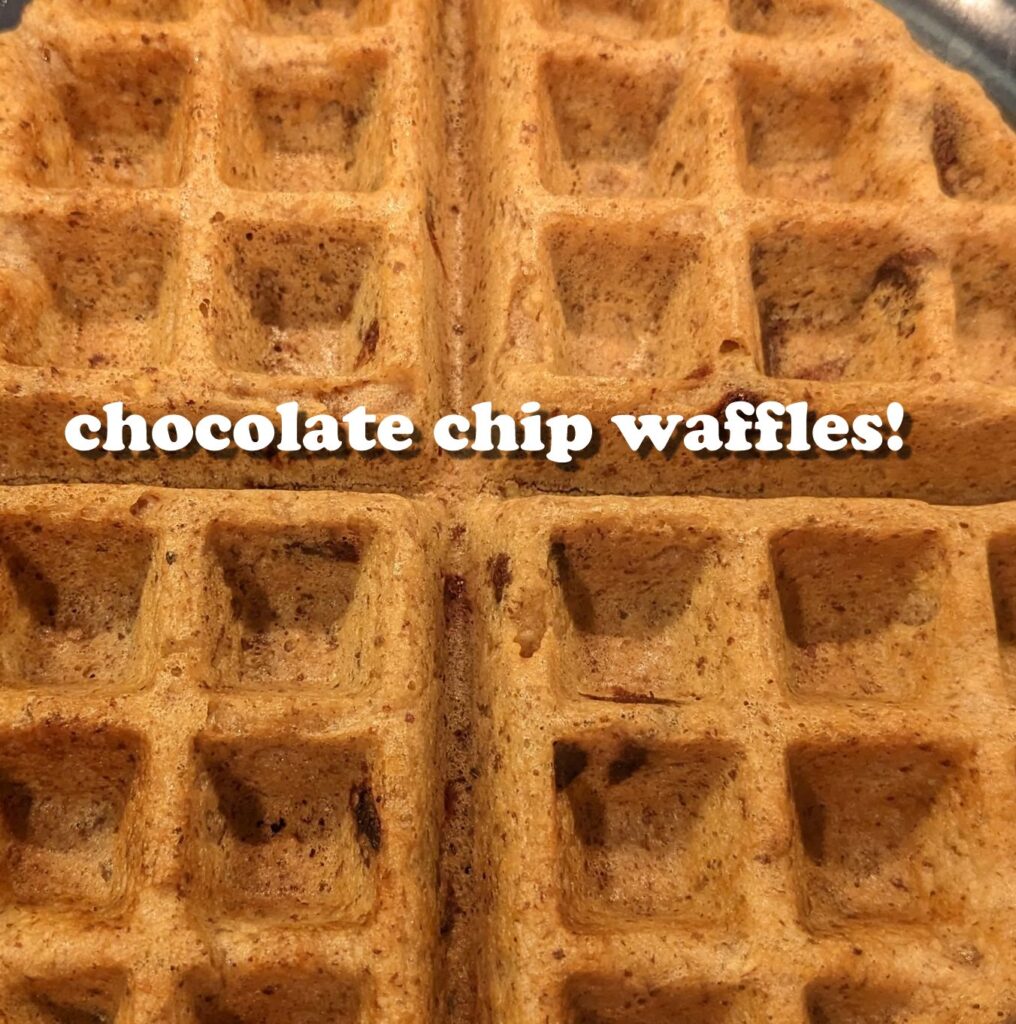 I invented this recipe for chocolate chip waffles, based on a recipe for chocolate paleo waffles on a website that I don't think exists anymore, called Living Healthy With Chocolate. (Isn't that a great name for a website? Yum!!!) The chocolate paleo waffles are AMAZING, but too much chocolate has been keeping me awake at night, so I converted the recipe to be chocolate chip waffles. And they are fantastic! They contain lots of nuts and have no sugar except for what's in the chocolate chips, so, as waffles go, they are fairly healthy. I like them with maple syrup — which has more nutrients than refined sugar. They are also gluten-free, dairy-free, and delicious!! Highly recommended!!
Chocolate Chip Waffles
These chocolate chip waffles are gluten-free, dairy-free, low in refined sugar, fairly nutritious, and awesomely delicious!!! These are so good!!!
Servings:
2
people - 8 waffles!
Ingredients
1

cup

pecans or other nuts such as walnuts, or almond flour

1/2

cup

tapioca starch or potato starch

1/3

cup

gluten-free flour -- you can choose either a flour mix, or garbanzo flour, millet flour, or quinoa flour

2

teaspoons

baking powder

-- or instead use 2/3 teaspoon baking soda plus 2/3 teaspoon cream of tartar

1

large egg

-- please choose humanely raised eggs!

1/2

cup

water

1/3

cup

oil such as canola

1

teaspoon

vanilla extract

1

teaspoon

apple cider vinegar

1/3

cup

chocolate chips

maple syrup for serving
Instructions
Preheat your waffle maker according to the manufacturer's directions

If you are using whole nuts, place all ingredients (except for the chocolate chips and maple syrup) in a food processor and blend everything together into a batter. The batter can be a little bit bumpy -- you don't have to blend it to be creamy-smooth. If you are using almond flour, you can stir the ingredients together in a bowl instead of using a food processor. Once the batter is mixed, stir in the chocolate chips.

Make waffles according to the manufacturer's directions. My waffle maker takes 1 cup of batter to make a circle of four waffles. It needs to cook the first waffle for five minutes and later ones for 4 to 4 1/2 minutes. But waffle makers vary, so you will need to find what timing and how much batter works best in your waffle maker.

When the first waffle is done, place it where air can circulate on all sides, so that it stays crispy. I like to use a wooden chopstick to lift the waffle out of the waffle maker, and then I put the chopstick on a plate with the waffle on top of it so that air can circulate under it, so that steam doesn't collect there and make it soggy.

My waffle maker makes two circles of four waffles from this recipe. When all waffles are cooked, serve warm, with maple syrup that the eaters can pour on top. Yum!
Notes
I have tried replacing the egg in this recipe with a flax egg -- and I always get a mess instead of a waffle, so I think the egg in this recipe may be necessary. But I will try it again before giving up. If you can make a vegan option for this recipe, please write about it in a comment, below -- it would be great to have a vegan option!