Fudge – fast, amazing, gluten-free, dairy-free, vegan, easy, no refined sugar, and delicious!
This recipe is based on a recipe called Seductive Raw Chocolate Walnut Fudge from the "Oh She Glows" blog.
I really love this fudge recipe! It is easy to make, and quick, and tastes amazing! I have adapted Liddon's version by removing the nuts, reducing the coconut oil, and storing it in the refrigerator (not the freezer) — so that it has the lovely soft consistency of fudge.
The pieces of fudge in the picture are small. If you want big pieces, you may choose to multiply the recipe!
Either way, this is seriously yummy!!
—–
Updated on June 18, 2022: This recipe originally said to use 3/8 to 1/2 cup of sweetener. My kids and I have found that the larger amount can cause gooey fudge, so I've updated the recipe to call for 6 tablespoons of sweetener (which is the same as 3/8 cup), because that is plenty sweet — and more likely to make fudge with the perfect texture.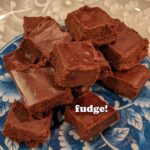 Print Recipe
Fudge - easy, vegan, gluten-free, and delicious!
This decadent dairy-free fudge recipe is amazing! It is easy to make, uses mostly whole foods and no refined sugar, and it tastes delicious!!
Servings:
25
small squares
Ingredients
1/4

cup

coconut oil

1/4

cup

almond butter

I haven't tried this recipe with all of the nut butter alternatives, but I think any other nut butter or nut-free replacement should work too.

1/2

cup

cocoa powder or cacao powder

6

tablespoons

agave nectar

- Any other liquid sweetener should work here too, such as honey, maple syrup, etc..

1 1/2

teaspoons

vanilla extract
Instructions
If the coconut oil is solid, melt it. If it is in a glass jar, the easiest way to do this is to remove the lid and put the whole jar in the microwave for 30 seconds. If the jar is really full you may need to microwave it for another 30 seconds. If it is fairly empty, you should reduce the time to only 15 or 20 seconds.

If the almond butter was in the refrigerator, warm it up to room temperature, so that it doesn't chill the coconut oil and cause it to solidify.

Put the coconut oil and almond butter into the smallest size of blender jar - mine holds about 1 1/2 cups. If you don't have a small blender jar, you may need to double this recipe in order to get the ingredients to blend.

Blend until the mixture is smooth and liquidy.

Stir in all the other ingredients. A dinnertable knife works well for this stirring. Do not use the blender to mix it - the mixture will sometimes seize up.

Optionally, you can do the blending and stirring in the container where you are going to chill the fudge. Just check carefully for any un-stirred bits and stir them in.

If you did the stirring in another container, pour the mixture into a container that is about four-by-four or five-by-five inches wide. A "Ziplock medium square" container is great for this! You can make decorative swirls on the top of the fudge, or smooth it flat.

Refrigerate until set. This can take two hours.

Cut into lots of little squares -- and eat!

Store any extras in the refrigerator. Yum!