Macaroni and Cheese – healthy, vegan, soy-free, and gluten-free!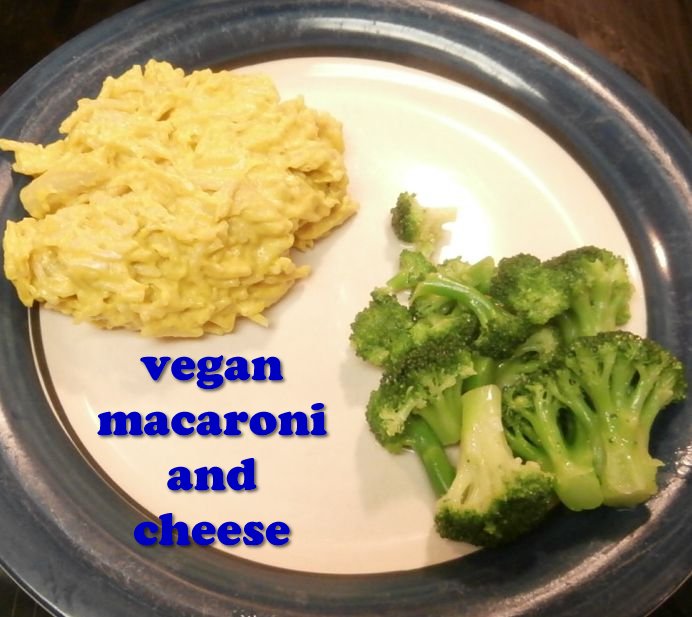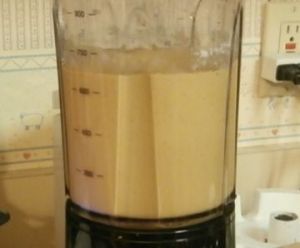 Once upon a time, I perfected my macaroni and cheese recipe. It was a specialty of mine — fancy macaroni and cheese mixed with a creamy white sauce, using a small amount of fancy cheese to make it healthier and yummy. Then we had to stop eating dairy and gluten, and so,
sadly, for a long time that was the end of macaroni and cheese at our house.
After that, I experimented with creamy vegan cheese-like sauces. I came up with some that I liked quite a bit. But nothing was quite right for macaroni and cheese.
Then in March I ran across Vegan Richa's recipe for vegan Mozarella Sticks, made with homemade cashew mozzarella. The cheese sticks came out tasting really cheesy, even though they are totally vegan. I am convinced that Richa is a genius at creative food chemistry. Her blog is a wonderful mix of creative vegan versions of American food and Indian cuisine.
Richa's recipe made a great starting point for experimenting with my own vegan macaroni and cheese recipe. The very first time I tried making it, it came out tasting surprisingly similar to my old macaroni and cheese recipe, with the white sauce and fancy cheeses.  I was very pleased!!!!!
So here is my version of vegan macaroni and cheese.
Nut-free option: I have not tried this, but I think you could replace the nuts and 1 cup of the water with a pound of firm tofu.
In the third picture, that's my oldest son cooking.  :)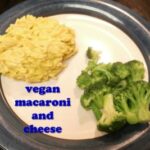 Print Recipe
Vegan Macaroni and Cheese
A creamy cheesy VEGAN macaroni and cheese that cooks very quickly. Yum!
Ingredients
Sauce ingredients:
2

cups

cashews

2 1/2

cups

cold water

divided

2

tablespoons

tapioca starch

2

teaspoons

potato starch

1 1/2

teaspoons

salt

1 1/2

teaspoons

cider vinegar

1 1/2

teaspoons

freshly squeezed lemon juice

1/4

cup

olive oil

2

teaspoons

turmeric

1

teaspoon

smoked paprika
Other ingredients:
1

pound

pasta -- gluten-free if you eat that way

which I do!

optional: goes well with broccoli as a side dish

see my broccoli recipe
Instructions
Start cooking the pasta.

Place the cashews and one cup of the water in a high speed blender. Blend until smooth. Let it sit for a couple of minutes (to soften the tiny cashew pieces) while you juice the lemon and add the rest of the sauce ingredients EXCEPT not the rest of the water, to the blender. Blend again until very smooth.

Place the sauce mixture in a large nonstick pan. (Nonstick is essential for this recipe!)

Start heating the sauce and stirring with a wooden spoon.

Use the rest of the water to rinse out the blender, then add it to the sauce.

Heat and stir the sauce until it thickens and starts to pull away from the sides of the pan.

Mix with the cooked macaroni.

Serve with broccoli on the side.
p.s.  You should try Vegan Richa's mozzarella sticks recipe!