Frankentofu! – a yummy, quick, vegan, gluten-free tofu recipe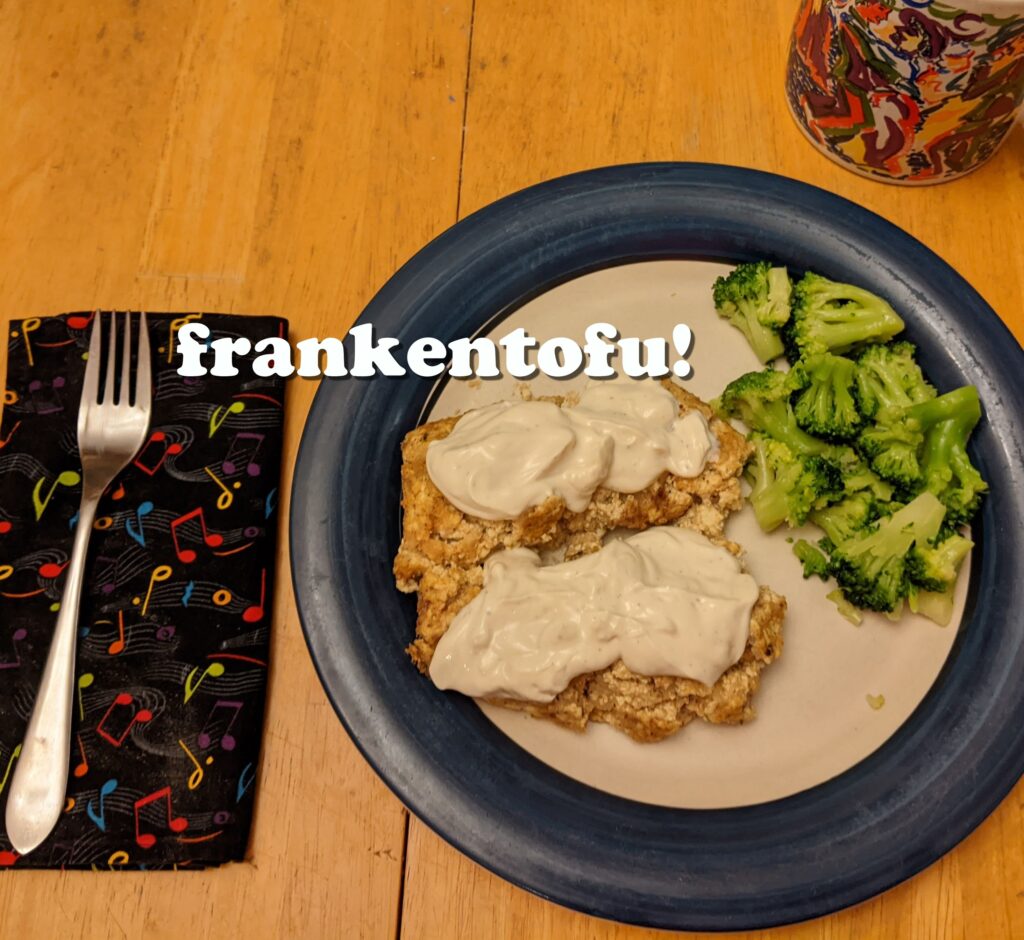 This is a simplified nod to Golden Crispy Tofu — a recipe that I love! Instead of putting (gluten-free) breading on the outside of each piece of tofu, this recipe aims at the same flavor, but the ingredients are all mashed together, which makes the prep for this recipe much quicker and neater. Yum!
I named it Frankentofu because, like Frankenstein's monster, it is cobbled together out of pieces!  :)
Print Recipe
Frankentofu! - a yummy, quick, vegan, gluten-free tofu recipe
This quick yummy tofu recipe is delicious! It is also gluten-free, vegetarian, and vegan. Yum!
Ingredients
1

package of extra-firm tofu -- around 14 to 16 ounces

EITHER 2 1/2 cups of not-very-sweet puffed breakfast cereal

I like Barbara's Bakery Brown Rice Crisps - but watch the price if you are ordering on Amazon, or Love Grown Power O's - in the unsweetened original flavor

- OR 1 1/2 cups of Panko breadcrumbs

gluten-free or not, as needed

1

teaspoon

salt

2/3

teaspoon

dried

powdered or rubbed sage

1/3

teaspoon

dried thyme

1 1/3

teaspoons

smoked paprika

6

tablespoons

gluten-free flour

or regular flour if you are not gluten-free (I use 2 tablespoons each of garbanzo flour, teff flour, and quinoa flour - but any gluten-free flour mix should be fine)

EITHER 1/2 cup of vegan milk

- OR 1/2 cup cow's milk

- OR 2 teaspoons of almond butter and 1/2 cup of water

2

tablespoons

Dijon mustard

I like Annie's Dijon Mustard

2

tablespoons

oil

I like organic canola oil
Instructions
Preheat the oven to 400 degrees F.

Oil an 8x8 inch or 9x9 inch square pan. (I adore

Trudeau silicone pans

for this, but any pan should work.)

Put all of the other ingredients into a bowl, including the whole (rinsed off) block of tofu, the breakfast cereal, and everything else.

Use a

potato masher

to mash and stir the ingredients, until everything is mashed evenly together. The idea is to break the tofu into pieces and mix everything together, but the finished mixture should still have a bumpy texture.

Press and smooth the mixture evenly into the pan. A silicone spatula works well for this.

Bake for 25 minutes.

If you let the Frankentofu stand for 10 minutes now, it will be neater to cut and more cohesive, but I sometimes skip this step in order to eat faster.

Cut into six pieces.

Serve with

Creamy White Dressing

on top, or unsweetened yogurt, or sour cream, or the vegan equivalent -- and something green!