Nachos! – vegan, gluten-free, healthy, and yummy!
The neat thing about nachos is that each person can customize their food to match their preferences and end up with a meal that works for them. Yum!
This healthy vegan nacho cheese sauce even has a vegetable invisibly blenderized into it!
The nacho sauce is my version of Isa Chandra Moskowitz's cashew queso sauce. My version doesn't taste exactly like cheese, but it's warm, gooey, and yellow, mild and sweet, and goes great on nachos. Highly recommended!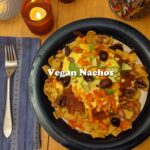 Print Recipe
Nachos
This nacho recipe has a vegan, gluten-free cheeseless cheese sauce that doesn't taste exactly like cheese, but it is warm, yellow, gooey, healthy, and tastes excellent in nachos. Highly recommended!
Ingredients
1/2

cup

cashews

1

cup

water

- or vegetable broth

1

teaspoon

potato starch or cornstarch

1

tablespoon

oil

- canola or olive oil work well here

1/2

small onion

coarsely chopped

- optional!

1

red bell pepper, cut into about eight big chunks

- or an equivalent amount of frozen bell peppers, defrosted

1-2

cloves

garlic

- optional!

1

teaspoon

ground cumin

- optional

2/3

teaspoon

ground dried turmeric

1/8

teaspoon

salt

1/2

tablespoon

freshly squeezed lemon juice or cider vinegar

- you can increase the lemon juice quite a bit

Corn chips and toppings such as pinto beans, chopped avocado, olives, diced bell peppers, salsa -- whatever sounds good to you on nachos!
Instructions
Blend half of the water and all the other sauce ingredients except the lemon juice in a good blender. Keep blending until the mixture looks smooth and creamy. Try to get it as smooth as possible. Check for smoothness and for any un-blended chunks of bell pepper that may be hiding at the bottom of the blender.

Pour the mixture into a big (12-inch) nonstick frying pan.

Use the other half of the water to rinse the blender, and pour that into the frying pan.

Cook the mixture on medium heat, stirring regularly, until it is thickened. Continue heating and stirring for another minute.

Turn off the heat and stir in the lemon juice.

Each person puts corn chips on their plate, then adds their choice of toppings. Yum!
Notes
For a nut-free version of this sauce, replace the cashews with a package of silken tofu (about 12 ounces), drained. Decrease the amount of water to 1/2 cup, and add an extra 1/2 teaspoon of cornstarch or potato starch.