Chocolate Mousse – gluten-free, vegan, raw, awesomely healthy, quick, and my kids love it!
When I first tried this recipe, I wrote in the cookbook, "Drop-dead FABULOUS mousse!!!!!"
Because it is!!!!!
It is also easy to make, healthy, vegan, and my kids and I love it. What more could you ask of a recipe? :)
The pictures show the mousse with fruit. I like to use the mousse as a topping for fruit. My kids like plain mousse without fruit added. That's perfectly fine — the mousse itself is made of fruit, so it is healthy even if you don't add more fruit to it.
In addition to fruit, my favorite way to serve it is with a pinch of cardamom on top. I love cardamom — it is a magical addition to this mousse.
The original version of this recipe came from the cookbook "Raw Food Made Easy for 1 or 2 People" by Jennifer Cornbleet. (I have linked to a newer edition of the book than the one that I have — an edition that I have never seen.) I changed the recipe by replacing maple syrup with more dates, and by increasing the quantities in the recipe so that it uses two avocados instead o
f one and a half.
A food processor works much better than a blender for this recipe. And you need a good sturdy food processor for this. I have a Braun Multiquick food processor that I really adore. I am convinced that Braun makes the best food processors, much better than any other brand, because theirs are sturdy and have a lot of attention to important details. Like for example, I used to have a KitchenAid food processor where the edges of the lid fit onto the outside of the bowl, which meant that splatters all ran down the outside of the bowl. The Braun has a lid that fits inside the bowl — which means that any splatters run down inside the bowl, which is where I want them. Best of all, the bowl on the Braun has no hole where the blade connects to it, so you can put easily twice as much food into the Braun compared to the KitchenAid. Anyway, I can go on and on about why I like Braun food processors, but I won't ask you to wade through any more about it. The link from this blog to Amazon will send me a tiny percentage of the purchase price if you buy what I linked to, but other than that I have no relationship with Braun except as a satisfied customer. But so far my total income from Amazon for this blog has been exactly zero, so this is not exactly a get-rich-quick undertaking. :-P
This recipe uses dates. Dates vary a lot, from tougher dry ones to wetter soft ones, but any dates should work fine in this recipe. Make sure to remove the pits, if yours have pits, and check every date for bits of stem to remove, because sometimes a date will still have a collar of hard stem attached to it. Also, even pitted dates sometimes still have a pit, so it's helpful to check for that, too.
Too much chocolate can keep me awake at night, so I often replace half of the cocoa powder in this recipe with carob.  I like Foods Alive organic carob powder. This recipe tastes almost exactly the same when it is made with half carob and half cocoa powder — and it is much less likely to keep me awake at night.
The most important ingredient in this mousse is perfectly ripe avocados. If you have never tried a recipe like this, using avocados in this way may sound very strange to you. But it works really well in this recipe. There is no green color or avocado-y flavor. The finished mousse tastes like a rich, chocolate dessert.
To check the ripeness of an avocado, do not poke it with your finger. That will leave black spots inside the avocado. Instead, hold it in your hand and see what the avocado's skin feels like. If it feels hard, the avocado is not ripe. If it feels soft and smooth, like touching human skin, then the avocado is ripe. Also the skin of most avocados turns black when it is ripe, so that is another way to recognize one.
Avocados go quickly from ripe to overripe, so once you have ripe avocados it's necessary to use them within about a day, or you will lose them to overripeness. You can put ripe avocados in the refrigerator to delay this process — they can last for up to a week there.
Variation: To make this recipe chocolate-free, I have replaced the cocoa powder with a little ground cardamom — maybe 1/4 or 3/8 teaspoon. This makes a bright green mousse that my kids won't touch, because of the color. But I love it that way. And if the kids won't touch it, there is more for me!  :)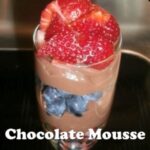 Print Recipe
Chocolate Mousse - gluten-free, vegan, raw, awesomely healthy, and my kids love it!
A rich, fabulous chocolate mousse, made from entirely healthy, raw, vegan ingredients -- mostly fruit! And only four ingredients! Even my picky eater kids adore this recipe.
Ingredients
2/3

cup

dates

with pits removed -- also check each date for any hard stem pieces and remove them

2/3

cup

water

2/3

teaspoon

vanilla extract

2

perfectly ripe avocadoes -- remove pits

skin, and any black spots

1/2

cup

unsweetened cocoa powder -- or 1/4 cup cocoa powder and 1/4 cup carob powder

optional: fruit or berries

such as cherries, blueberries, or strawberries

optional: a pinch of ground cardamom for each serving
Instructions
Put the dates and water into a sturdy food processor. Blend for several minutes, until they form a smooth syrup. You will still be able to see bits of the skins from the dates, but the syrup itself should be smooth. Depending on your food processor and your dates, you may need to add a little extra water to get this to blend. Tip: I start blending this at slow speed, then raise the speed to high, to cut down on splashing and noise inside the food processor. The most important step to getting the mousse to come out really smooth is to blend this mixture until it is really smooth, even if it takes several minutes.

Add all other ingredients to the food processor -- except for the optional ones.

Blend until smooth.

Serve plain, or with fruit, and/or with a pinch of ground cardamom on top.