Pi Pie – gluten-free, vegan, delicious, and covered in Pi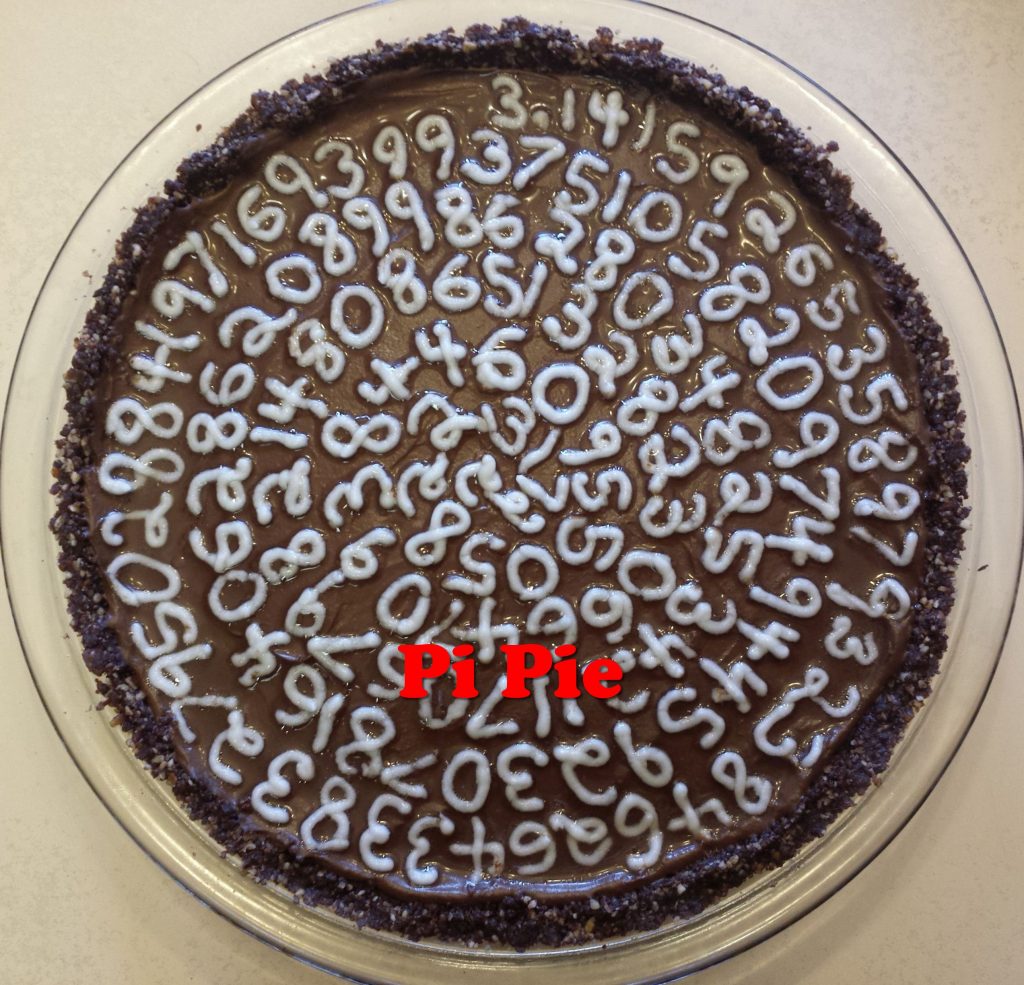 Happy Pi Day! March 14th can be written as 3.14, which is the first three digits of pi. We are geeks at my house, so we always celebrate Pi Day with Pi Pie — that is, a pie with lots of digits of pi written on it.
This pie recipe is creamy and chocolatey and delicious. Yum!
For writing with frosting, I like to use a ziplock bag. I add pieces of scotch tape to reinforce the seams and edges, then cut off a corner and (optionally!) add a frosting tip. Put the frosting in the bag, try writing a letter on a plate to make sure that everything is working okay, and then start writing on your pie!
This pie tastes amazingly yummy at any time of the year, whether or not you draw any digits on it. Don't wait for Pi Day!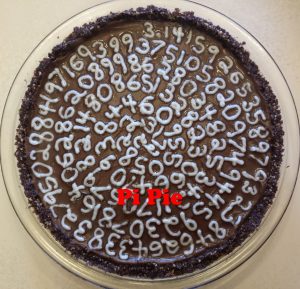 Pi Pie - gluten-free, vegan, delicious, and covered in Pi
This healthy vegan Pi Pie recipe is as delicious as it is cute!
Ingredients
1 chocolate brownie crust from the recipe for Fresh Fruit Pie with Chocolate Brownie Crust
1 batch of chocolate mousse
something to write digits with, such as a batch of cashew cream (6 tablespoons cashews and 3 tablespoons of water) blended extra-smooth and maybe even sifted through a strainer so that it won't clog the decorating tip. (For the pie in the picture, I used homemade frosting, but in the refrigerator the mousse dissolved it, so I recommend decorating with cashew cream, not frosting)
Instructions
Make the chocolate brownie crust according to its directions.
Make the chocolate mousse according to its directions.
Place the mousse in the pie crust and carefully smooth it out flat with a spatula.
Use your favorite approach to writing with frosting to write digits of pi on the pie.
Refrigerate for a few hours to let the filling firm up. (It is hard to wait!)
Possibly helpful: Here is a website that has a million digits of pi .